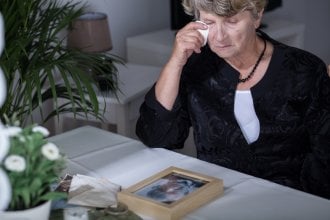 Retiring after years of working and volunteering for a cherished nonprofit. Traveling around the U.S. or the world. Spending more time with kids and grandkids. Rightsizing and moving into an active senior adult community. While some or all of these may be items on seniors' bucket list, funeral planning usually isn't top of mind when they or their loved ones think about their futures.
Benjamin Franklin once said, "nothing in life is certain except death and taxes." It is an inevitable circumstance, but most people still avoid the topic of death. Only 21% of Americans have talked with a loved one about their funeral, according to a survey by the National Funeral Directors Association. Despite the gravity of the topic, preparing for a funeral in advance helps alleviate stress for the surviving family, saves money and allows the chance to have a memorable send-off.
Here are some factors and tips to keep in mind when you and/or your senior are thinking ahead:
When Should It Be Done?
If possible, it's best to encourage your senior to preplan a funeral before he or she passes away. For one, it eases the burden on you and the rest of your family. Can you imagine planning an event such as a wedding in just a few days? Unfortunately, that's what happens when a senior leaves no instructions or agenda for his or her funeral. Surviving family members have to scramble to coordinate a funeral service in a short time frame all while dealing with the grief of losing a loved one. On top of that, there are financial concerns. Funeral costs aren't cheap, and payment is typically due at the time of the service, making it tough for many families to gather those funds.
Funerals are important events for grieving families. They offer a sense of closure and allow families to commence the healing process. However, it's challenging for you and your family to provide the right send-off when you're forced to quickly arrange a funeral. That's why it's vital to talk to your senior now and let him or her know that planning a proper ceremony allows family and friends to honor him or her the right way.
Get Your Senior's Affairs in Order
Make sure your senior has a will or estate plan. Creating one is essential for your loved one. It'll give your senior peace of mind knowing that his or her wishes are carried out and assets are assigned to the appropriate people and organizations. If your senior doesn't have a will, a probate court judge will decide how to distribute your senior's assets, which tends to be an extremely lengthy process. To further complicate matters, you and the rest of your family might not know what to do with your loved one's assets, which could lead to internal arguments.
If your senior has a will, talk to him or her and ask when it was last updated it. If you're unsure whether your senior's will need to be updated, here are guidelines to consider:
The individuals named in the will are deceased
New people, such as grandchildren, should be named
A significant increase or decrease in the value of an asset
State tax laws have changed
Your senior would like to provide for a charity or other organization
There are two ways you can update a will. One option you and your senior have is to make a codicil to an existing will. A codicil is a supplemental document that allows a senior to add, remove or alter any provisions from the original will. This is a suitable choice if minor changes need to be made. However, it may be easier to create a new will. Plus, it'll eliminate any confusion or misinterpretation that could happen by adding a codicil. AARP offers plenty of advice on will planning, with some services being low-cost or free for seniors.
Naming an executor is another reason your senior needs to have or update a will. This person is in charge of organizing your senior's estate and following the instructions left on the will. If there is no will or no executor named on the will, the probate court will appoint someone to be the executor, which may not be the best choice. That's why it's important for your senior to appoint someone he or she believes is honest, trustworthy and organized enough to carry the duties of an executor. It'll give your loved one peace of mind knowing his or her estate is in good hands.
Have Your Senior Write Down His or Her Funeral Wishes
While you might think it may be simpler to have your loved one record his or her funeral plans on the will or trust, this isn't the best route to take. Why? Because by the time you and your family locate and read your senior's will or trust, the decisions regarding your senior's funeral arrangements will have already been made. Instead, your senior should write their wishes down on a separate document.
In a funeral, there are usually three parts: the preparation of the body, the ceremony and the interment. When your senior is writing his or her wishes down, he or she needs to think about these questions:
Do you want a funeral or memorial service? Where do you want it to be?
Do you want an epitaph on your headstone?
Do you want there to be a religious aspect?
Burial or cremation? Where do you want to be buried or where do you want your ashes to be scattered?
Who do you want delivering eulogies?
Do want music or readings at your funeral?
Who do you want to be there?
These are only a handful of questions to consider, but there are several funeral planning checklists online that you can print out and give your senior to look over.
Once your senior has his or her wishes recorded, it's recommended to have the funeral plan notarized to help substantiate the document in case any issues arise. Also, make sure your senior tells you and your family where the document is being stored so it can be easily accessed at the appropriate time.
Consider the Costs
As your senior prepares his or her wishes, make sure he or she knows that most of them come with a price tag. Funerals can be quite expensive. In fact, the average cost of a funeral in 2019 is $7,000 to $9,000. In some cases, it can easily exceed $10,000. It's not always easy discussing money with family members, but it's important to ensure your senior has a funeral budget in mind and sets some funds aside so you and your family don't go into debt paying for funeral expenses.
If your senior doesn't want to deal with budgeting, funeral homes do offer prepaid funeral plans. However, the Funeral Consumer Alliance advises against this because your senior can lose his or her money in cancellation fees if your loved one changes plans or moves to another state from where the plan was originally bought. If your loved one is going through a Medicaid drawdown, though, it may be a wise move to opt for a prepaid funeral plan.
Memorialize Your Loved One In a Less-Than-Traditional Way
From tangible trinkets and actions with lasting effects to supporting charitable organizations, there are a variety of ways you can ensure your loved one isn't forgotten beyond purchasing a plaque, park bench or memorial brick at their favorite location.
Read blog
Find a community
If you're a senior or caregiver looking for independent living, assisted living or memory care services for you or your loved one, contact us to schedule a tour or request information about a community near you.