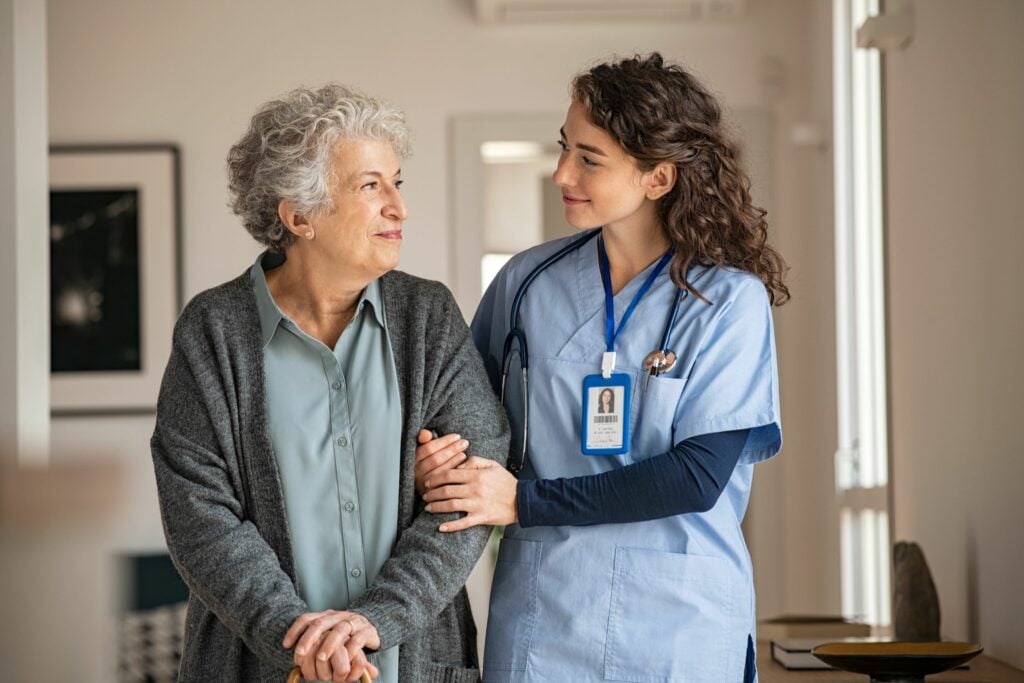 One of the main reasons to move to a senior living facility is to better support good health. But like with any move, it can change how you receive health care services, so it's natural to have questions. Where is the best place to go for health-related issues? Is the facility close to a hospital or medical campus? What providers are available? What are the transportation options for appointments? It's important to plan ahead and feel secure that your health care needs will be in good hands.
This guide to health care will help answer frequently asked questions about health care for residents in senior living communities.
Can I receive care on-site at my senior living community?
Yes! Many senior living communities offer on-site care through partnerships with care providers.
For example, Sonida Senior Living has a partnership with Aegis Therapies that makes on-site therapy easy and convenient for residents. Some of the therapy services that are available include physical therapy, occupational therapy and speech therapy. Aegis also provides programs on topics such as fall prevention and continence management, giving residents tools to maintain their independence longer.
These types of partnerships help meet residents' needs, allowing seniors to age in place and preventing the need for them to move to a higher level of care.
What is the proximity to medical campuses from my senior living community?
Depending on the specific community, most Sonida Senior Living communities are located near a hospital campus or urgent care medical facility.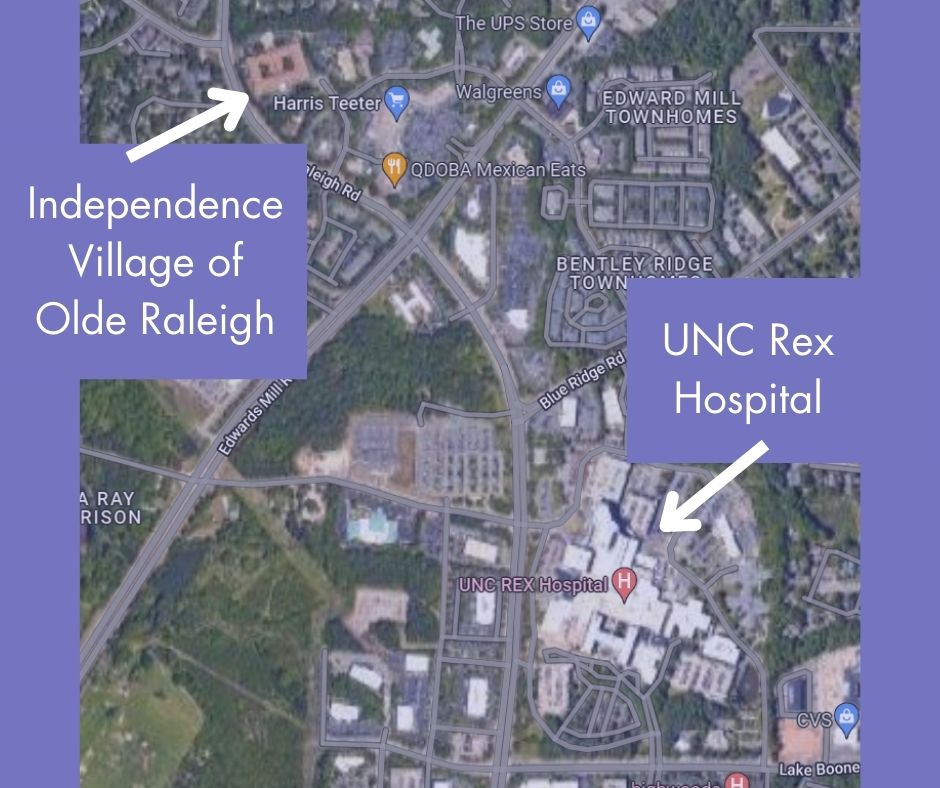 You can find medical services near a specific senior living community on the Sonida Senior Living website. Click on the "search" button at the top right corner of the page. Search for the specific community, then on each community page, you will find an option to click "about the community." Toward the bottom of this page, you can learn about the area, including nearby hospitals and pharmacies.
For example, consider our community in Raleigh, North Carolina – Independence Village of Olde Raleigh. It's located 1.3 miles from UNC Rex Hospital. In fact, it's certified by the North Carolina Division of Health Service Regulation (NC DHSR) as multi-unit assisted housing with services. This particular certification grants additional peace of mind for seniors hoping to age in place because of the verified level of available care services.
Is transportation available and accessible when I have a doctor's appointment?
Yes! Many of our senior living communities offer residents transportation.
Not only can residents join scheduled outings, such as a trip to the local shopping center, but courtesy transportation is also available to and from medical appointments as needed. Our community drivers will take you to your scheduled appointment and bring you back to the community following the appointment.
We know how important it is for our residents to get to where they need to go, and we know that driving isn't always an option for them. Many of our communities have a sign-up sheet to help you coordinate your transportation needs.
Will I receive help managing my daily medication?
Yes! Our staff members are trained and experienced in managing individual resident medication needs.
We have a centralized health records system in each of our senior living communities that ensure medications and changes in medications are tracked in real-time. This allows our nursing staff and administration to always have accurate and up-to-date information to rely on for each resident.
On a national level, over 85% of seniors age 65 and up take at least one prescription medication. That makes sense considering most diseases, including heart disease, arthritis and hypertension, disproportionately affect seniors. At Sonida Senior Living, we recognize that medication can be life-giving and life-sustaining. Proper medication management for our residents is a top priority.
Schedule a tour at your local community to learn about our approach to medication management. 
Learn more about a community near you
What happens if I need a hospital?
There may be a time when you or your loved one will need medical assistance beyond what we can provide in our senior communities.
Our staff is trained to recognize when a resident is in need of urgent medical care. In these events, staff immediately calls 911 and alerts the residents' primary emergency contact. Our staff will inform medical personnel of the circumstances of the emergency, any medications and relevant background information or history for the resident.
What are home health agencies?
If an individual is still living at home but needs health-related support or care due to a recent injury or surgery, that care can often be provided in the home by a home health agency.
There are agencies that can provide skilled nursing care, physical therapy, occupational therapy, speech therapy and other care needs as determined by a doctor. All of these services are provided by home care agencies in the comfort of your own home.
This group of professionals can be an instrumental part of your plan of care in coordination with your medical team.
Some agencies that provide in-home support services provide non-medical services, such as help with bathing, cooking, cleaning and tasks of daily living. If you are working with a home care agency, it's important to understand what services they are licensed to provide, and what your insurance will cover. Non-medical personal care services are less likely to be covered by your insurance.
How to find more information or schedule a tour
If you or a loved one is looking for independent living, assisted living or memory care services, contact us to schedule a tour of a facility or to request more information about a community near you.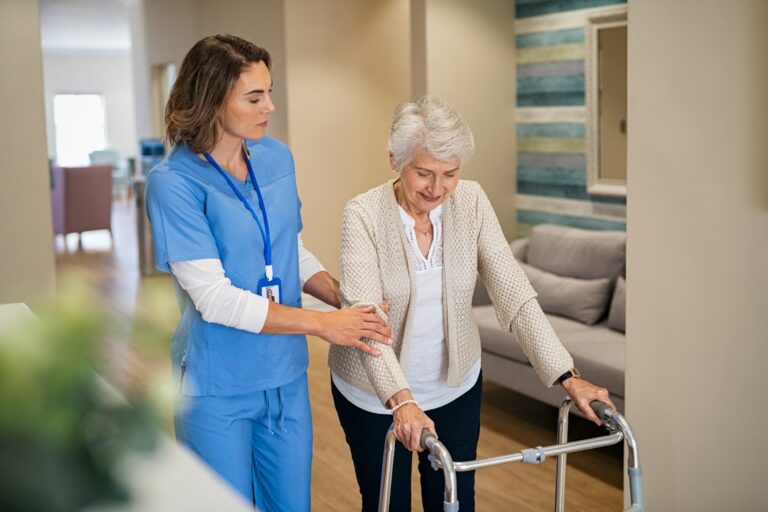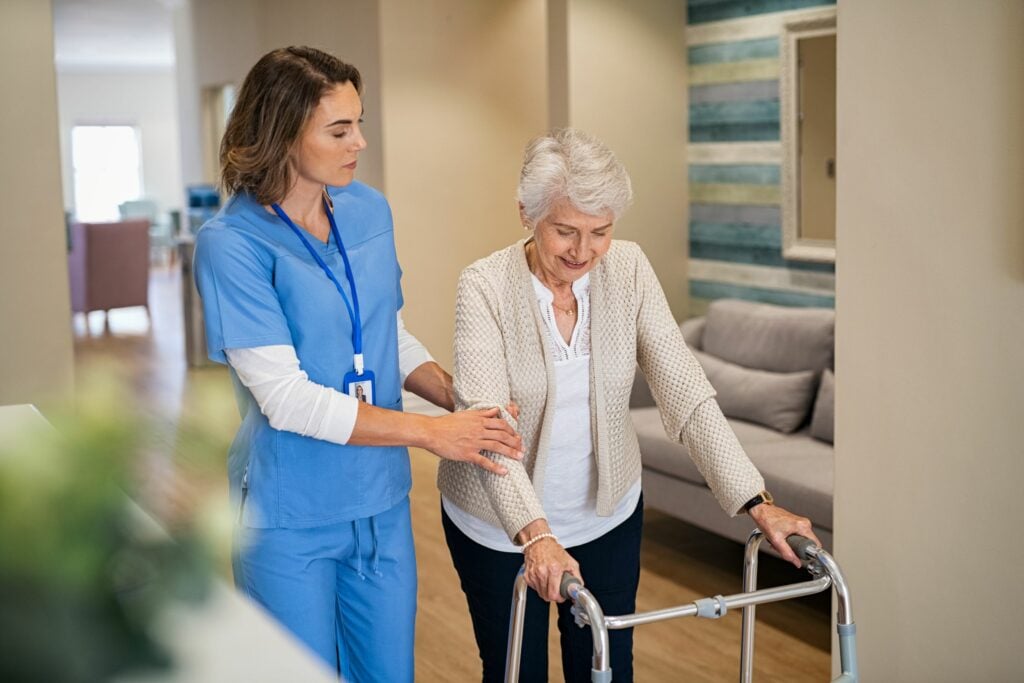 How Do You Know When Your Loved One Needs Assisted Living?
Our blog has five questions that may help you determine if an assisted living community would be a good fit for you or your loved one.
Read blog
Find a community
If you're a senior or caregiver looking for independent living, assisted living or memory care services for you or your loved one, contact us to schedule a tour or request information about a community near you.