Other important information
View now
Hide
Enjoy our scheduled recreation and social programs, or take a trip off-site to nearby shopping and dining. There's plenty to do here, including bingo, Bible study, happy hour, karaoke, live entertainment, trivia and more!
Enjoy an active lifestyle in Batesville, Indiana
At Chateau of Batesville, there is always something happening to keep you active and enjoying life. Residents love to get together for the many activities we offer, including:
Wellness programs, walking club and exercise classes including Dakim brain fitness and Forever Fit

Religious services including on-site devotional activities and Bible study group

Live performances, happy hour and karaoke

Dances, picnics and regular parties and celebrations for holidays and birthdays

Trivia games and a resident band
Schedule a tour
Experience the ambiance
Our community has a warm, welcoming atmosphere designed to help you find your joy each day.
Courtyard
Nature lovers will feel right at home at our community. Relax on a bench and take in a sunset or grow your favorite flowers, vegetables or herbs in the garden.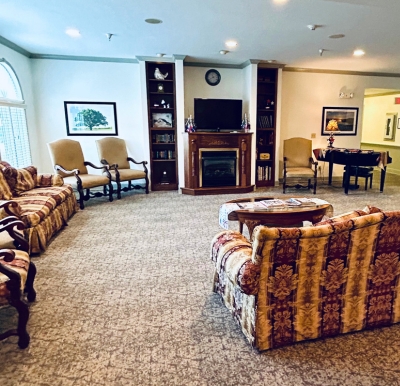 Lounge and piano
Our lounge is the perfect place to get comfy and enjoy your favorite show on the big-screen TV. You can also gather your neighbors to play some tunes on the piano.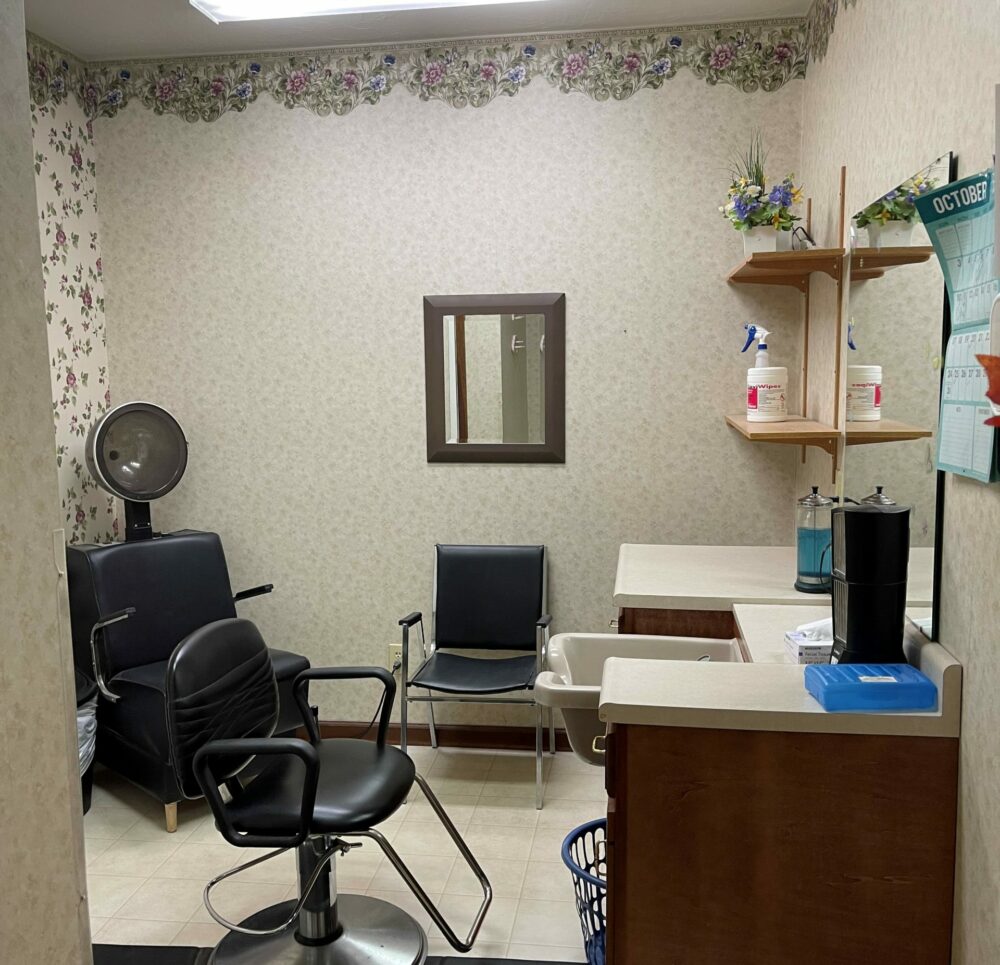 On-site beauty salon
You don't have to leave our community to pamper yourself. Whether you need a trim, cut or new look, we can help.
See a full list of amenities
Dining that fits your lifestyle
When it comes to dining, we believe in providing a wide variety of healthy, delicious choices. We offer chef-inspired entrées made from the finest ingredients and served fresh three times daily. Meals are made from scratch and include the best selections of meat and freshest produce and herbs. Take advantage of our always-available menu if you want to try something different than our daily specials. You won't go hungry– snacks are available between meals!
Activities and entertainment calendar
Our social programs create a sense of community and keep our residents busy. Whether it's scheduled activities or impromptu get-togethers, there is always something happening. The opportunities to find your joy are endless!
In the Batesville area
We are located within an hour of both Indianapolis and Cincinnati, with Interstate 74 and Indiana highways 229 and 46 flowing right through town.
Chateau of Batesville is convenient for family members living nearby in Batesville, Greensburg, North Vernon and Westport.
Nearby:
Hospitals: Margaret Mary Health
Pharmacies: CVS, Kroger, George's Pharmacy
Restaurants: Hobo Hut, Big Four Café, The Sherman House Restaurant & Inn, Lil Charlie's – Restaurant & Brewery, Randy's Roadhouse, Skyline Chili
Shopping: Kroger, Dollar General, Dollar Tree, Maurices, St. Joseph's Shop
Local destinations: Hillcrest Country Club, Bischoff Reservoir, Liberty Park