Other important information
View now
Hide
If you appreciate cozy spaces and friendly people, look no further than our senior community. We offer a variety of thoughtfully designed apartment floor plans that accommodate all lifestyles and levels of care and are outfitted with features that promote leisure and safety.
Rose Arbor offers one- and two-bedroom apartments while Wildflower Lodge has various studio options.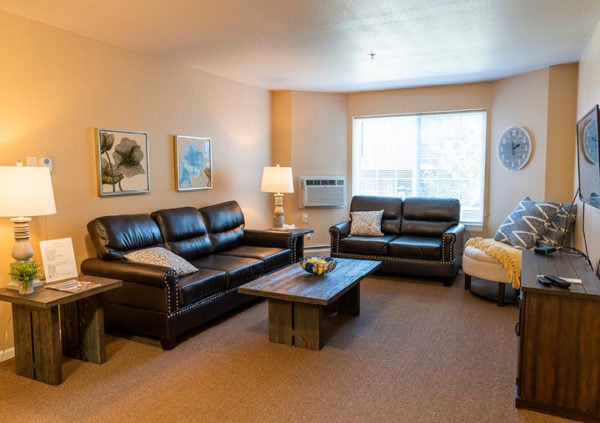 Senior apartments at Rose Arbor & Wildflower Lodge
Thoughtful design that places resident well-being at the forefront.
Quality & comfort
Our apartments are comfortable and functional with full-sized kitchens and stainless steel appliances, and spacious bathrooms that have walk-in showers for easy access. With wall-to-wall carpet and large windows, you will feel relaxed and at home as soon as you walk through your door.
Safety & convenience
Our apartments have 2-inch mini-blinds on all windows, large walk-in closets and extra storage space.
Safety features, like emergency response systems, call buttons and pull cords in each apartment, safety-assist handrails in bathrooms and smoke alarms and sprinkler systems, provide peace of mind.
Enjoy individual climate control and included utilities, with the exception of basic cable and telephone.
Alpine Rose
Our cozy, one-bedroom apartment offers a full kitchen and spacious living and dining area.
563 square feet
Bridal Wreath
Our one-bedroom apartment offers a spacious living and dining area with a full kitchen and large bedroom.
670 square feet
Crimson Glory
Our two-bedroom, one-bathroom apartment offers ample storage, a full kitchen and scenic views of the community grounds.
863 square feet
Flamingo
Our large, two-bedroom apartment features a spacious living room, walk-in closet and large in-unit storage area.
966 square feet