Other important information
View now
Hide
Rosemont boasts modern amenities and apartment floor plans designed to create a homelike atmosphere. Imagine an apartment home with no cooking, cleaning or maintenance—and friends next door.
All of our senior apartments are centrally located, whether it's near the dining room, courtyards, activity center, chapel, hair salon, ice cream parlor or the nurses station.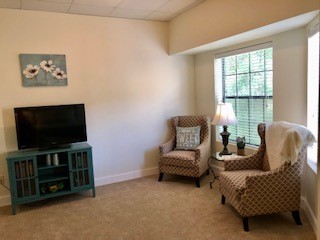 Senior apartments at Rosemont
Thoughtful design that places resident well-being at the forefront.
Quality & comfort
Our apartments are comfortable and functional. You can feel right at home with plush wall-to-wall carpeting, ample closet space and large windows flooding the apartments with natural sunlight.
Assisted living residents have a choice between six floor plans, and memory care residents have two options.
Safety & convenience
Our apartments have mini blinds on all the windows and large bathrooms with walk-in showers, granite countertops and safety assist railing throughout. A smoke alarm, sprinkler system, pendants, emergency response system and emergency call buttons in every apartment provide peace of mind.
Individual climate control, private mailboxes and all utilities being included (except telephone) make you feel at home and in control of your place.
Suite A
Our cozy studio apartment features a spacious living/sleeping area and a large bathroom with walk-in shower.
379 square feet
Suite B
Our slightly larger studio apartment has a walk-in closet, large bathroom and spacious living/sleeping area.
540 square feet
Suite C
Our two-bedroom floor plan has a large bathroom with a walk-in shower and a spacious living room.
598 square feet
Memory care suite
Our memory care suite floor plan offers a spacious living/sleeping area, a large bathroom and ample closet space.
287 square feet