If you appreciate the comforts of home with a downhome atmosphere, look no further. Our thoughtfully designed apartments are comfortable and provide plenty of cozy spots to curl up and relax or host family and friends.
With a variety of floor plans, sizes and safety features, we have something for everyone.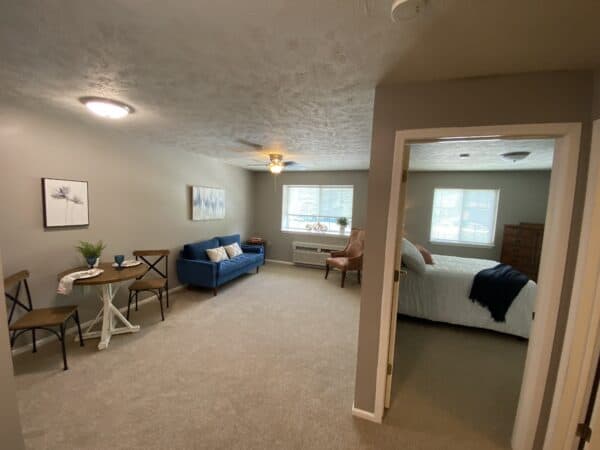 Apartments & floor plans
Thoughtful design that places resident well-being at the forefront.
Quality & comfort
Our cozy apartments are functional and offer all the comforts of home with ample storage space and wall-to-wall plush carpeting in the living and sleeping areas. Our kitchenettes sport stainless steel appliances, including microwaves, mini refrigerators and sinks. Large windows in every apartment allow natural light to flow through the space.
Safety & convenience
Enjoy peace of mind and privacy with mini blinds on all the windows and large bathrooms with walk-in, low-entry showers and safety assist railing throughout. A smoke alarm and sprinkler system, emergency response system and pendants in every apartment provide peace of mind.
Individual climate control and locked mailboxes make you feel at home and in control of your space. Utilities and cable are included in the monthly rate.
Studio
Our studio apartment has a large living space, kitchenette, bathroom and closet.
One-bedroom
Our one-bedroom apartment features a spacious living room and kitchen area, private bathroom and large closets.

Two-bedroom
Our two-bedroom apartment has a large living space, kitchenette, two bathrooms and plenty of storage.