Other important information
View now
Hide
If you appreciate thoughtful amenities and kindhearted care, look no further. Our apartments are comfortable and offer ample storage space.
With our studio and one-bedroom apartments that include extra safety features, we have something for everyone.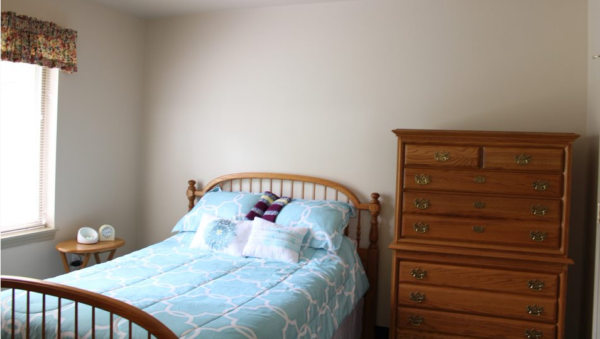 Apartments & floor plans
Thoughtful design that places resident well-being at the forefront.
Quality & comfort
Our cozy, functional apartments have ample space to entertain family and friends. The one-bedroom suite apartments are outfitted with kitchenettes, ideal for warming up a snack.
All floor plans feature wall-to-wall plush carpet in the living spaces and wide entryways for easy wheelchair and motorized scooter access. All apartments include basic cable so you can stay entertained.
Safety & convenience
Our apartments have walk-in closets, mini-blinds on all the windows, large bathrooms with walk-in showers and safety assist railing throughout. A smoke alarm and sprinkler system and emergency response system provide peace of mind while respecting privacy.
Individual climate control and locked mailboxes help you feel at home and in control of your space.
Memory care studio
Our cozy memory care studio apartment offers a bathroom and plenty of closet space.
145 square feet
Assisted living one bedroom suite
Our assisted living one-bedroom suite with combined bathroom features a kitchenette and spacious living room.
335 square feet