Other important information
View now
Hide
The best thing about our amenities and dining program is the way it brings seniors together. Friends gather to watch the evening news in our lounge. Local engineering students join us for breakfast and offer tech support sessions for residents. Local musicians provide happy hour entertainment.
These moments of connection and community are what set us apart and make The Wellington at Arapaho a special place to retire.
Experience the ambiance
Amenities that bring seniors together, create joy and make life a little easier.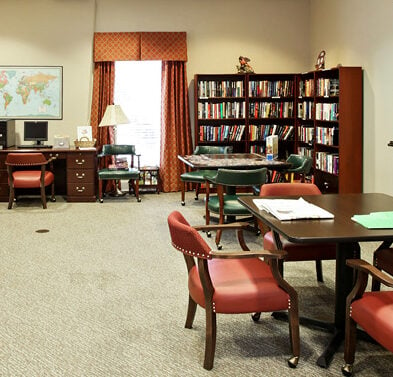 Lounge
Our lounge area is one of our residents' favorite places to hang out and catch up with friends. You can stretch out on the comfortable seating and watch the news or sports on our big-screen TV.
Activity room
The venue for many game nights, knitting circles and seminars, our activity room provides a place for residents and team members to come together to laugh and learn.
Landscaped grounds
Outdoor enthusiasts appreciate our beautifully manicured grounds and landscaped courtyard–ideal areas to get out and take a stroll or enjoy the beautiful North Texas weather.
Get a full list of amenities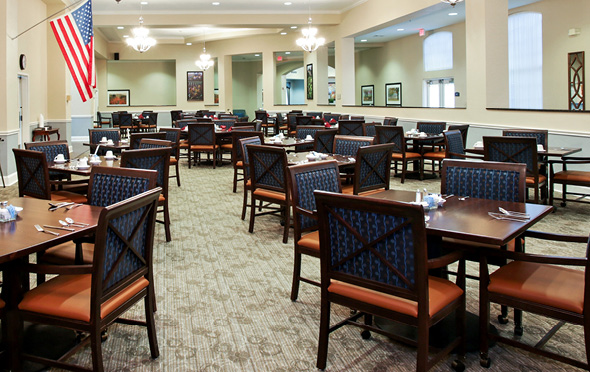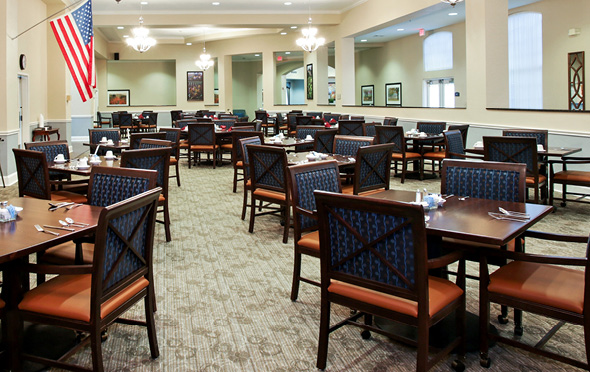 Serving balanced meals with a side of fun
When it comes to dining, options and variety are important, and that's what we strive to deliver for our seniors. We make meals, breads and desserts on-site using the freshest ingredients.
Enjoy nutritious, hearty lunches and dinners served restaurant-style in our spacious dining room. Assisted living residents also get made-to-order breakfast each morning. Independent living residents have their choice from a continental breakfast and self-serve salad bar. We offer a main entrée for every meal, and if the meal is not appealing to you, we have an always-available menu to select from.