It doesn't matter how old you are! The popularity of at-home DNA kits continues to rise. More than 26 million people have already discovered their heritage and other genealogical findings, and that number continues to grow despite some recent concerns.
Whether you got one of these kits as a gift during the holiday season or your inherent curiosity has led you to buy one for yourself recently, you're probably wondering: "What do I do now?"
Here are some things you need to know before beginning your ancestral journey.
What You Need to Do
The average mail-in DNA test is fairly simple, and most are priced between $69 and $199. Order yours online from the brand of your choice (Ancestry, 23andMe, MyHeritage, and LivingDNA are a few) to have it delivered directly to you. Once you've opened up the box, you'll use the designated materials to collect either your saliva or a swab of the inside of your cheek. You'll then mail it back to the testing company. Within six to eight weeks, you'll be able to find your results online.
How It Works
When your DNA sample arrives at the lab, scientists will take a close look at your genome, a string of letters that represents what makes you who you are. When examining the genome, these professionals are looking for variations in the string's letters.
The more variants that are tested, the more accurate the results will be. Keep this in mind if you haven't decided which test to use. Your DNA is then compared to sample DNA representing populations from around to world to identify which geographic areas you share the most genetic similarities with to determine your ancestry.
Taking things a bit further, the scientists can then determine your maternal and paternal lines by examining the mitochondria and Y chromosome. Since women don't have a Y chromosome, their paternal lineage can be traced through a DNA examination of their biological father or brother.
No test can predict complex traits such as intelligence, as they are influenced by an incredible number of genes in addition to environmental factors. It is recommended that you stay away from companies that claim to be able to predict your optimal diet or sport based solely on your DNA.
Benefits of At-Home DNA Tests
DNA tests offer several benefits, including an answer to your ancestral heritage. They also provide the ability to determine the risk of certain diseases that are genetic, including Alzheimer's and breast cancer.
DNA tests have been used to contribute to medical research, as well. Select companies ask their users about a variety of factors, including sleeping habits and personality traits, to discover previously unknown links between genetic variants and specific traits. In fact, 23andMe has already found genetic variations through its research that lead to detached earlobes, as well as a risk of Parkinson's disease and asthma. All of these connections were discovered thanks to thousands of people using mail-in DNA tests.
Concerns About Mail-In DNA Tests
Accuracy is one of the biggest concerns about mail-in DNA tests, particularly for minorities. Not all geographical areas are properly represented in the sample genome. People with Middle Eastern and Asian backgrounds, for example, are often underrepresented in reference data, while those with European backgrounds are almost always overrepresented. This discrepancy can lead to inaccuracy if you belong to one of the underrepresented populations.
Many mail-in DNA services allow you to see if you are biologically related to others using the same service. While this can be great for building out a family tree or finding biological siblings, it can also lead to privacy concerns.
Schedule A Tour
If you're a senior looking for Independent Living or you're an adult child seeking Assisted Living or Memory Care services for your loved one, contact us to schedule a tour or request more information about a community near you.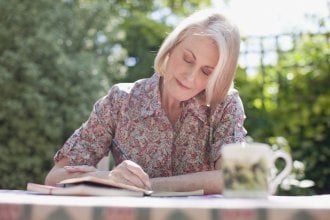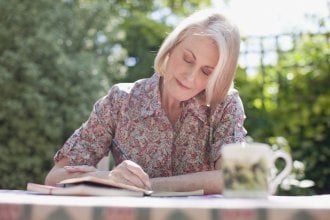 Preserving History: How Seniors Can Share Their Stories with the Next Generation
Once you've discovered your family's history, preserve it with these creative and fun ideas.
Read blog
Find a community
If you're a senior or caregiver looking for independent living, assisted living or memory care services for you or your loved one, contact us to schedule a tour or request information about a community near you.