As we age, focusing on cooking nutrient-packed meals three times a day can become a burdensome chore, especially if you're living alone and cooking for one. Skipping one meal can lead to skipping more meals and before you know it, you may become malnourished and in need of medical care.
According to the National Resource Center on Nutrition & Aging, more than 5.5 million seniors are food insecure or malnourished. If you aren't eating meals or if you're making poor food choices, the well-being of you or your senior loved one could be in danger.
This is where senior living communities can come in and help you or your loved one with scheduled nutritious meals enjoyed amongst friends in a lively community setting. Mealtimes that were once considered a lonely affair are now an anticipated event not just once a day, but three times a day, every day plus snacks in between!
Check out a few additional reasons below why you will end up eating healthier (and most likely feeling better) if you choose to live in a senior living community.
1. You don't have to make your own food
You or your senior loved one may have spent most of their life preparing and cleaning up after meals for their significant others or their children. Now it's time to enjoy having someone else cook for you. Senior living communities employ specially trained chefs who are knowledgeable about the nutritional needs of seniors.
Many senior living communities also encourage friends and family members of their residents to attend mealtimes with their loved ones. It's a great way to socialize, relax and stay healthy all at the same time.
2. Healthy options are easily available
All of our senior living communities are adorned with a spacious dining room ideal for restaurant-style or family-style dining, with tables set to encourage conversation and interaction among residents. Staff members serve residents with their food choice from a predetermined menu or an á la carte selection.
A sample senior living dining menu may look something like this:
Breakfast
Choice of egg
Muffin
Cream of wheat
Ham steak
Grits
Fruit salad
Beverage
Lunch
Chicken noodle soup
Seared pork chops
Raisin-carrot salad
Green beans
Cornbread
Beverage
Dinner
Fried or broiled fish
Grilled chicken
Vegetable soup
Cole slaw
Salad
Chocolate mousse
Beverage
3. Food is fresh, local and delicious
Most senior living communities, including all of our communities at Sonida Senior Living, have skilled chefs preparing fresh and delicious food that is sourced locally when possible. Some communities also have community gardens where vegetables are grown by residents (hello, gardening club!) for daily meals.
For example, our executive chef, Aaron Brooks, of The Waterford at Ironbridge in Springfield, Missouri explains in detail how he and his team prepare meals for residents. He says, "cooking from scratch automatically lowers risk factors because none of our food is processed or prefabricated, making it lower sodium and lower sugar."
Chef Brooks also states that the residents he serves are getting the balanced, healthy meals they need to successfully age in place. "Another way we ensure this balance is in the variety of home-cooked entrées we serve. Our entrées, which are the key source of protein in the meals, consist primarily of lean beef, pork, fish and poultry. Simply put, we use the highest quality fresh ingredients available to build our residents' favorite dishes."
4. Transportation services available to local grocery stores to pick out fresh food
If you want to explore the grocery store, farmer's market and butcher options in your surrounding area, senior living communities offer the option for residents to take advantage of on-site transportation services.
Community vans and/or busses will drive residents to the local grocery store and allow them to shop for their own groceries. This allows the residents the opportunity to pick out their own fruits, vegetables and healthy foods they may want to prepare on their own.
Many residents enjoy this amenity as it still gives residents their freedom and independence to shop for themselves while receiving support from their community staff through transportation and help loading groceries into their apartments.
Find a senior living community near you
If eating healthy has become something you need help with or if you know your senior loved one is struggling with their meals, it may be time to consider a move to a senior living community. Check out our assisted living, independent living or memory care services for you or your loved one or contact us to schedule a tour or request more information about a community near you.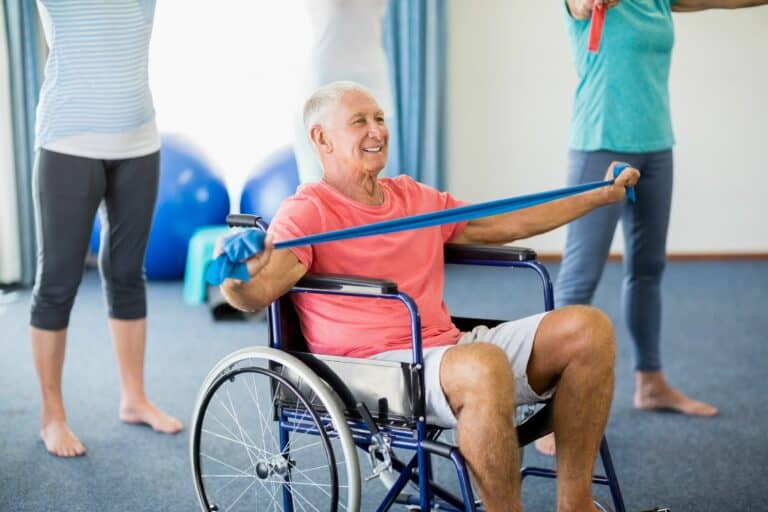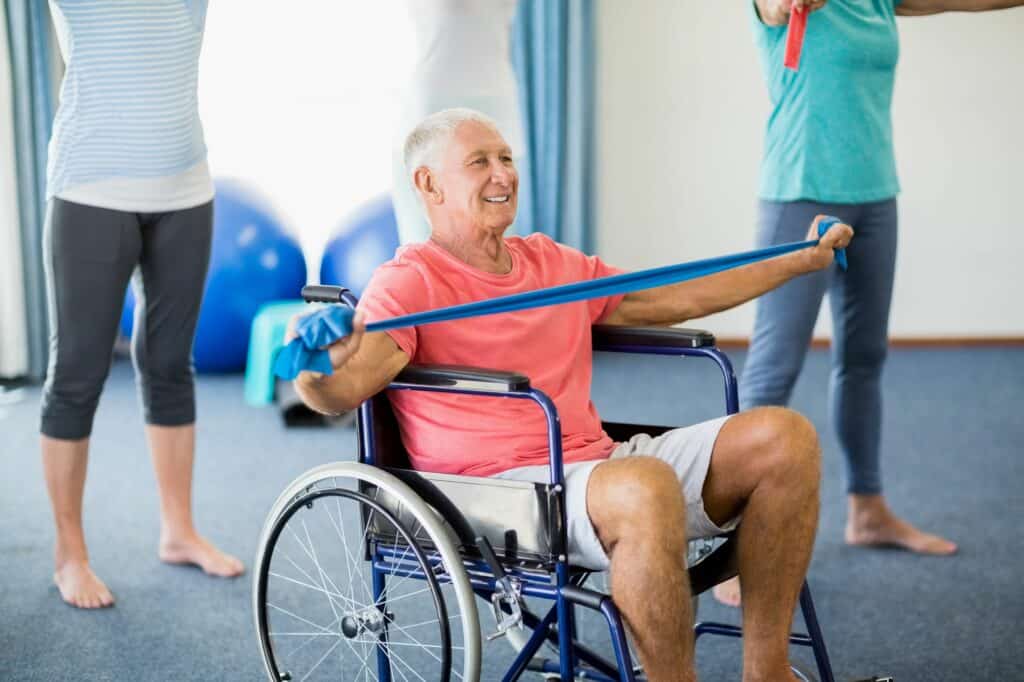 Seated Exercise Tips for Walker or Wheelchair-Bound Seniors
Getting older doesn't mean you can't still enjoy exercising and feeling the boost of a rush of endorphins.
Read blog
Find a community
If you're a senior or caregiver looking for independent living, assisted living or memory care services for you or your loved one, contact us to schedule a tour or request information about a community near you.