Whether you are celebrating Kwanzaa, Hanukkah or Christmas, 'tis the season for gift giving!
Have you ever asked your mom or grandpa what they want for a holiday or birthday, only to hear back, "I already have everything I need"? When your loved one doesn't have a specific gift in mind that they would like to receive, finding the perfect present can feel challenging. Fear not, for we've put together a list filled with sentimental, practical and entertaining gifts with something for even the pickiest of seniors.
With only a few shopping days left until the holidays wrap up, our gift guide should give you a few ideas of what to buy grandma, grandpa or any of your elderly loved ones this year.
The best gifts for seniors
1. A genealogy test
Chances are, there are gems of information about your family hidden right in plain sight within your loved one's DNA.
With easy-to-use tests on the market from companies like Ancestry, 23andMe, MyHeritage and LivingDNA, your elderly loved one will be able to explore genetic similarities and differences between you and relatives, connect with other people who have similar DNA, trace parts of their ancestry from thousands of years ago and learn how their DNA could influence traits such as hair loss and overall health. A simple cheek swab or saliva collection is all you need; it's a painless process that could offer great insights for the whole family.
Some of these companies may offer holiday specials. While it may take six to eight weeks for the processing time, you can purchase a kit in time to get it under the tree and then go through the process of collecting the sample together as a family.
2. The gift of memories
Many seniors have photos of their kids, grandkids and spouses in picture frames around their homes. But after a while, those frames can contribute to clutter and collect dust.
Gather up all those photos, as well as those that may be on a cell phone or computer, and use an online service such as Picaboo, Shutterfly, SimplePrints or Snapfish to create a book of memories that will live forever. Further customize the photo book with your grandparents' names or include a handwritten note inside to show just how much you care.
These books could especially be meaningful for senior loved ones with Alzheimer's or dementia because they can help your loved one recall happy memories.
In addition to a photo book or frame, most of these services allow you to create a photo calendar so that every month, a new photo will have them smiling and bragging. You can even customize mugs, blankets, puzzles and other trinkets!
For the tech-savvy senior, a digital frame can also be a great way to display their favorite pictures on a rotation. Whenever they want new photos to admire, it's easy to update the frame's memory card manually or via a smartphone app.
3. A day out on the town
While many of our senior living communities offer free transportation to stores and restaurants so your loved one can explore their cities with their friends and neighbors, your grandmother or grandfather would likely also appreciate spending time with you during lunch or dinner at a favorite restaurant. You could even add a movie or visit to the theater to create a full-day experience.
The gift of time, whether a one-time event around the holidays or a regular monthly outing, is so precious for seniors. Quality time with your loved one allows you to create new memories together that can be captured in pictures and even be compiled for future memory books.
If you are looking for more ideas on how to spend quality time with the senior in your life, you can check Groupon to see what deals on entertaining activities are available in your area.
4. A group of coupons that are actually useful
Have you noticed that your parent or grandparent enjoys it when you bring them a meal or help organize their closet? Maybe they appreciate a helping hand when it comes to sifting through junk mail or moving furniture around to bring new life to their apartment.
Take notice of some of these little tasks that could have big meaning for your elderly relative and compile a book where they can redeem coupons to have these chores completed. Bonus: you get to spend time together talking, laughing and sharing stories while checking an item off of your family member's to-do list.
Grandkids can get involved in this project by creating their own coupon books with assorted colors of construction paper (a perfect holiday craft). They can offer their grandparents extra hugs and kisses or the opportunity to jump in on a selfie that could then be used in a future photo book.
5. A compilation of music
While mixtapes or CDs may sound cheesy to you, the power of music can be especially meaningful for a senior. Remember the song playing on the radio when you had your first date? Catch yourself humming the tune to one of your favorite old TV shows? Your elderly loved one definitely has tunes that spark memories and smiles just like they do for you.
Sure, you could buy them a subscription to Sirius XM where they can sing along to songs on the Beatles Channel or 50s Gold in their home, but why not instead gather up their old albums and tapes that are in storage and turn them into CDs or digital files that they can easily enjoy? Crosley offers record players that have a vintage look but feature CD players and tape decks.
This present can also be a great way to introduce them to new technologies. It can help cut down on the frustrations of learning how to use an electronic device because the end product will be music to their ears.
6. A hobby basket
Many of our communities offer arts and crafts events on a regular basis. If your senior enjoys attending these sessions, put together a basket of supplies that they can bring and show off. The basket could include a glue gun, various kinds of scissors, glue sticks, tape, markers, colored pencils and construction paper.
If your grandparent loves bingo, it might be thoughtful to create a basket that not only includes distinct color daubers or chips but also features a lucky charm such as a keychain or a specialty T-shirt.
You could also ask the activities director at your loved one's community about supplies they regularly use for group events so you can purchase unique items that will help them stand out and be the envy of the room.
7. A "of the month club" subscription
It's the present that keeps on giving long after the holiday season! A monthly subscription for coffee, flowers, wine, cheese or beer could end up costing you less than buying a single big-ticket item that will take up precious space in your loved one's home.
Whether for three, six, nine or 12 months, your parents, grandparents or elderly loved ones can look forward to a special delivery each month that they can enjoy by themselves or share with their friends.
If you purchase a subscription, it could be helpful to provide your loved one with a calendar (maybe one with family photos created by you) with the dates circled of when they are expected to receive their shipment.
8. A streaming subscription
On the topic of subscriptions, there are numerous streaming options on the market, including Netflix, Hulu and Amazon Prime Video, that would make a great present for seniors who enjoy watching television and movies in their free time. Audible is also an excellent option for those that like to listen to audiobooks and podcasts.
A monthly or yearly subscription to a streaming service where they can watch their favorite shows can provide hours of entertainment, and they won't need to keep asking you for the password to your account!
9. A new electronic device
In this day and age, it seems like everyone has at least one electronic device, whether it be a smartphone, smartwatch or laptop. If your senior is comfortable using technology, consider one of these gifts this holiday season: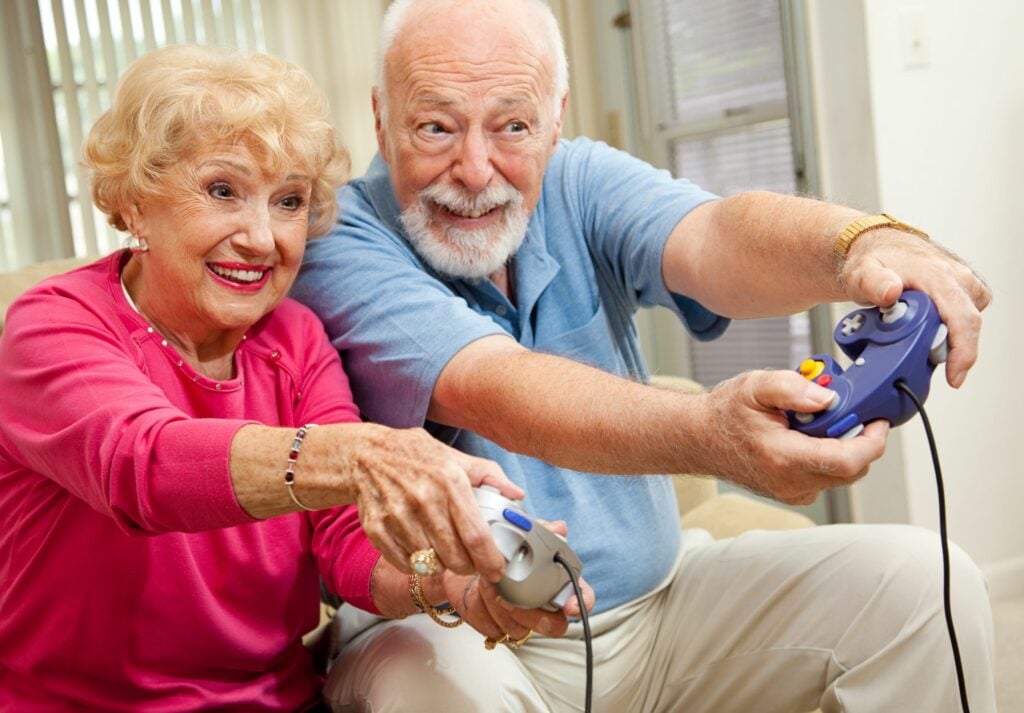 10. A relaxing experience
Treat the senior in your life to a cozy and soothing gift. Here are a few ideas that will surely please your parent or grandparent:
Weighted blanket: These blankets provide extra warmth for those that always seem to be cold.
Back massager: Various back massagers are available at most department stores. Using one is a good way to relax and unwind after a long day.
Heating pad: If your loved one suffers from aches and pains, there are heating pads available for different parts of the body, including shoulders, back and knees.
Compression socks: Older adults can greatly benefit from these socks that improve circulation and prevent fluid buildup.
For the ultimate relaxing experience, gift a massage with a gift card to a local spa.
Happy Holidays from Sonida Senior Living!
No matter how big or small a gift is that you give to your loved one, it's important to remember the true meaning of the holiday season: family togetherness. Savor that gift for as long as you have it!
Learn more about a community near you
Tips For Seniors Shopping on Black Friday
Seniors can find great deals when shopping in-store and online during Black Friday. Use these tips to save time and money.
Read blog
Find a community
If you're a senior or caregiver looking for independent living, assisted living or memory care services for you or your loved one, contact us to schedule a tour or request information about a community near you.