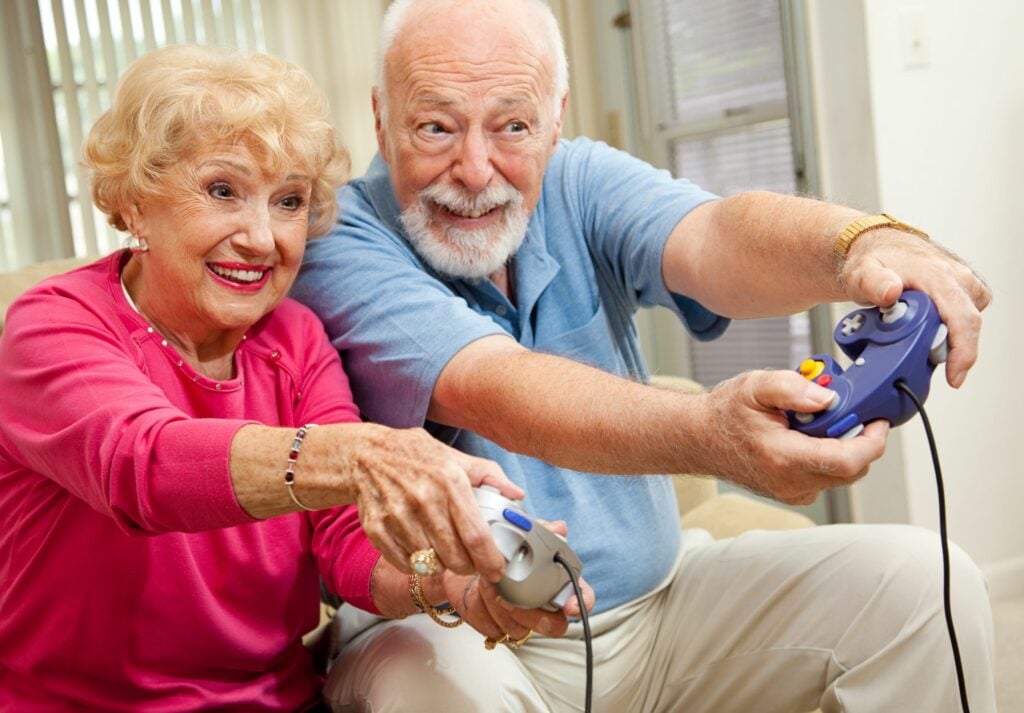 You might never have thought about gifting your grandmother or father a video game. However, this holiday season, a new video game or gaming console may be the perfect gift! 
According to Statista, about 21 percent of people who actively play video games are over the age of 50 years old. While this statistic might sound surprising, there are many physical, mental, and social benefits for older adults who play video games, whether alone or with friends.
For example, a recent study of 140 seniors over the age of 63 concluded that regular and occasional video gamers reported better health, well-being, and social function than non-gamers. They also reported lower rates of depression compared to their non-gamer peers.
Below, you can find a few of the most popular gaming gift ideas to consider for the seniors in your life this holiday season.
Popular Games on Nintendo Wii (gaming console) for Seniors
While this game was released back in 2006, it has stood the test of time, especially for aging adults. Wii Sports includes five different "sports" to choose from, including tennis, golf, bowling, boxing, and baseball. Players use a Wii remote to mimic the motions associated with each sport, such as swinging a golf club or throwing a bowling ball.
The main benefit of this game is that it gets people on their feet. Participants work up a sweat each time they play. Other benefits include keeping muscles and joints active, as well as improvements in coordination and balance. Wii Sports tournaments are very popular in our senior living communities! 
Play as the iconic Mario or with a friend as Luigi (Mario's best friend) as these classic characters travel through different colorful worlds on their quest to rescue Princess Peach from Bowser, the angry prehistoric turtle. This is a great game for those who might be new to video games, as it allows players to watch a computer-controlled character navigate the game before the player has to mimic the same activities. 
Research also suggests this game, not to mention video games in general, can help delay the onset of cognitive conditions such as dementia, making Super Mario Bros a great option for keeping your senior's mind sharp!
Popular Games on a Smartphone or Digital Tablet for Seniors
If you really want to impress your senior loved one, gift them a smartphone with the ability to download mobile games and apps. A digital tablet, such as an iPad, is also a fantastic and useful gift idea.
This is one of the most popular mobile games today, and it has a simple, clear premise. All the player has to do is clear the board of candy by lining up three or more matching pieces of candy in a row. The game gradually gets more difficult as you progress to higher levels. Budget-conscious players will be happy to hear that this game is free, but it also comes with the value of helping your senior's memory and overall brain function.
Much like a digital version of Scrabble, this popular mobile game lets you challenge your friends or family to a crossword-style puzzle game. Each player is given seven randomly assigned letter tiles, and can form words on their digital board either vertically or horizontally. Players take turns until each person has used all 104 tiles and a winner is declared.
This fun trivia game is very similar to playing Trivial Pursuit. Test your knowledge against your friends by spinning a mobile wheel to see which of the six categories you land on. You and your opponent will then be quizzed on questions from this category. The first to earn six crowns wins the game.
If you want to help your senior loved one stay socially engaged with their peers and keep their mind busy, look no further than fun and entertaining video games this holiday season.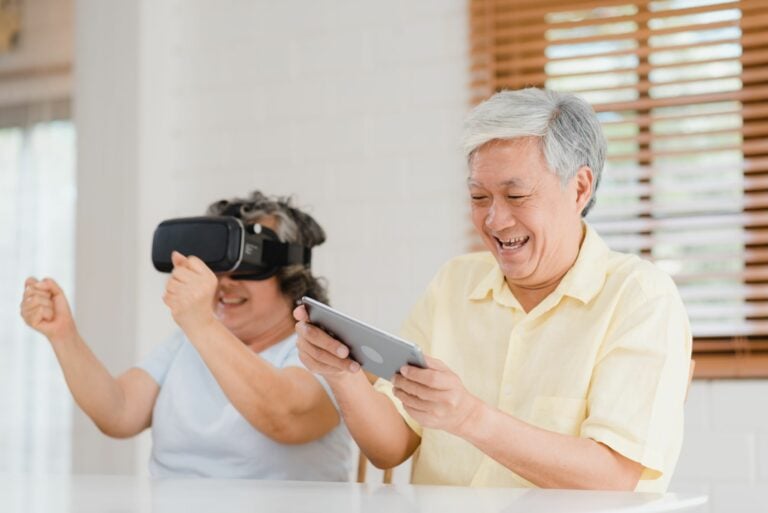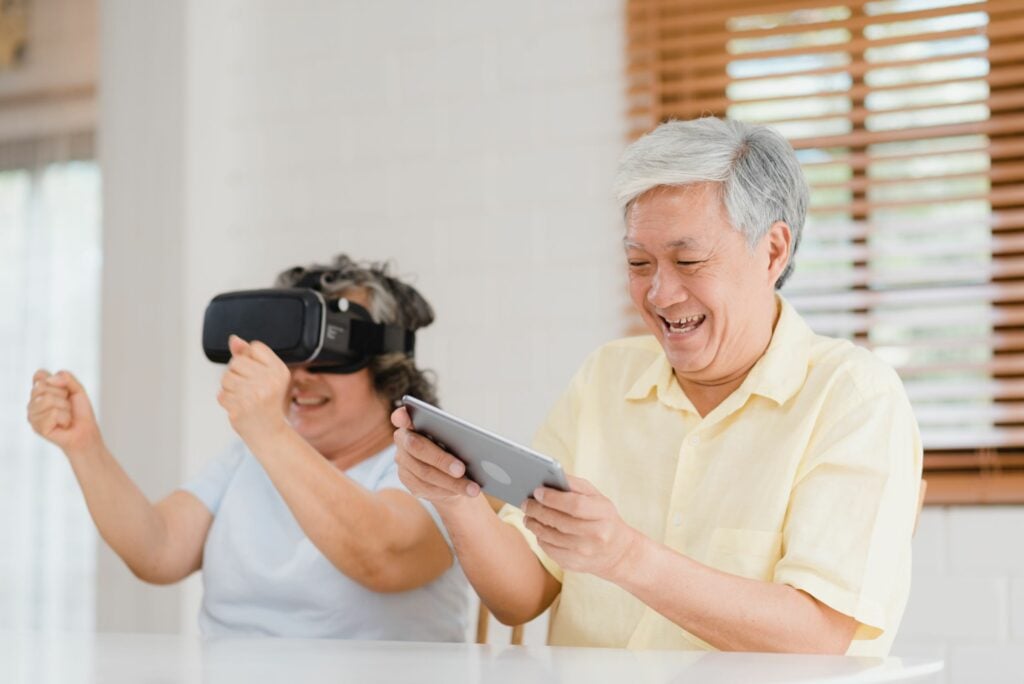 Best Smartphone and Video Games for Seniors
Check out our list of top five genres of online games and smartphone apps for older adults to enjoy.
Read blog
Find a community
If you're a senior or caregiver looking for independent living, assisted living or memory care services for you or your loved one, contact us to schedule a tour or request information about a community near you.