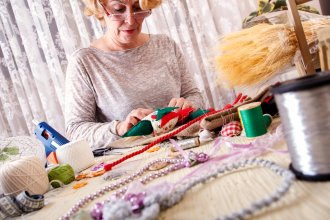 'Twas the beginning of the holiday season, when all through your community, not a tree had been strung, not a stocking yet hung!
The holidays can be a jubilant season for seniors and all of their family and loved ones. It's the time when baking dozens of fresh cookies is exciting and mouthwatering, listening to Christmas music is fully embraced and shopping becomes a regular duty. However, don't forget the greatest triumph the holiday season brings: decorating. Bring out the bells and whistles, the wreaths and garland.
No matter your faith or how you choose to celebrate, it can be fun to make your senior living community and apartment festive. Here are some decorating ideas that are sure to make your season a little merrier and brighter.
Holiday Cards
Do you have tons of holiday cards in storage? Get creative with cards from family and friends and use them as decorations. Glue or tape the cards to a piece of red, green, gold or silver ribbon and then hang them on a wall or door frame. Visiting loved ones will see all the cards, and they'll serve as a reminder for how much you are appreciated.
Tree Ornaments
If you're opting not to put up a tree this year, you might want to use old ornaments for a different purpose. You can make wreaths out of your ornaments that are sure to bring joy to you and your neighbors. If you get in the spirit of making wreaths, you can also try to use burned-out light bulbs to add some sparkle. All you need is a plain wreath and a hot-glue gun to attach your bulbs and ornaments. If you're a "from scratch" kind of crafter, find some white Styrofoam circles from your local craft store and glue your ornaments and bulbs to it.
Excess Wrapping Paper
Remember when you bought all that wrapping paper last year to use this year? Now is the time to use it, but not for wrapping this year's presents. Find some old boxes, wrap them, and set them out with some fake snow for some simple décor that can be used every year. If you want to take it up a notch, cover your front door or choose a small wall space and cover it with wrapping paper. Get your neighbors and/or grandkids involved to make this a fun holiday bonding session for everyone while also helping you beat seasonal affective disorder.
Giving Tree
Build a simple thankful tree or giving tree. A small tree, construction paper and ribbon will do for this craft. Once you have your supplies, cut out fun paper ornaments in your desired shapes. Write down the reasons you have to be thankful on those ornaments and hang them on the tree. You can add ornaments throughout the season. You can also create a giving tree with ornaments that your friends, neighbors and loved ones have created showcasing all of the reasons they are thankful for you.
Felt Decorations
Felted snowflakes, Christmas trees and more. Cut out some of your favorite holiday-themed items and color coordinate them to match the season. Buy silver, blue and white felt and cut out snowflakes to hang on your walls and mirrors.
Wreathes
A wreath decorating night is a perfect way to bond with your neighbors. If your senior living community offers scheduled courtesy transportation, ask if you and a group of your friends can go to a craft store to gather supplies such as plain wreaths, hot glue guns and all the bells and whistles you desire. Glue on candy canes and bells for a sweet and wintery wreath. If you want to keep it simple, take colored ribbon and wrap the wreath for a simple, yet purposeful statement piece. No matter what the final product looks like, you are sure to have fun making these with loved ones.
Garland
Artfully designing some pasta garland and homemade ornaments is a fun and simple activity for everyone. First, gather your favorite pasta and dye it by using rubbing alcohol or white vinegar, food coloring and plastic bags. Once it's dry, string it together to create a scrumptious garland that's appetizing to the eye. You can drape it on your table, across your Christmas tree or over the top of the counter. If you're over your current ornaments, you can also take paint, squeeze a little bit inside a clear ornament and shake it. It will create dreamy swirls of your favorite colors.
There's no shortage of things you can do to get in the holiday spirit this year. From going all out decorating to turning your jingle jams all the way up, it's time to bring in the cheer.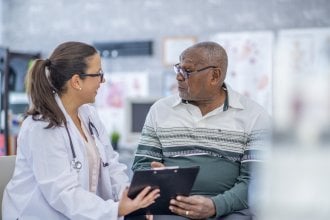 Winning In Life's Game: Overcoming Challenges And Taking Opportunities In Your Golden Years
Learn some of the most common issues seniors face and ways to overcome them for a happy, long and healthy life.
Find a community
If you're a senior or caregiver looking for independent living, assisted living or memory care services for you or your loved one, contact us to schedule a tour or request information about a community near you.