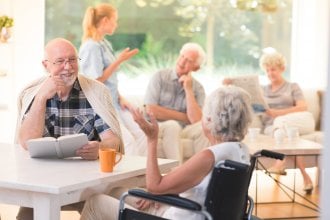 Say goodbye to the worries of living alone. To home maintenance. To housework. To meal prep. 
Say hello to a relaxed lifestyle in an apartment home with no cooking, cleaning or maintenance — and friends next door. That's what senior living communities are all about. And that's why there are so many options out there for seniors and their adult children to choose from when they decide the time is right to transition from living at home to living in a retirement community. 
Sonida Senior Living communities across the United States work effortlessly in providing a number of services that allow seniors to age in place while being as self-reliant as they desire and deserve. It's important to all communities that residents feel at home from the moment they move in. In addition, it's important that all at-home caregivers – whether an adult child, family friend or even a professional from an agency – feel a sense of relief and pride after their loved ones find that right community. 
"I hear residents and adult children say they wish they would have done this years ago," says Gloria Holland, Vice President of Finance for Sonida Senior Living. "Being a part of a community gives the family and seniors the peace of mind they need. The family caregivers can rest easy knowing their loved ones are eating better and getting the benefits that each community has to offer." 
If you're 55+, curious about senior living and hesitant about joining a community, there's a place for you. If you're an adult child looking for a place where your senior loved one can stay active with regular events that physically, mentally and emotionally stimulate them, there's a service for them (and you). 
But, with all of these service options, confusion can sometimes ensue. What are the differences between independent living, assisted living and memory care? Sonida Senior Living prides itself on offering a continuum of care with all three services offered at some of its communities. 
What is independent living? 
Independent living is ideal if you, as a senior, are looking for a community where you can live a more relaxed lifestyle. In Independent Living, you can appreciate all of the advantages that complement your independence. 
"If you're an independent living resident, the advantage is that it simplifies your life," Holland says. "You get the convenience of living alone but with built-in activities and a community of people like you. And, there's also no property taxes!" 
Light assistance is available from 24-hour staff members – but for the most part, your day-to-day routine is still in your hands. 
Independent living is intended for you if you desire independence and services including exercise programs, medication reminders, courtesy transportation to events such as attending a movie or the symphony and recreation and entertainment activities. In Independent living communities, residents have the freedom to do what they like best. 
Find the right home for you when you browse this list of Sonida Senior Living Independent living communities.
What is assisted living? 
Assisted living is likely an option that an adult child would consider for their senior loved one. A senior in an Assisted Living community likely needs more attention than one who is in Independent Living. In this community setting, seniors still have a sense of independence but get additional assistance from on-site staff or an on-site home health agency. They can expect to pay solely for the services they desire such as escort and transfer services, medication administration, early-stage or mild dementia care and additional housekeeping and laundry. 
Care plans are designed and tailored to a senior's needs and may include standby shower assistance and incontinence care. Your senior will be able to go on shopping trips with scheduled courtesy transportation, which can help them find a balance between the two worlds they straddle. 
You can help find your senior the right home when you browse this list of assisted living communities.  
What is memory care? 
Taking care of a senior loved one with Alzheimer's or dementia requires a lot of attention, time and commitment. That's why you, as an adult child, want to find a senior living community that values those traits. memory care offers professional assistance in a positive, loving and failure-free environment. 
Services relieve you of some of the duties that come with caring for your senior. If your parent or senior loved one has Alzheimer's or dementia, you know what the side effects look like. Loss of appetite, general discontent, difficulty with self-care and getting lost are a few of the challenges. A memory care community is a viable option that rises to those challenges in a positive and respectful manner. 
"One of the main differences is that the staff is trained to properly care for memory care patients," Holland said. "Activities programs are more robust and include things like life stations that feature activities that seniors used to do when they were young. It keeps them active and focused while using their hands to work on dexterity." 
Each service offered in a memory care community can be tailored to your senior and may include medication management, escort and transfer assistance, incontinence care and assistance with bathing, dressing and grooming. 
"For memory care residents, familiarity is important," Holland said. "Changing environments can be disruptive, so Sonida Senior Living works to minimize disruptions while allowing the opportunity for friends in other programs to still visit." 
To find the right home for your loved one, browse this list of memory care communities. 
According to Holland, each community has its own personality. If you're a senior who loves to get dolled up for dinner, there's a community for you. If your senior is more casual, you can find a community that fits their needs. At Sonida Senior Living, there truly is a home for everyone. 
Other Blog Posts You Might Be Interested In 
Find a community
If you're a senior or caregiver looking for independent living, assisted living or memory care services for you or your loved one, contact us to schedule a tour or request information about a community near you.