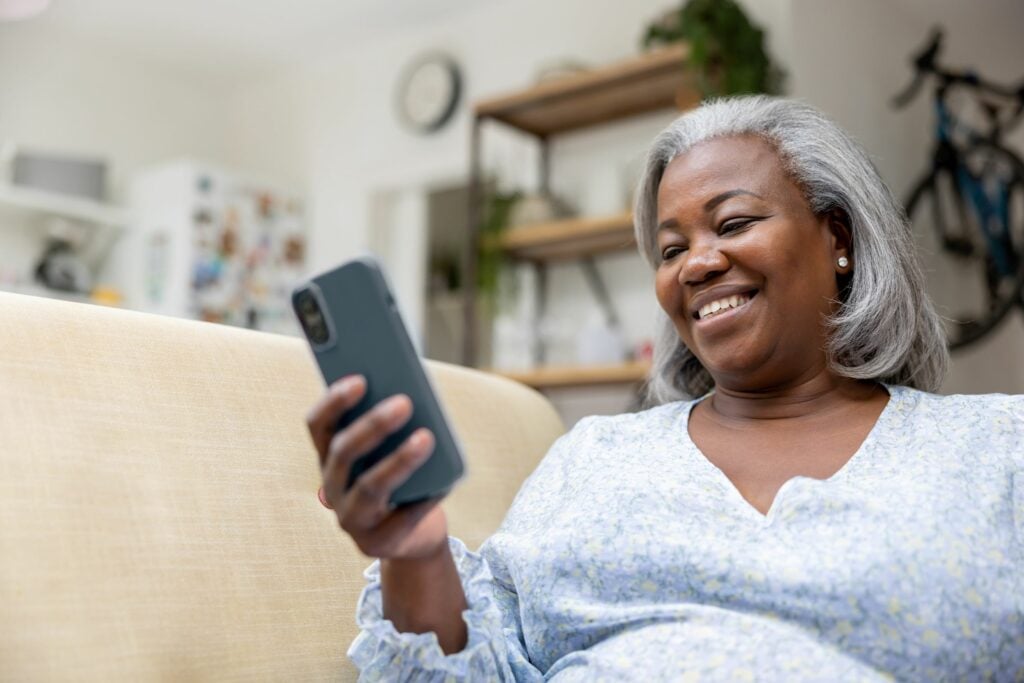 Are you looking for tips on how to make the most out of your iPhone? We're here to help. With the right guidance and a few helpful tips, you can harness the power of your device and enjoy all the convenience it offers.
This iPhone cheat sheet is designed just for seniors, offering straightforward instructions to help you navigate your phone with confidence and ease.
iPhone cheat sheet for seniors: Understanding basic navigation
To make the most of your phone, you'll want to have a basic understanding of how it works and how to get around.
With this, let's cover:
How to unlock and lock your iPhone
To wake up your iPhone, you either press the home button if you have an iPhone SE or an older model, or for newer models, simply press one of the side buttons to turn on the display.
If you use Face ID, just look at your phone, and it will unlock automatically. If you don't use face ID, type in the passcode originally set for your iPhone – to make this easy to remember, try to use a number combination that means something to you (e.g., a birthdate, a favorite number, etc.).
If your phone is unlocked and you want to lock it again, simply press the right-hand side solo button and that will lock your phone, causing the display screen to go black.
Navigating the home screen and customizing your widgets
Once your iPhone is unlocked, you'll come to the home screen. This area displays all your app icons, but also, the newest software enables you to have special widgets that display here if you prefer.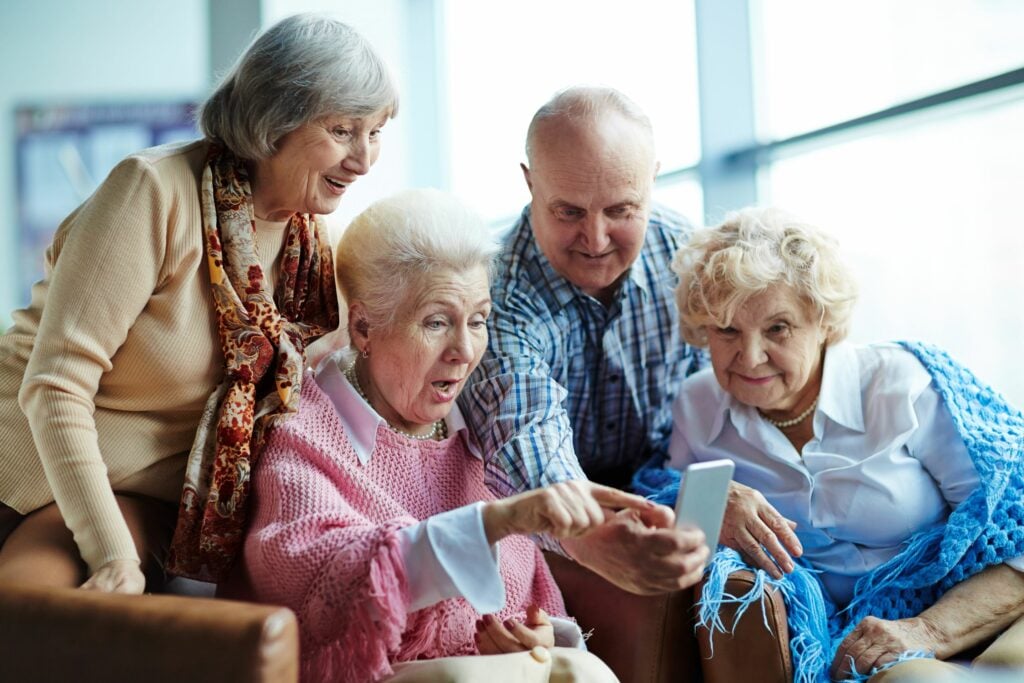 First, to navigate the apps, simply swipe left or right and all of the apps you have downloaded will be displayed. You can also find all of your apps in your app library which you can navigate to by swiping all the way to the right screen. If you're having trouble finding the exact app you want, from the home screen you can swipe from just below the speaker and a search function will appear, allowing you to find anything on your phone that you need.
If you want to customize your home screen, simply hold your finger down in between two of the apps and all of the apps will start to jiggle. You should see a plus sign at the top left-hand corner. Click that and start browsing all of the widgets that you can add to your screen. A few of our favorites include the Weather forecast, the notes app for an easy to-do list and the photos app to see your most recent memories.
All things app icons
If you want to access an app, all you have to do is tap it! Easy peasy.
If you want to exit an app, simply swipe from the bottom of the screen up in a swift motion, or, if you have an older iPhone model, tap the home button.
If you want to organize your apps or delete one, press and hold an icon to enter edit mode. A small minus sign will appear in the upper left-hand corner of the app to delete it. When the apps are jiggling (in edit mode), you can also drag the icons around so they're in the order you like best.
iPhone cheat sheet for seniors: How to make phone calls and text
Now that we have a basic understanding of how to use the home navigation and make the phone more customized based on your unique needs, let's discuss the (arguably) most important parts of the phone: phone calls and texting.
Using your keyboard
The keyboard appears when you need to type something in a text message, online or another app. Use both hands to hold your iPhone and type more comfortably using your thumbs. For quick access to emojis (symbols), tap the smiley face key in the bottom left-hand corner.
Sending iMessages and text messages
If you want to send an iMessage – a.k.a. a message to another iPhone user – or a text message – a.k.a. a message to a non-iPhone user – simply open the green Messages app (the one with a speaking bubble) to send messages to friends and family.
Once in the Messages app, in the upper right-hand corner, you'll see a pencil icon. Tap that to start composing a new message. You'll be able to choose the recipient by typing their name or add a new recipient by typing in their phone number in the "to" field.
Making calls
When making a call, you'll use the green Phone app (the one with a white phone receiver). Tap it to open, then use the keypad to dial a number. If you have the person stored in your contacts, you can click contacts at the bottom to choose who you want to reach out to.
Which leads us to…
Storing contacts
So you don't have to remember everyone's phone number and other information (mailing addresses, email addresses, secondary numbers, etc.) by heart, you can store your contacts in the Contacts app for easy access.
To add a new contact, click the Contacts app (the brown one with a white phone book), and click the plus button in the upper right-hand corner. It'll prompt you to fill out all of the fields you need for your contact from there (e.g., name, phone number, email address, etc.). Handy, right?
iPhone cheat sheet for seniors: Utilizing your camera and photos app appropriately
A lot of people really love the iPhone for its camera and photo- and video-storing features. Here's the how-to on using these features.
Managing and taking photos/videos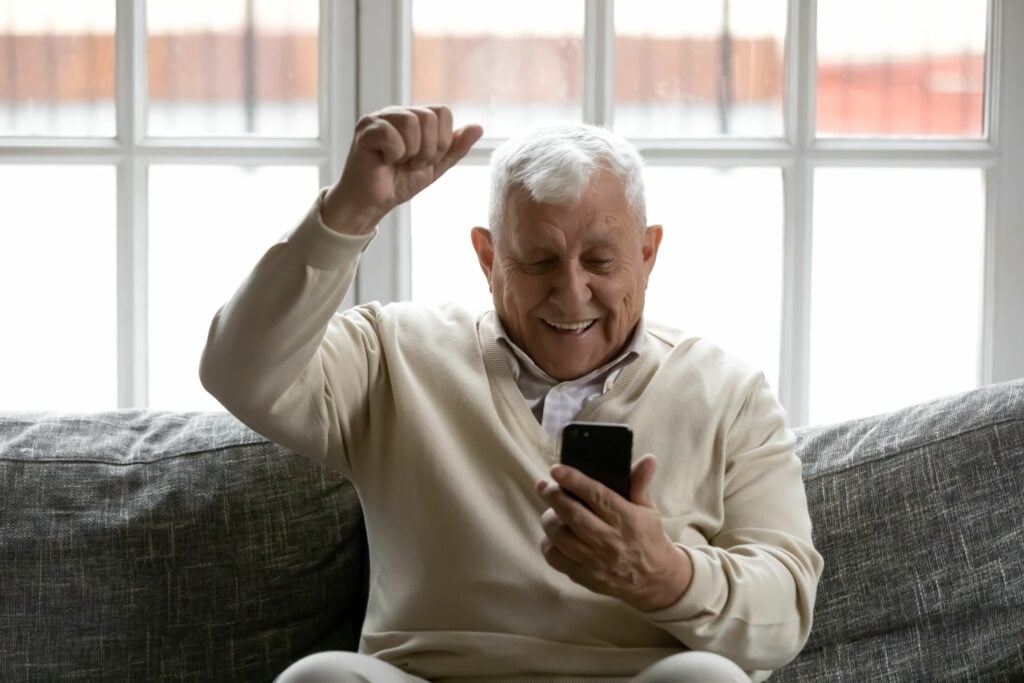 To take a picture, open the Camera app (the gray one with a black camera). Tap the white circle at the bottom of the screen to take a photo.
If you want to take a video, simply scroll to the left and you'll see a red dot appear. Click that dot and your phone will start recording.
You can also utilize the other capture features, like portrait mode, cinematic mode and more – but since this is the basics, we'll leave it at that for now.
Viewing your photos
To see the photos you've taken, open the Photos app (the white app with a colorful-looking flower) to view your pictures. Swipe up and down through your library and click on a photo to make it expand. From there, you can swipe left or right to scroll through your library of photos as well.
iPhone cheat sheet for seniors: Adjusting your personal phone settings
We all want our phones to be as customized as possible so it's easy to use. You can make yours work for you better by:
Using the control center
Swipe down from the top-right corner of the screen to access the Control Center. From here, you can have easy access to settings that adjust brightness, volume, Wi-Fi and more.
Accessing all of your general settings
To get access to all of your settings and customize your iPhone further, go to the Settings app (the gray one with the gear). Here, you can scroll through to adjust display settings, sounds, notifications and more.
Within this section, you can change your accessibility features to make it easier to see and hear on your phone. These accessibility features include:
Larger text: You can increase the text size for easier reading. Go to "Settings" > "Display & Brightness" > "Text Size."
VoiceOver: Enable VoiceOver for spoken feedback on what's happening on your screen. Go to "Settings" > "Accessibility" > "VoiceOver."
Magnifier: Use the Magnifier feature to zoom in on text or objects. Triple-press the Side button (or Home button if applicable) to activate it.
Siri assistance: To activate Siri, press and hold the Side or Home button, or say, "Hey Siri" to start a conversation with your virtual assistant. You can ask Siri to help with various tasks, like sending messages, making calls, setting reminders and answering questions.
iPhone cheat sheet for seniors: Keeping your information secure and private
One of the risks of using the internet is the ability for hackers to access your personal data. Let's keep your information safer by enabling the following features.
Face ID or Touch ID
Secure your iPhone by enabling Face ID (if available) or Touch ID. Set it up in "Settings" by clicking "Face ID & Passcode" or "Touch ID & Passcode." Your phone will walk you through how to set this up from there.
App permissions
Control which apps have access to your location, camera and microphone by clicking "Settings" and "Privacy." From there, you can choose which apps are allowed to utilize your personal data.
iPhone cheat sheet for seniors: Handy (and fun!) apps to download
Now that we've covered all of the important basics, let's discuss some fun and helpful apps to add to your iPhone.
Apps that enhance your daily life
From entertainment to healthy living apps, there are hundreds of options for apps that will make your day easier and more fun. Check out our blog post on 14 smartphone apps you can download to enhance your daily life.
Apps to fill time and have fun
One of the best parts of having an iPhone is playing games like crossword puzzles, Words with Friends and more. We have a handy blog post on the best smartphone games for older adults. Check it out to learn more.
Now you're ready to use your iPhone!
Remember, learning to use your iPhone is a gradual process. Take your time to explore and practice these tips, and soon you'll be confidently navigating your smartphone like a pro.
Don't hesitate to seek help from friends, family or local tech support if you have any questions. Apple also has a helpful guide to using your iPhone that you can reference. Your iPhone can be a valuable tool for staying connected and enjoying the digital world, so make the most of it!
Looking for some other Sonida tech tips? We have blogs on video calling and virtual reality for seniors as well. Check out our blog for all the latest info and tips.
Other blogs you might be interested in reading
Several apps (available in the App Store or on Google Play) can be used on smartphones to help seniors enhance their day-to-day lives.
Read blog
VR can be an outlet for seniors to socialize and engage in activities they perhaps haven't been able to do in years due to the aging process.
Read blog
Seniors know their smartphones and the internet are a gateway to plenty of entertainment. Here are our top five genres of games for seniors.
Read blog
Find a community
If you're a senior or caregiver looking for independent living, assisted living or memory care services for you or your loved one, contact us to schedule a tour or request information about a community near you.
Learn more about a community near you