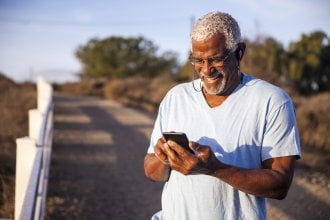 Similar to radio shows such as Gene Autry's Melody Ranch, The Jack Benny Program and Gang Busters that seniors may have listened to growing up, podcasts are today's form of audio entertainment. Podcasts are free digital audio files that are made available on the internet for downloading to a computer or mobile device. They are usually talk or music programs that are part of a series that can be automatically retrieved in installments if you're a subscriber.
While they've been around for at least a decade, these "radio gems" have become incredibly popular in recent years. According to The Podcast Consumer 2018 from Edison Research, 34% of 18- to 34-year-olds and 36% of 35- to 54-year-olds are listeners on a monthly basis. Seniors 55-plus make up 19% of current listeners, which skew male in all demographics.
Podcasts vary greatly – from fictional shows to talk shows hosted by a celebrity. They allow you to listen to content whenever and wherever you want. Most podcast audiences listen to their favorite shows at home – 82% according to the survey – making it an ideal activity to gather for in your senior living community. Another 58% listen while in a car or truck, so talk with your courtesy transportation driver to see if you can get him or her to dial up a podcast while you're out and about with your neighbors.
Because podcasts can also be stopped and started, paused and returned to at a later time, they are perfect for seniors who have a busy lifestyle or need something to listen to along with their adult children or grandchildren.
How do you listen to podcasts?
How you listen to a podcast depends on the device you have. If you have a smartphone, an app can help you listen and keep you up to date on your desired shows. iPhones have a podcast app pre-installed, but this isn't your only option. You can easily listen to shows from your phone's web browser utilizing an app such as RadioPublic, Sticher and Google Podcast. You can also listen to podcast via Spotify, which is great for seniors who want to transition from music to shows. If your community offers a computer room, podcasts can also be accessed via a computer.
What should you listen to?
With so many podcasts available, chances are there is a show perfect for you. Whether you're hoping to learn about the intricacies of architecture or listen to heartwarming stories from across America, here are seven popular podcasts that senior audiences will appreciate:
This American Life: This weekly, hour-long podcast hosted by Ira Glass, a famous producer and radio personality, primarily focuses on journalistic non-fiction stories and essays. Each episode features multiple stories that follow a theme. Some stories are told as first-person narratives, while others are interviews. From ironic and melancholic to humorous and heart-warming, This American Life encompasses a variety of stories that will entertain seniors. The show is regularly broadcast on the radio, but you can download episodes weekly and listen to them at a time of your choosing. Think of This American Life as a show that explores human nature. Some episodes will cover current events and explore how these events affect real people.
Stuff You Missed in History Class: Produced by How Stuff Works, this podcast focuses on various events in history that often get overlooked. From social and cultural happenings to people of political importance, this show takes a deep dive into these stories, provides insight into things you might not have known, and highlights historical figures who are often forgotten. Because there are so many historical topics, you can actually select an episode and theme you choose to listen to. The show also includes history from around the world and interviews with experts. Stuff You Missed in History Class is the ideal podcast for seniors looking to learn more about the past.
99% Invisible: Hosted by radio personality Roman Mars, this podcast takes a deep look into the design of the world around us. Described as music-like and calming, this show answers the curious questions you didn't even know to ask. From the "inflatable men" at car dealerships to the origins of fortune cookies, 99% Invisible asks you to expand your mind and get to know the world. The show is a little more than 30 minutes, making it perfect to listen to while you're driving or being driven around town.
You Must Remember This: Dedicated to exploring the forgotten histories and secrets of Hollywood, this podcast is another great history show that focuses on the first century of Hollywood. It looks at the figures in front of and behind the cameras. Entertainment Weekly and The New York Times have revered this podcast for its unique and realistic take on the history of the entertainment industry. Whether you're a lover of music or movies, this podcast will have an episode for you. From classic movie stars who faded from the limelight to Frank Sinatra's final album, You Must Remember This spends time exploring the beautiful stories and ugly truths behind the silver screen.
Freakonomics Radio: Co-author of the Freakonomics books, Stephen J. Dubner hosts this weekly podcast. Similar to the books, the show is a collection of interviews and essays that looks at socioeconomic issues, but it's geared for a general audience. Episodes vary in size and can range from 30 minutes to an hour. Perplexingly funny episodes include "The World is a Mess but Oysters, They Hold it Down" and "How Can I Do the Most Social Good with $100." Freakonomics takes a look at the world around us and relates it to economics. The show also includes episodes with themes such as The Secret Life of a C.E.O, where heads of industry such as Richard Branson and Carol Bartz are interviewed. Like many other podcasts, this series doesn't have a chronological order, so don't feel like you have to listen to episode one. Just pick a title or topic that interests you and have fun.
The Handyguys: Have you ever watched a home improvement show and wanted to know how they actually fixed the structure? Have you ever wondered how a professional would go about tackling a DIY project? This podcast offers the answers to these questions and more. Featuring helpful instructions for home improvement projects, The Handyguys chooses a topic each month to help at-home builders, do-it-yourselfers and even those who are just curious. The show also has a list of videos to physically show you some of the processes discussed during the podcast.
Planet Money: Similar to Freakonomics Radio, this podcast is a fun and entertaining way to explore and explain economics. With episodes ranging from six minutes to 30 minutes, Planet Money offers easy-to-digest stories about the ever-changing economic landscape. From interviews with experts to deep dives on particular subjects, the show often looks at economics through jokes, taking a usually dry topic and making it laughable. From stories on the science behind poker to the origins of the price tag, the show aims to teach listeners while entertaining.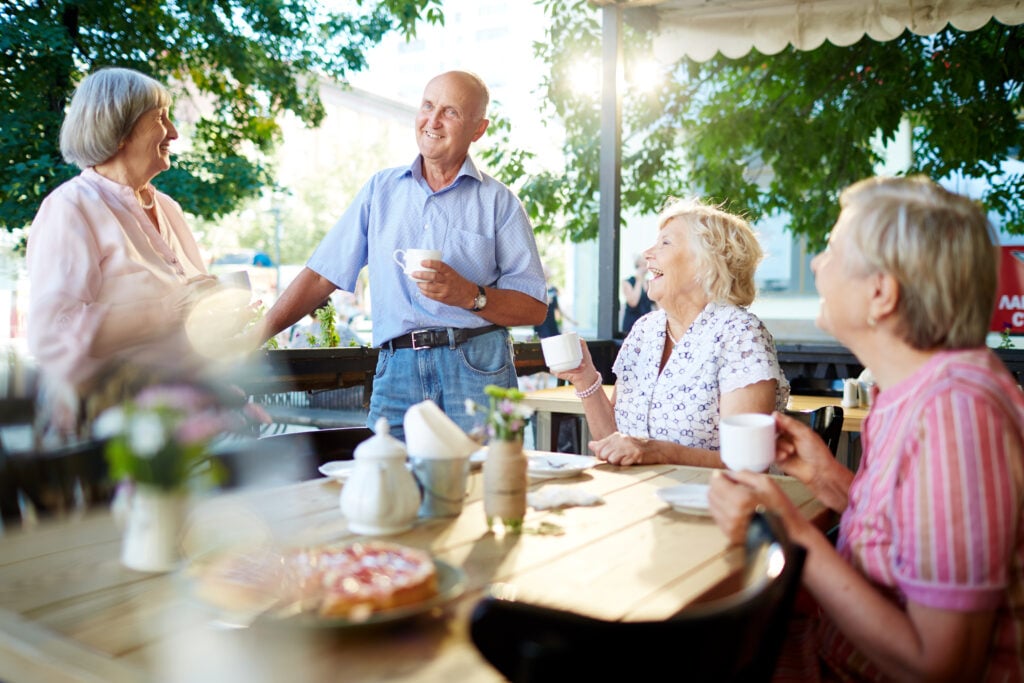 Become a Social Butterfly and Shimmer Through Your Senior Years
Senior living communities are designed to promote health and happiness while allowing you to build new friendships in your later years.
Read blog
Find a community
If you're a senior or caregiver looking for independent living, assisted living or memory care services for you or your loved one, contact us to schedule a tour or request information about a community near you.