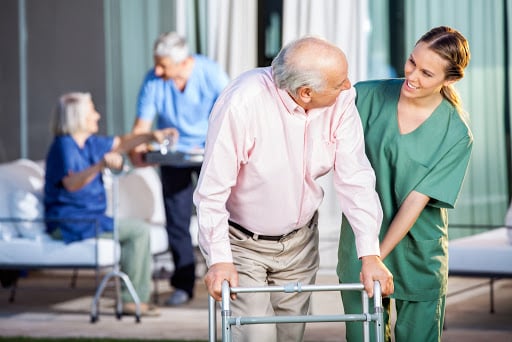 If you have an elderly parent or relative who needs or will need a full-time caregiver or assisted living, you're not alone. According to the American Psychological Association, nearly one-third of the adult U.S. population is a caregiver for an ill relative.
Before you and your family decide on which option is the best for your loved one, many financial and personal discussions should happen before anyone takes on the role of "caregiver."
Before becoming a caregiver, keep these questions in mind
1. Do you have the time and financial stability?
According to Caregiver.org, family caregivers spend an average of 24.4 hours per week providing care to a parent, while nearly 1 in 4 caregivers spend 41 or more hours per week providing care.
If you already work full-time outside of the home, you may find yourself having to use sick and vacation days for unexpected doctor visits or other obligations related to caregiving. Before you know it, you may end up without paid time off and lose earnings or your career altogether.
Weigh all options that are out there before deciding to take on a caregiving role if you aren't sure that you have the necessary time and financial means to do the job. Also, assuming that assisted living communities are too expensive or out-of-reach is absolutely false. Research your local communities and see if it could be cheaper in the long run and a better option for you and your family.
2. Are you physically capable of the duties?
Depending on the level of care required for your loved one, really take a hard look at how physically demanding the job of a caregiver can and eventually will be. Normal responsibilities can include:
Personal hygiene assistance and grooming
Mobility assistance
Transportation
Feeding and dietary assistance
Toileting and incontinence care
Medication reminders and assistance dispensing
Accidental falls, helping your mom or dad on and off the toilet or in and out of bed are all common duties while caregiving. Are you physically able to lift your parent if they were to fall or needed assistance getting off of the toilet? If you are unable to do these tasks, you may need to reevaluate your role or research assisted living communities where they are equipped to handle the physical demands of such tasks.
3. Do you have a support network?
Taking on the role of a caregiver is not a one-person job. As much as you would like to think that you can do it all and care for your mom or dad yourself, that is just not the case. You will need time to tend to your personal needs. You will need time off if you become sick or too ill to do your job.
Having a support network will help combat these immediate issues, and having more people willing to step in to help is the best care scenario. Again, if you do not have a support network, then perhaps having the support of an assisted living community is the best option.
Schedule a tour
There are alternative options to caregiving available to you. If you want to look at assisted living communities or to learn what the cost would be, check out our assisted living or memory care services for your loved one or contact us to schedule a tour or request more information about a community near you.
Senior Living vs. In-Home Care: What are the Benefits of Making A Move
If the time comes when you or your loved one has to seek another haven away from home, it's important to know that comfort, familiarity and peace of mind can be found – sometimes in even greater capacities.
Read blog
Find a community
If you're a senior or caregiver looking for independent living, assisted living or memory care services for you or your loved one, contact us to schedule a tour or request information about a community near you.