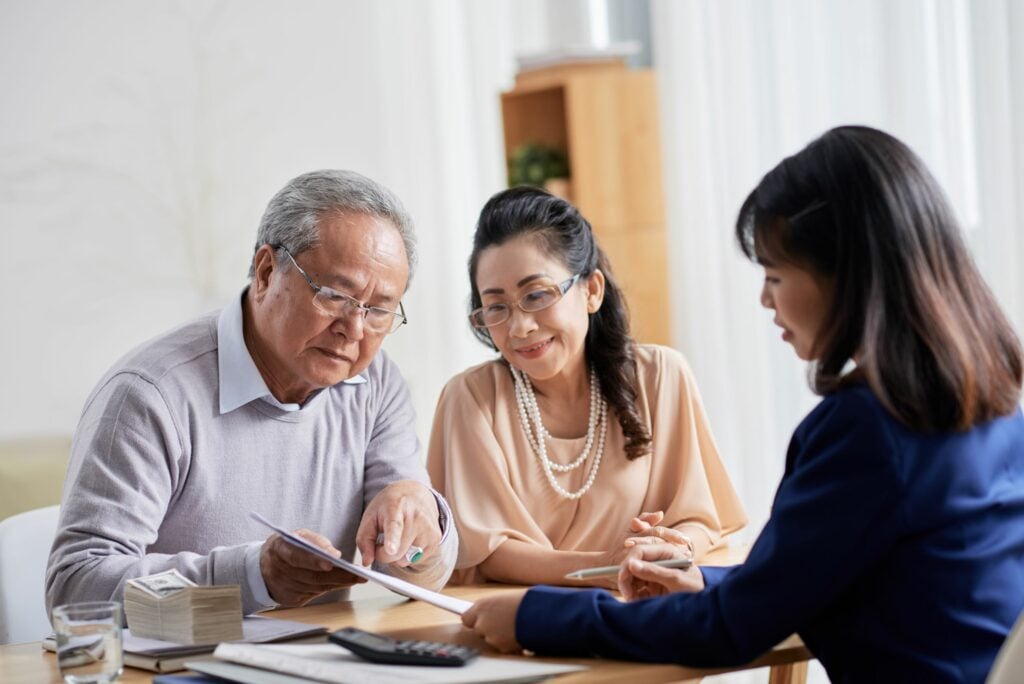 When the time has come for either you or a loved one to research and tour senior living communities, the process may feel overwhelming or daunting. However, knowing what to look for and what questions to ask will help you or your senior loved one to decide on a community and make you feel more than prepared to take the next steps in securing a new home.
Scheduling a tour with a senior living community that you're interested in is the first step in the process, and a very important one. Touring also allows you to meet the staff members and witness first-hand the interaction among staff and current residents.
It's imperative to ask as many questions as you'd like because this step in the process will help you understand what the community has to offer you or your loved one.
Below are the five most common (and important!) questions to ask during your visit to a senior living community and some reasoning behind why they're important to ask. The answers you receive from these questions will guide you or your senior loved one's search and help determine how the community will fit you or your loved one.
1. What safety precautions and services are available?
Safety should be the number one priority in all senior living communities – including independent, assisted living and memory care facilities. You will want to know if there is 24/7 staffing onsite and if there is a community emergency plan and what that plan entails.
In the event of a natural disaster, for instance, you will want to know how the community will handle communication with the families of residents.
For assisted living and memory care facilities, it's important to know if physicians visit regularly and who facilitates those appointments. For these types of communities, you will want to know who administers medication and manages medication, along with asking if there are individual service care plans established for each resident and how they are carried out.
2. What social, entertainment and wellness opportunities are available?
Another important area to consider when asking questions during your tour is the opportunity for you or your senior loved one to connect with staff and the community through social events and entertainment, as well as on-site services like physical and occupational therapy or religious services.
Staying active and socially engaged is paramount in the fight to ward off disease and illnesses such as dementia, high blood pressure and depression. According to a recent study, 60-year-old people who visited with friends almost daily were 12 percent less likely to develop dementia than those who only saw one or two friends every few months.
As people age, it becomes more important than ever to stay engaged with others. Finding a senior living community that not only offers organized engagement opportunities, but makes an effort to involve all residents, is an important question to ask and witness while you're touring the community.
During your tour, ask to see the monthly or weekly activity calendar or if it's possible to join a few events to get a feel for the community. You'll also want to ask what options are available for family to visit during planned entertainment, what types of exercise or fitness programs are offered, and finally, ask to see the outdoor space. Is there open space with walking paths, a courtyard with comfortable seating to interact with friends? All of these extra aspects add up when you or your loved one want to stay socially engaged.
With independent or assisted living, asking about scheduled transportation to off-site shopping, restaurants or entertainment is an important question. Independent living residents may want to get out and about without having to worry about driving but are not able to drive themselves.
3. What are the dining options?
Whether you have a special diet that your doctor has ordered you adhere to, you have a sweet tooth or if you're a vegetarian, most senior living facilities offer a wide variety of food options in their dining rooms. Most kitchens are run by trained executive chefs who take pride in their work and love to satisfy their most discerning residents.
While touring the dining room, be sure to make note if the space is clean, orderly and bright. A sanitary dining room will tell you what the standards are in the kitchen where food is being prepared. If you cannot see a kitchen area, ask if the food is prepared on-site or if it's brought in through a third party.
Be sure to confirm how many meals are served daily, if meals can be made-to-order and ask to bring a sample menu home with you. If you are able to, make sure to look at the food that is being served – does it look appetizing, fresh and appealing? And, if there is a reason why you or a loved one cannot make it to the dining room, will the staff deliver meals and snacks to residents' apartments?
Most senior living communities will also allow you to join residents for a meal during your tour to get a feel for what the food is like, as well as an excellent chance to chat with current residents and ask them any questions you may have about life in the community.
4. What are the apartments like?
Because your apartment will be your new home, it's very important to feel comfortable in the setting while you're touring a model apartment or condo. Safety, of course, is the number one priority. Who do you or your loved one call in case of an emergency? Are there safety-assist rails in the bathrooms and is the shower/tub a walk-in?
Take note of the features offered for the floorplan you're interested in. Does it offer a kitchen or kitchenette? If the apartment does not offer either of these, are you prepared to dine in the dining room for every meal? If you still like to cook or prepare some of your meals, then make sure a kitchen is on your priority list.
Other items to look for include privacy covers or blinds on the windows and confirming if the apartment is climate controlled for each individual apartment.
5. What is the cost and what are my financing options?
And, finally, the cost of moving into a senior living facility. Having an idea of your monthly budget is very important when searching for senior housing. If you know what your price range is, you'll be able to get a better idea of what size apartments and amenities are available to you.
While you're touring the facility with your tour guide or staff member, confirm what the monthly fees are and what is included within the monthly cost. Also, will you or your loved one need renter's insurance to live in the community? Does the community offer pricing incentives, move-in specials or financial planning and funding resources?
View our cost comparison worksheet to see if senior living could save you money!
Be sure to get a clear picture of all services that are included in the monthly rent. Often, communities will include utilities, amenities, transportation and more directly in your monthly rent, making it a more affordable option than staying in your own home.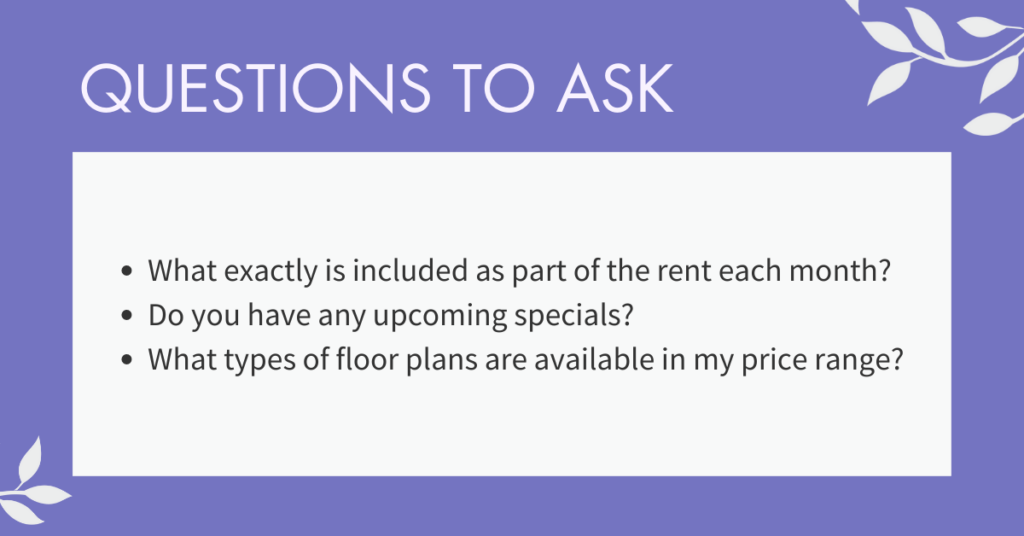 Schedule a tour at a senior living community near you
Touring a senior living community and deciding to take that next step either for you or a loved one can feel stressful and downright scary. But, if you ask the right questions and feel comfortable with the senior community and staff members, the process of moving can be stress-free. If you're worried about forgetting a question while you're on your tour, print our question guide to help keep you or your loved one focused during the tour.
If you want to explore our communities, check out our independent living, assisted living or memory care services for your loved one or contact us to schedule a tour or request more information about a community near you.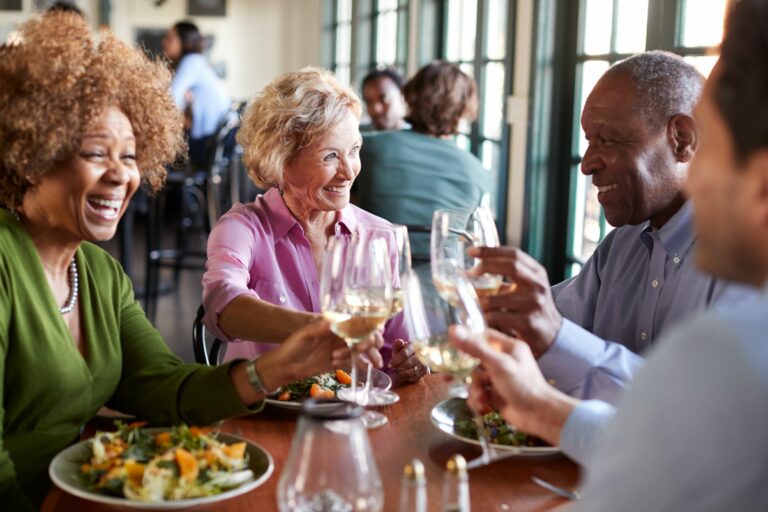 Four Reasons Why You Might Eat Healthier If You Live in a Senior Living Community
Learn why you will end up eating healthier (and most likely feeling better) if you choose to live in a senior living community.
Read blog
Find a community
If you're a senior or caregiver looking for independent living, assisted living or memory care services for you or your loved one, contact us to schedule a tour or request information about a community near you.