Other important information
View now
Hide
All of our senior apartments are comfortable and inviting and include thoughtful features that make it feel like home. You can enjoy a full-sized kitchenette, large closets, spacious bathroom and plenty of space to relax.
With a variety of floor plans and sizes, you're sure to find something that fits your lifestyle.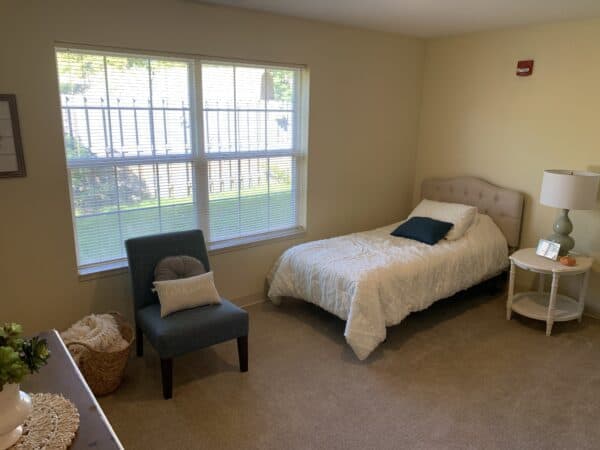 Senior apartments at Aspen Grove
Thoughtful design that places older adults' well-being at the forefront.
Quality & comfort
Our apartments are functional and cozy with floor plans that meet your needs. Kitchenettes offer the ultimate convenience when you feel like staying in or need to whip up a small snack or goodie. Wall-to-wall carpet adds a layer of comfort and helps you feel right at home.
Safety & convenience
Our apartments have spacious bathrooms that feature walk-in showers with built-in cushioned shower benches for added safety. You and your loved ones will find peace of mind with our monitored community security system and 24-hour staffing. Every resident has a personal pendant in case they need immediate assistance.
For added convenience, all utilities, including basic cable and Wi-Fi (excluding telephone) are included in the cost of rent.
Assisted living studio
Our cozy assisted living studio includes a bedroom, spacious bathroom and full-sized kitchenette.
338 square feet
Memory care studio
The studio for memory care residents offers a large living area and spacious bathroom.
250 square feet
Deluxe assisted living studio
Our biggest assisted living studio, the Deluxe offers a living area and kitchenette with a spacious bathroom.
432 square feet
Deluxe memory care studio
Our largest studio for memory care residents offers a large living area and spacious bathroom.
336 square feet