Other important information
View now
Hide
Our homelike apartments are thoughtfully designed with desired amenities and safety features for our senior citizens. Enjoy ample space to entertain and plenty of cozy spots to curl up and relax.
Choose from any of our seven floor plans.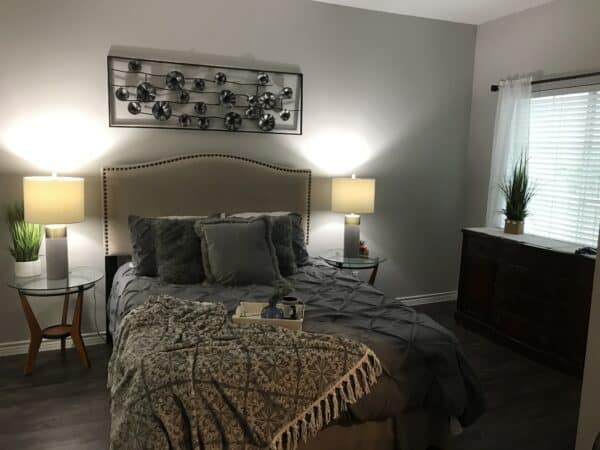 Apartments & floor plans
Thoughtful design that places senior well-being at the forefront.
Quality & comfort
Our spacious studio and one-bedroom assisted living apartments have kitchenettes that offer an ideal place to prepare a light meal or snack, full bathrooms and large closets that provide ample storage for belongings. Our apartments also have new flooring.
Enjoy privacy and comfort with mini blinds on all windows and individual climate control, putting you in the driver's seat when it comes to temperature.
Safety & convenience
Our apartments have safety-assist hand railings and wheelchair accessible showers in the bathrooms. Smoke alarms, sprinklers, an emergency response system, safety pendants and individual locked mailboxes all offer peace of mind.
Wide entryways make it easy for those with wheelchairs or motorized scooters to get around.
Apartment amenities list
Showing 1 of 1 carousel pages
Periwinkle studio
Our cozy studio features an attached bathroom with walk-in shower and ample closet space.
291 square feet
Showing 1 of 1 carousel pages
Magnolia studio
Our large studio features an attached bathroom and three closets, providing plenty of storage space.
424 square feet
Showing 1 of 1 carousel pages
Hibiscus one bedroom
Our one-bedroom apartment features a kitchenette and a large bedroom with attached bathroom and walk-in closet.
744 square feet