Other important information
View now
Hide
The sound of laughter coming from the movie theatre, the smell of our chef's famous fish fry wafting from the kitchen, friends enjoying a brisk walk around our courtyard; these intangible things set us apart and make The Waterford at Fitchburg an amazing place to live.
Experience the ambiance
Amenities that bring senior citizens together, create joy and make life a little easier.
Billiards room
Enjoy our well-appointed billiards room with comfortable chairs, couches and big-screen TV. Grab a bag of freshly made popcorn from our popcorn machine while you watch a classic movie.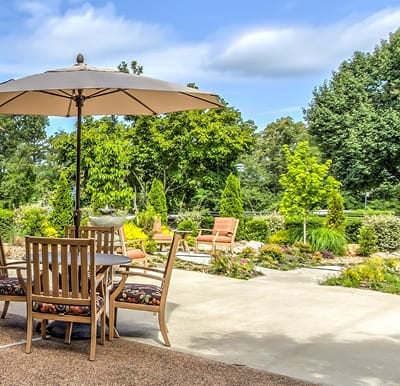 Manicured grounds
Our senior community radiates sophistication and elegance with beautifully manicured grounds. Our courtyard is ideal for watching gorgeous Wisconsin sunrises and sunsets!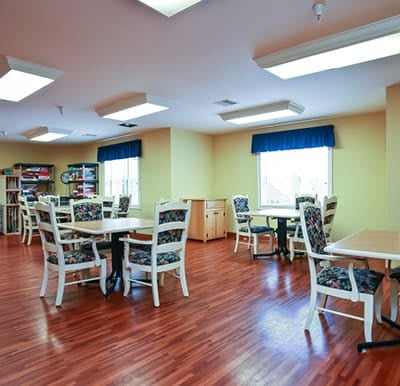 Activity center
For a little mental stimulation, you can challenge neighbors or loved ones to a friendly card or board game in the activity center. There are plenty of tables for groups to take part in arts and crafts too.
Get a full list of amenities
Serving balanced meals with a side of fun
Enjoy delicious restaurant-style meals in an environment that is warm and welcomes conversation. The friendly and prompt wait staff at The Waterford at Fitchburg serves well-balanced meals daily in the Bistro Versailles. Assisted living residents receive three meals a day whereas independent living residents get to enjoy breakfast. We have a six-week menu cycle based on resident preferences and regional tastes.
Our community celebrates residents at our monthly birthday dinner, complete with cake and ice cream!
Sample menu
Dining program flyer