Other important information
View now
Hide
Our large, condo-style apartments are comfortable and provide ample space to entertain. Thoughtful features help you feel cozy and offer privacy and independence.
With a variety of floor plans, sizes and safety features, we have an apartment option for everyone. Any apartment can be either independent or assisted living, depending on the individual's needs.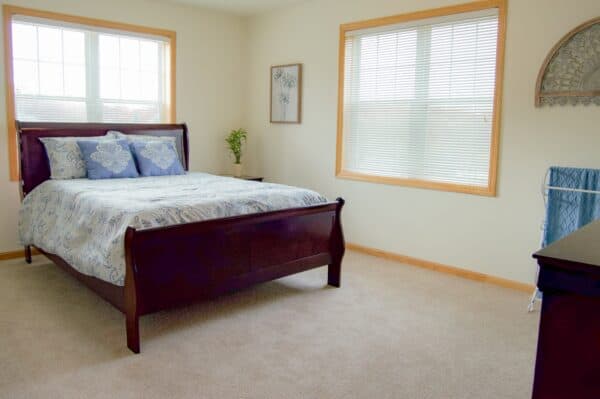 Senior apartment floor plans
Thoughtful design that places resident well-being at the forefront.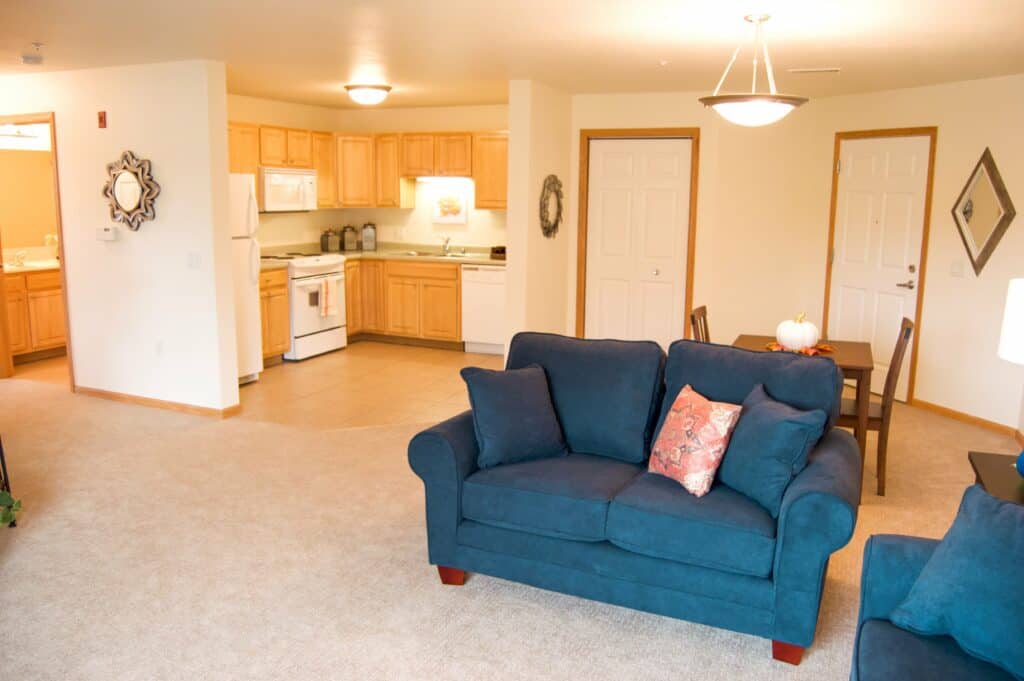 Quality & comfort
Our spacious apartments are outfitted with full-sized kitchens, perfect for entertaining family and friends, while wood trim and wall-to-wall carpet provide all of the luxuries of a cozy home.
Private balconies and gas fireplaces in each apartment provide an ideal spot to relax on warm summer evenings or cold winter nights.
Safety & convenience
The apartments at The Waterford at Fitchburg offer mini blinds on all windows and spacious bathrooms with walk-in showers. Safety assist railings can be installed, if needed. All assisted living residents have an emergency call pendant. Smoke alarms and sprinkler systems throughout the community offer peace of mind.
In-unit laundry, cable, Wi-Fi and individual climate control make you feel at home and in control of your space.
You may remain in your apartment should you need to transition from independent to assisted living.
Showing 1 of 1 carousel pages
Degas
Our cozy one-bedroom apartment with a combined bathroom and laundry, a full kitchen, fireplace and a large balcony.
798 square feet
Showing 1 of 1 carousel pages
Lorrain
The Lorrain is a one-bedroom, one-bathroom apartment that includes a kitchen, large living room, in-unit laundry and a patio.
873 square feet
Showing 1 of 1 carousel pages
Monet
The Monet floor plan is slightly smaller than the Matisse but offers a large closet attached to the primary bedroom, plus all the same features as the Matisse.
1,125 square feet
Showing 1 of 1 carousel pages
Matisse
Our two-bedroom, two-bathroom apartment has a primary bedroom with attached bathroom plus laundry, full-sized kitchen, fireplace and balcony.
1,167 square feet
Showing 1 of 1 carousel pages
Cezanne
The Cezanne floor plan features two bedrooms, two bathrooms, a walk-in closet, kitchen, in-unit laundry, living room and patio.
1,209 square feet
Showing 1 of 1 carousel pages
Renoir
The two bedrooms in this spacious apartment are separated by the living and dining area for added privacy. The primary bedroom has an attached bath and large closet. The den is located off the living room. Enjoy a balcony, full-sized kitchen and in-unit laundry.
1,517 square feet