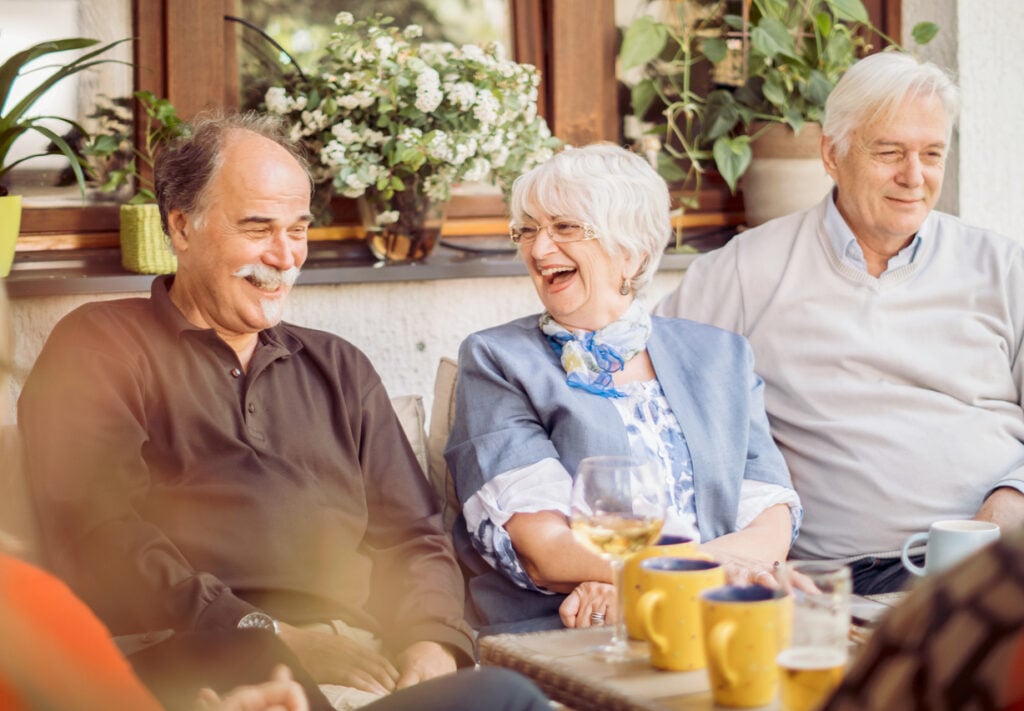 Hey there, seasoned explorers! Older adults know better than anyone how many incredible places there are to visit, eat, shop and explore across the country. Whether you're staying close to home or headed out on vacation, a discount always sweetens the experience.
If you're looking for fantastic discounts specifically provided for older adults – both locally and at some of your favorite destinations across the U.S. – we have the information you're looking for.
From coast to coast, we've scoured the internet to provide you with a treasure trove of places that want to show their appreciation for your age and wisdom. So buckle up, and let's dive into our list of 50 incredible places and businesses that offer discounts for older adults.
Your guide to 50 places that offer senior discounts across the United States
1. National Parks
Did you know that older adults can get discounted access to all USA National Parks via the Senior Pass? Check it out.
2. Smithsonian's Cooper Hewitt Museum
Do you love all things design? The Cooper Hewitt Museum in NYC offers admission at a discounted rate of $9.
3. AMC Theatres
Catch the latest blockbuster hits at participating AMC theatres with discounted tickets for adults 60 and older.
4. IHOP
Start your day off right with a stack of pancakes and 10% off for adults 55 and older at participating locations. Check out their 55 and older menu.
5. New York City Subway
Taking a trip to the Big Apple? Zip around with reduced fares for older adults on the city's iconic subway system. Learn more.
6. JOANN Fabric
JOANN Fabric offers a "senior discount day" each year where adults 55 and older can get up to 20% off select items. Check your local JOANN store for more information on timing/requirements.
7. Rite Aid wellness65+
Adults 65 and older get special advantages by using Rite Aid's wellness program called wellness65+. Sign up in-store to learn more.
8. Celebrity Cruises
Looking for a stress-free vacation where everything is taken care of for you? Set sail to dreamy destinations with exclusive discounts on select sailings with Celebrity Cruises.
9. Marriott Hotels
Enjoy a luxurious stay at Marriott Hotels across the country with special senior rates.
10. McDonald's
Ronald McDonald wants to show his appreciation by offering adults 55 and older a free coffee or discount at participating locations.
11. San Diego Zoo, California
Embark on a wild adventure and save on admission to this beloved zoo.
12. AARP Bookstore
Expand your literary horizons with AARP member-exclusive discounts on books and magazines.
13. Amtrak
Prefer to see the country by rail? Those 65 and older can take 10% off your Amtrak fare.
14. SilverSneakers Fitness Program
Stay active with free SilverSneakers fitness classes and gym access through participating insurance plans.
15. Goodwill Stores
Hunt for treasures and save with a 10% discount at select locations on Tuesdays.
16. Kohl's
Shop for fashionable finds and enjoy extra discounts during senior shopping hours (Sundays from 9 to 10 a.m.). Don't forget your Kohl's cash!
17. Dunkin' Donuts
Sip on your favorite brew and enjoy a donut. Many locations offer a 10% discount for adults over 55.
18. Cell Phone Providers
Many cell phone providers – Verizon, AT&T, T-Mobile, Consumer Cellular and more – will offer a discounted monthly rate to older adults. Ask to learn more!
19. Brooklyn Botanic Garden
Find serenity in the heart of Brooklyn, New York with senior discounts on garden admission.
20. TJ Maxx
At most TJ Maxx locations, older adults can enjoy 10% off their already discounted cart!
21. American Airlines
If you're 65 and older, and looking to take a trip, consider booking with American Airlines for a discount to select locations just for older adults.
22. Hilton Hotels
Indulge in luxury accommodations at Hilton Hotels with exclusive discounts for older adults.
23. New Orleans Jazz & Heritage Festival
Dance to the rhythm of jazz and save on admission to this iconic festival.
24. Art Institute of Chicago
Immerse yourself in art and culture with discounted admission to this world-class museum.
25. AutoZone
Need some work done on your vehicle? AutoZone offers up to 20% discounts for adults 65 and older at participating locations. Ask at the register for more information.
26. PetSmart Grooming Services
Need to give your dog some TLC? PetSmart offers seniors and military members 10% off on grooming services on Tuesdays.
27. Starbucks…sometimes
While Starbucks does not officially offer a discount to patrons older than 65, if you ask at the register, many baristas may oblige. This one is a gamble, but may be worth the ask.
28. Phipps Conservatory and Botanical Gardens
Discover lush greenery in the heart of Pittsburgh and save on admission for older adults.
29. Napa Valley Wine Tours
Sip on the finest wines you could imagine and save with discounts on select tours.
30. Taco Bell
Looking to satisfy your spicy cravings? Taco Bell offers 5-10% off for older adults, as well as a free soft drink at participating locations.
31. JetBlue
JetBlue offers discounts of 5% for retired military and veterans if enrolled in Veterans Advantage. Ask when booking a flight!
32. Michaels
Are you crafty? Fuel your creative side and save on craft supplies with a 10% discount.
33. Arby's
We have the meats (and the discounts)! Arby's offers adults 55 and older a 10% discount on their meal.
34. Broadway Shows
Experience the magic of Broadway with discounted tickets to various shows for older adults.
35. Golden Corral
At participating locations, Golden Corral will offer $1 off for older adults purchasing an entree.
36. Motel 6
Looking to spend less than $50 a night on your motel stay? Motel 6 offers an 8% discount for older adults on their lowest rate.
37. Einstein Bros Bagels
It would be worth calling to confirm, but many Einstein Bros Bagels locations offer a 10% older adult discount on a bagel and coffee.
38. Blick Art Materials
Unleash your artistic potential and save on art supplies with discounts offered throughout the year specifically for older adults.
39. Home Depot
Tackling some DIY projects at home? Save on tools and materials by shopping at Home Depot.
40. Color Me Mine Pottery Studios
Create beautiful pottery pieces at Color Me Mine with a discounted rate at select locations.
41. Anheuser-Busch Brewery Tours
Beer fan? Well, raise a glass to America's beer and save on your brewery tour while visiting St. Louis.
42. Arthur Murray Dance Studios
Get your groove on and save on dance lessons with an older adult discount.
43. Empire State Building
It's called the "Empire State of Mind" for a reason – enjoy a small ($2) discount off Empire State Building tours for older adults.
44. Audubon Sanctuaries
Connect with nature and save on admission to these wildlife havens.
45. Aspen Snowmass Ski Resort
Hit the slopes and save on lift tickets and ski rentals!
46. Sur La Table Cooking Classes
Master culinary arts and save on cooking lessons – they offer both in-person and virtual options.
47. Boston Symphony Orchestra
Classical music fan? Save on tickets for select performances at the Boston Symphony Orchestra.
48. Chicago Architecture River Cruise
Take in the notorious Chicago skyline by boat and save on your tour fee.
49. Super 8
Similar to Motel 6, Super 8 offers discounts on their lowest rates for older adults only – but you have to call to confirm.
50. Krispy Kreme
Did you know that select Krispy Kreme locations have a menu with 10% off for adults 50 and older? Take advantage and satisfy your sweet tooth.
Ready to start exploring?
With these 50 recommendations, you and your loved ones can explore, make memories together and also take advantage of savings.
Whether you're exploring the great outdoors, indulging in cultural experiences or simply enjoying some well-deserved relaxation, these older adult-friendly spots across the country are ready to welcome you with open arms and special discounts.
Happy discount hunting!
Learn more about a community near you
Find a community
If you're a senior or caregiver looking for independent living, assisted living or memory care services for you or your loved one, contact us to schedule a tour or request information about a community near you.