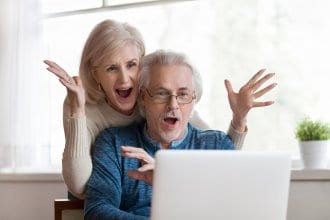 You've taken down the holiday decorations. You've set and swiftly forgotten your New Year's resolutions. Now that the holidays have passed, an odd sense of loss may take over your senior loved one. No more festivities, carols or cups of hot cocoa. It's the post-holiday blues, and it can lead to your family members being at a higher risk of Seasonal Affective Disorder.
It's sometimes difficult to maintain that sense of closeness with your senior loved ones after the holidays wrap up. However, keeping communication consistent, sending care packages regularly and visiting as often as you can are a few ways you can help lift their spirits.
1. Schedule regular communication
Set a specific time each week – or more often if time allows- to call or FaceTime or Skype your parents. Choosing the same day or days will give your senior something to look forward to every week and create a consistent schedule. This routine will also keep you more accountable. If time doesn't allow you to call every week, texting daily can help make you and your senior parents feel more connected. Not sure your senior can learn a new technology? Yes, they can with some patience.
2. Send gifts, letters or care packages
Make your mom and/or dad's day by sending a surprise gift in the mail every so often. Even if it's not a birthday, anniversary or holiday, sending a care package filled with some of their favorite things can show that you're still thinking of them. Hobby baskets full of supplies they can show off during craft sessions or bingo games can be a huge hit. Ask the activities director at your loved one's senior living community about the supplies they use on a regular basis for group events and send some unique items they can show off to their neighbors. 
You can also switch things up and go the "old-school" route. Send a handwritten letter or card telling them how much you love and miss them. Allow their grandkids to color them a picture and include that in the card so the care package is from the whole family.
3. Set up a monthly subscription box
If your senior loved one is a big fan of care packages, setting up a monthly subscription box is a great way to make them happy throughout the year. These monthly or seasonal deliveries can also help foster new hobbies and interests – keeping your parents more entertained and fulfilled.
Some of the most popular subscription boxes for women include:
Some of the most popular subscription boxes for men include:
4. Plan regular visits
Visiting regularly is one of the best ways to show your seniors loved ones how much you care. Holidays and birthdays are the perfect chance to make a visit. However, you can also try to make monthly, bi-monthly or seasonal trips. Planning a weekend getaway together (either via car or flight with a hotel stay), a pamper session, a trip to the park or a visit to their favorite restaurant provides the perfect opportunity to make some new memories.
If it's difficult for you to make regular visits, try delegating different times among your siblings and relatives. This way, your parents can spend time with all of their loved ones throughout the year while getting a healthy dose of visits. 
5. Include your parents in family events
As your parents get older, you may start to think that they no longer want to join simple family events such as recitals or soccer games for the grandkids. But, including your senior loved ones in these special occasions can be a huge source of joy for them. Invite them to all types of family gatherings including reunions, bridal showers, baby showers, engagement parties, weddings, baptisms, bar/bat mitzvahs, etc. 
6. Start a new hobby together
Even though you and your parents may live in different corners of the country, learning a new skill or starting a new hobby is a great way to stay connected. Try cooking, knitting, embroidering, photography, art or reading the same book together. Or, you and your senior loved ones can simultaneously learn a new instrument or language. Having this new hobby in common can be a great conversation starter – and continuer. You can send each other updates on your progress and challenge each other to strengthen your bond. 
7. Ask for advice and stories
Although becoming an adult can feel like you have to make your own decisions, there's still so much you can learn from your parents and senior loved ones. Be open with your mom and dad. Fill them in on any hardships or difficult decisions you may be facing. Then, ask for their advice. This will show that, no matter what age, you still value what they have to say.
Another way to show your love for your parents in senior living is by asking them to tell you a story – not a traditional book story, but one from their past. Ask them what it was like growing up in a different era, how things were different and if they had any interesting traditions or tales. Even asking simple questions such as what was the first concert they ever attended or what was their favorite childhood film can bring out some fun stories you may have never heard. Jot these memories down and create a book that you can give them for their next holiday gift. 
Seniors have decades of wisdom. Even as they age, you can still learn from their experiences. The key to showing your parents love all year round is simply by reaching out and making that extra effort to talk, listen and spend time with them. You don't need any grand gestures. When in doubt, pick up the phone and tell them you love them.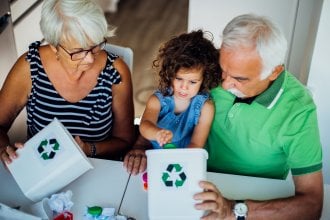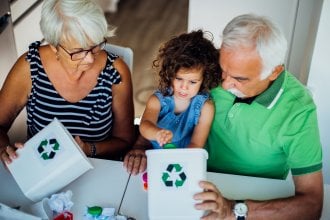 Going Green: Here's How Seniors Can Live an Eco-Friendly Lifestyle
Seniors have the power to impact future generations just by making a few eco-friendly lifestyle changes that promote sustainability.
Read blog
Find a community
If you're a senior or caregiver looking for independent living, assisted living or memory care services for you or your loved one, contact us to schedule a tour or request information about a community near you.