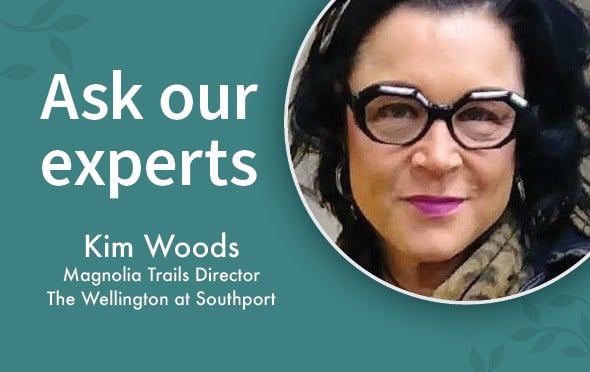 Meet our featured memory care expert
Kim Woods, the Magnolia Trails Director at The Wellington at Southport in Indianapolis, Indiana, fell in love with working with older adults when she was asked to help out at a nursing home while in college.
"My goal was to be a psychologist," said Woods. However, after working shifts at the nursing home, she knew she wanted to work in memory care. "I have been working in long-term care for 21 years. I still love it!"
Memory care units were always Woods' favorite place to work. "I had first-hand experience with dementia when my uncle, whom I was very close to, got Alzheimer's Disease."
Today, she works in Sonida Senior Living's signature memory care program called Magnolia Trails™.
"I have a lot of respect for Sonida Senior Living rolling out the Magnolia Trails program. It makes a big difference for our loved ones with dementia and their families. I feel very privileged to be a part of this program!"
What is Magnolia Trails memory care?
At Sonida Senior Living, our memory care program, Magnolia Trails, goes beyond the typical management of dementia. We work with families and their loved ones to care for the whole person—mind, body and spirit.
Designed with insights from health care professionals and memory care thought leaders, Magnolia Trails focuses on five pillars to help our residents experience life in an environment of dignity and respect:
Focusing on Care First
Creating the Environment
Embracing Moments
Making Family Connections
Providing Food and Nutrition
You can read more about these pillars in our brochure here or visit our website here.
All Magnolia Trails staff have specific training in memory care, have worked in other senior living communities at Sonida Senior Living and/or have experience at other organizations working in memory care.
Kim Woods describes her role as a Magnolia Trails Director and why this program helps our seniors.
What do you do as the Magnolia Trails Director?
I make sure the Magnolia Trails program is running smoothly at The Wellington at Southport, an assisted living and memory care community in Indianapolis, Indiana. I make sure all of the age 60+ residents who are here are living to their fullest potential and making the most out of their life. We make sure that every resident gets some exercise, creative engagement, brain-stimulating activities, and we are meeting their spiritual needs regularly.
Working with the older population and being a part of making their lives as good as they can be is such an honor!
How is Magnolia Trails different from typical memory care programs?
In our specialized memory care neighborhood within the community, residents have more individualized attention, great programming that encourages everyone to live to the fullest, lots of music and fun, and compassionate staff.
We also have creativity boxes on all the tables. It's fun to see a group of residents going through the creativity box together and having interesting conversations and engaging with each other.
Interactive stations are set up all the time. These stations are meant to create a familiar space for our seniors. Residents can go to these stations anytime and go through everything in the station; they are very hands-on. Right now, we have a pet station, a spiritual station and a baby station.
How have you made Magnolia Trails special at your community? And what impact have you seen?
The families really appreciate what we are doing for their loved ones. Families donate books and art supplies to us; they like to feel they are contributing to what we are doing. Our staff genuinely care about our residents and love serving and getting to know each individual.
I make sure our activities enhance everyone's psychosocial well-being and allow them to live a life they love! I am always adding new things to our programming to keep it fresh and new. For example, I am currently working on adding tea times and "Fancy Hat socials" to the agenda.
I like to make sure the memory care unit is upbeat and fun, but also peaceful and loving. I added some color to the unit and threw some colorful feather boas around for a sense of fun. We have had good family feedback on the changes we have made and the families like the splashes of color.
Since the first time I walked into the memory care unit, I have noticed the residents who live here are laughing more. They are more engaged in activities and with each other. Their families are also noticing! They've reported loved ones talking and laughing more.
I feel very fortunate and honored to be a part of the Magnolia Trails program!
Find a memory care Magnolia Trails community near you
If you would like to learn more about a Magnolia Trails community near you, contact us today and we will reach out to schedule a tour.
Our team of trusted advisors can help determine what level of care would be best for you or a loved one, and assist with setting up tours at communities near you.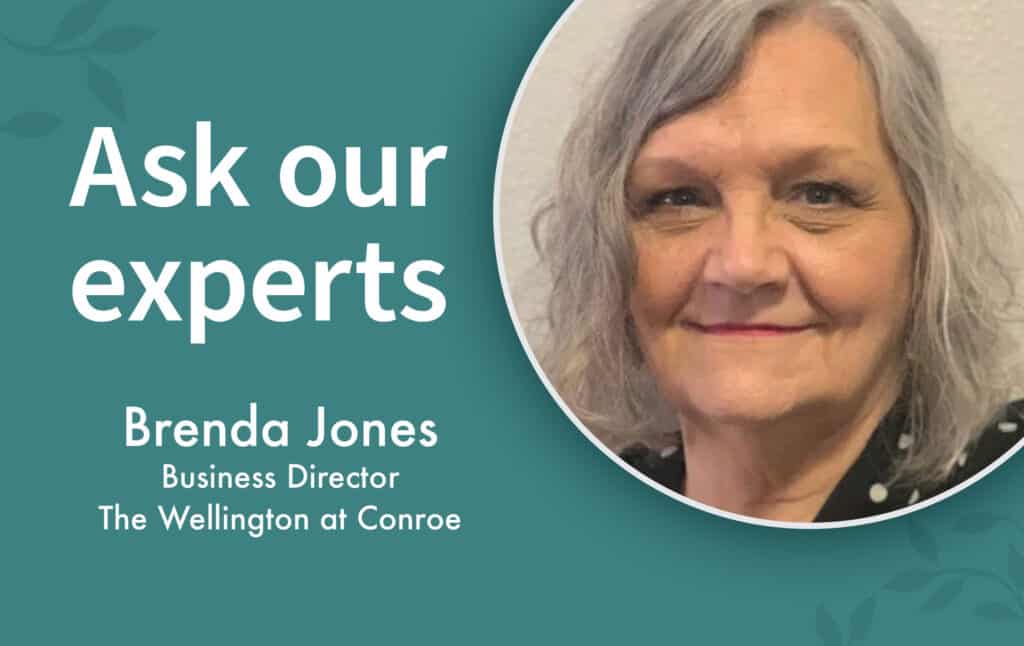 Ask our Experts: How Much Does Senior Living Cost?
Are you or a loved one considering a move to senior living but you're worried about the cost? Senior living is more affordable than you might think.
Read blog
Find a community
If you're a senior or caregiver looking for independent living, assisted living or memory care services for you or your loved one, contact us to schedule a tour or request information about a community near you.