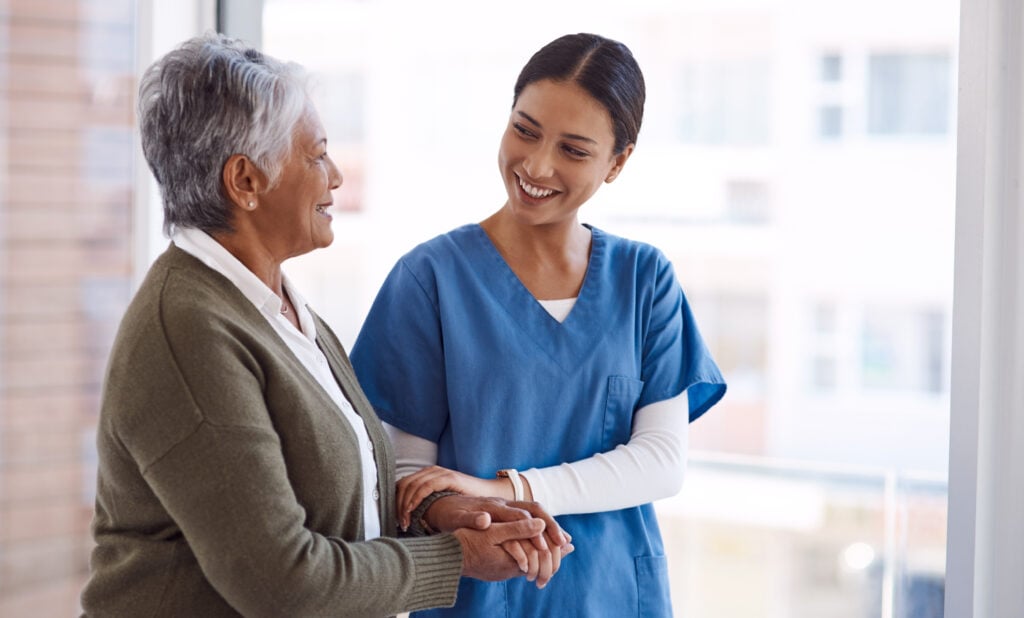 If you find yourself confused about the difference between assisted living vs. nursing homes, we are here to help you understand.
Key takeaways
The difference between assisted living and nursing homes
We all want to live where we feel supported, connected and like our needs can be easily met. If you're trying to compare whether an assisted living facility or a nursing home would best meet your needs, this is a good place to start! Understanding the difference between the two can help you determine what is right for you and your circumstances.
The main difference between assisted living and nursing homes is the type of setting. Assisted living communities (sometimes also referred to as retirement communities) provide care and services in a social, community-like living environment. They focus on maximizing the quality of life and independence for seniors. That doesn't mean that assisted living doesn't also provide support and care. Along with engaging activities, assisted living communities also organize tailored care plans, wellness and exercise programming, and healthy meals for seniors.
Nursing homes, on the other hand, provide care and living accommodations in a clinical setting. They focus on providing 24-hour assistance for those needing ongoing care. Nursing homes often have a more residential environment than a hospital, but they are still designed to provide continuous medical care. Nursing homes also have social elements and encourage connection between residents.
While both settings have elements of support and care, as well as social engagement, the focus on these elements are different for each setting. Knowing which focus is right for you will help you decide which to choose for your golden years. It's amazing the improvement in your quality of life when you're in the right place and have what you need to thrive.
Frequently asked questions about assisted living vs. nursing homes
What do assisted living facilities and nursing homes offer?
At an assisted living facility, you will have access to planned social activities, healthy meals, housekeeping and laundry services. You can also receive assistance with medication and with tasks of daily living such as bathing and dressing. Staff are on call around the clock to respond to resident needs, or in the event of an emergency. Residents usually have their own apartments, although some communities offer shared apartments to make them more affordable.
Nursing homes are also known as skilled nursing facilities or SNFs for short. They are institutional, clinical settings that provide care to individuals who have a short-term or long-term ongoing need for skilled care. For example, nursing homes are well-equipped to care for those who have previously suffered a stroke or heart attack. They are also ideal for those who have sustained an injury or undergone a procedure, and as a result, require 24-hour care.
What is the average stay at an assisted living facility or nursing home?
The length of stay in both assisted living facilities and nursing homes can vary widely.
For nursing homes, the length of stay can range from several months to many years. Some people only need to stay for a short period of time to recover from an injury, illness or procedure.
Assisted living is a long-term living option. In assisted living communities, residents tend to have longer stays. That could be in part because they can continually adjust their level of care and services to meet their changing needs. Aging in place in this way allows seniors to enjoy these homes longer among their friends and neighbors in the community.
What are the levels of care in each setting?
Nursing homes provide skilled nursing services. These are services that assisted living facilities cannot provide due to staffing and regulatory requirements. Examples of these services include intravenous (IV) therapy, ongoing wound care and diabetic management for those with unstable conditions. It could also include other needs that require 24-hour skilled nursing supervision. This higher level of care is the main reason nursing homes are usually more expensive than assisted living communities.
While assisted living communities don't staff for acute care or short-term care needs, many have on-site ancillary services. These additional support services include home health care, hospice services and therapeutic services. Assisted living is usually more affordable because the level of care necessary is not as high.
What is the best option for someone with dementia or Alzheimer's?
Assisted living communities and nursing homes can both be an option in the early stages of Alzheimer's or other forms of dementia. If a higher level of care is needed due to advanced dementia, a memory care community is also an option.
If the person doesn't need full-time medical care, assisted living can be a good choice, and one that is likely more affordable. Assisted living staff can support people in the early stages of dementia. They can remind them to perform personal care tasks like bathing, dressing and grooming, and can help when needed. Assisted living care teams also help with medication management and administration. This is a very important service that can help keep seniors with dementia safe and healthy.
If someone needs around-the-clock medical care, then a nursing home is the better option.
Does Medicare pay for assisted living or a nursing home?
Medicare doesn't cover long-term care, either in an assisted living facility or a nursing home. However, Medicare may pay for short-term care in skilled nursing facilities, such as rehabilitation following a hospital stay. It may also cover medically necessary care that's administered in certain nursing home facilities.
Some Medicare Advantage plans may offer extra benefits not covered by Original Medicare. You'll need to check your plan benefits to understand what is covered.
If you meet certain financial and health requirements, Medicaid may cover some costs for assisted living. Medicaid eligibility and covered benefits vary by state. You can find out more about your Medicaid and Medicare eligibility and coverage, and what is available in your area, through the national program titled State Health Insurance Assistance Program.
You may also be eligible for assistance through other federal programs and agencies. These include the Program of All-Inclusive Care for the Elderly (PACE), Department of Veterans Affairs and the Social Security Administration.
There are many options available to help pay for assisted living, including long-term care insurance policies, life insurance conversions, bridge loans and more. Schedule a meeting today with a Sonida Senior Living advisor to find out more about your options.
Learn more about a community near you
How do you know when your loved one needs assisted living or nursing home care?
When a person needs the clinical setting and skilled nursing support of a nursing home, it is generally more apparent. But what if there aren't complicated medical issues? What if someone doesn't need around-the-clock care?
Here are questions to ask as you decide if the time is right for assisted living:
Do you need help with personal care, such as grooming, bathing and dressing?
Do you need help with medication management?
Do you need assistance with walking, eating, driving or other daily living activities?
Do you feel alone, or do you crave social interaction?
Are you tired of cooking, cleaning and maintaining your home?
If the answer is "yes" to any of these questions, it might be time for assisted living.
In fact, assisted living may be the key to achieving a better quality of life. It's a great option for those who are struggling with independent living and need more help. That is especially true for those who still want an active lifestyle.
There are a wide variety of amenities and social activities to make life in an assisted living facility fun and enjoyable. With assisted living, you won't have to worry about chores like cooking, cleaning or doing laundry. And the best part: Help will always be available when you need it.
Comparing assisted living communities and nursing homes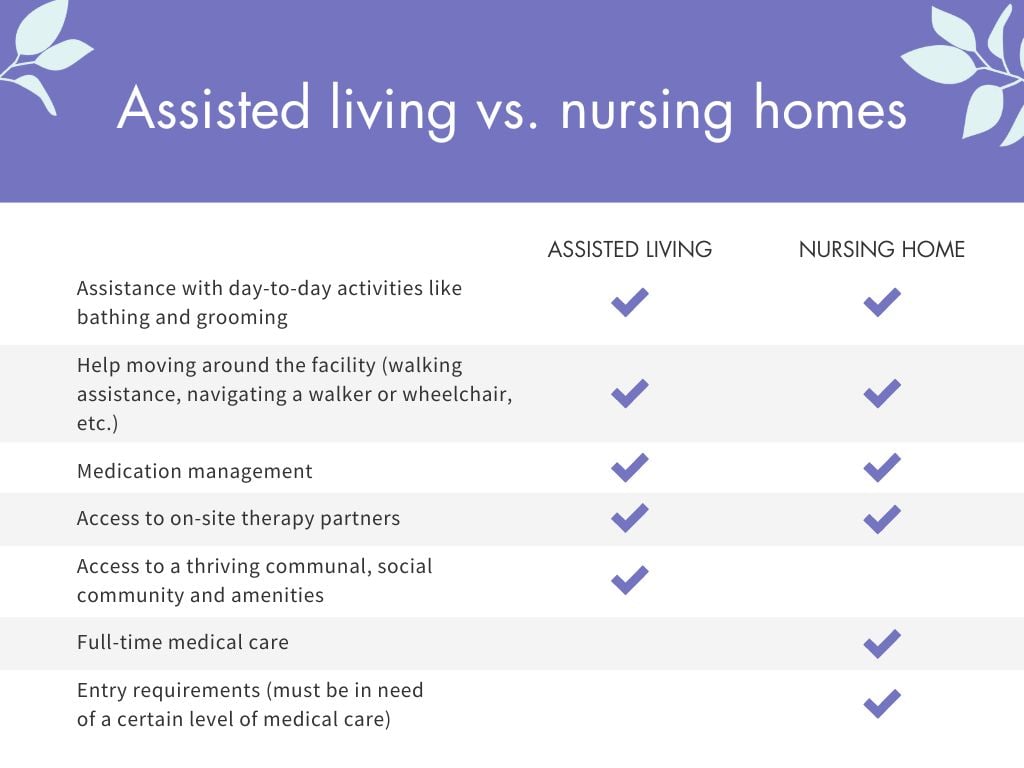 Find the right type of senior facility near you
While both assisted living facilities and nursing homes care for seniors, it's important to know the key differences between the two settings to make the best choice for you or a loved one.
At Sonida Senior Living, we have knowledgeable senior living experts available to help answer your questions about assisted living. Our team of trusted advisors is made up of experts from around the country who specialize in helping families find the best senior living solutions for their unique situations. Together, they have helped many families find the best senior living solutions for their unique situations.
Let our team of senior living experts help you determine the right level of care and find a community to meet your needs.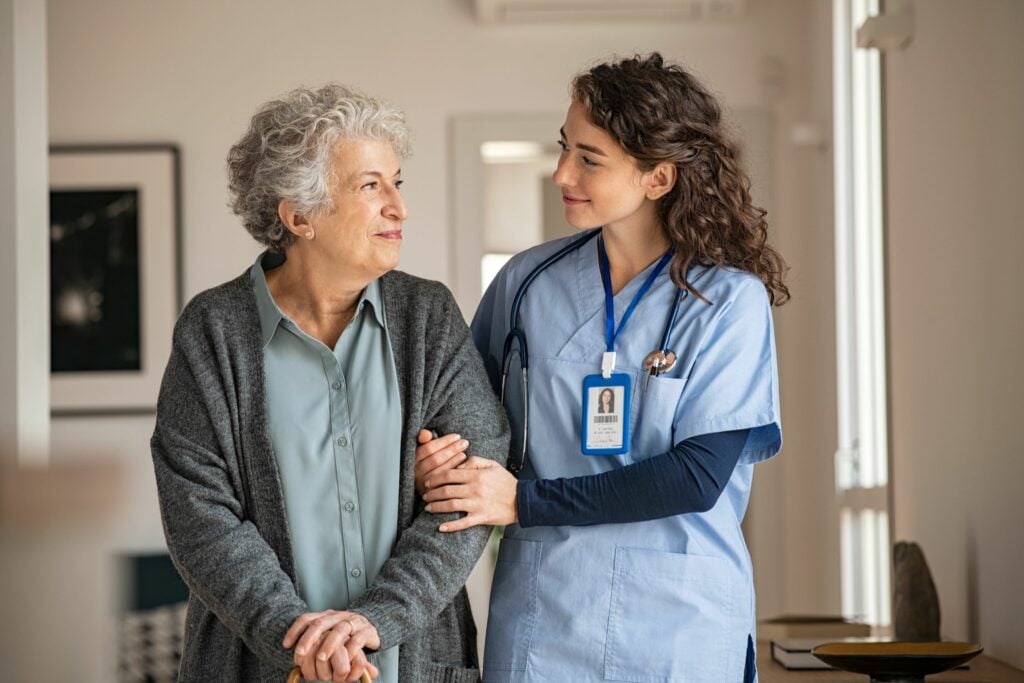 A Senior Guide to Health Care: Tips for Navigating Health Care as a Resident at a Senior Living Facility
This guide to health care will help answer frequently asked questions about health care for residents in senior living communities.
Read blog
Find a community
If you're a senior or caregiver looking for independent living, assisted living or memory care services for you or your loved one, contact us to schedule a tour or request information about a community near you.