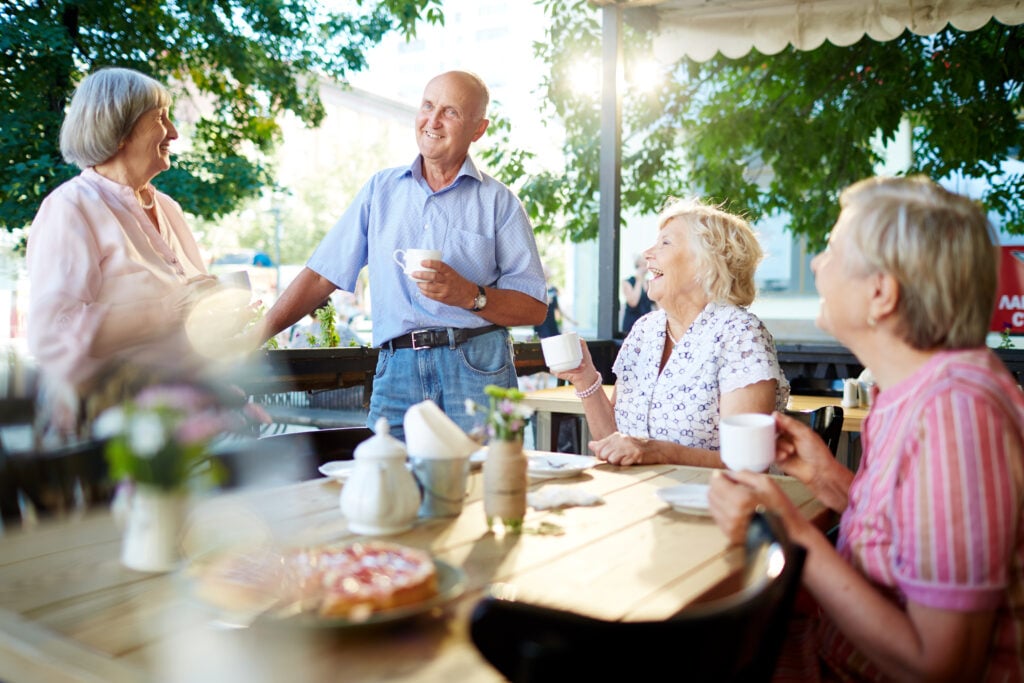 It's never too late to transform into a social butterfly. Senior living communities are designed to promote health and happiness while allowing you to build new friendships in your later years.
At a retirement community, you'll have the opportunity to age in place in a relaxed, friendly atmosphere that promotes companionship among residents and staff.
Older adults with flourishing social lives lack the physical, cognitive, and emotional difficulties that isolated seniors may face. There are endless benefits to having an active social life, including:
Improved wellness: Seniors who are engaged in social communities are more likely to exercise regularly, improving their physical, mental, and cognitive health. According to a study performed by the American Academy of Neurology, "people who are socially active and not easily stressed may be less likely to develop dementia."
Reduced risk of depression: Surrounding yourself with warm, friendly faces will reduce feelings of isolation and loneliness.
Enhanced self-esteem: Whether you're joining a club or art class at a senior living community, structured socialization will help you channel your confidence and increase your self-confidence.
Below are seven ways you can spread your wings and shimmer in your shining senior years.
Join an interest group
Many senior living communities have established support groups, special interest clubs, and civic organizations. For example, you'll find a walking club, coloring club, and book club at The Waterford at Fairfield in Fairfield, Ohio. Whatever your hobbies, you'll likely find a group of people who share the same interests. If you can't find a club that tickles your fancy, take the opportunity to start your own group with fellow neighbors.
Attend community events
Many of our senior living communities host monthly birthday parties for residents as well as holiday celebrations, including Thanksgiving feasts and Christmas marketplaces. The Waterford on Highland Colony in Ridgeland, Mississippi likes to shake things up by hosting special events such as movie nights and cider socials. Creating a jovial atmosphere and a sense of camaraderie among residents, these specialized events are perfect for getting to know new residents. To get involved, check out your community Facebook page or view the monthly newsletter to keep up with socials planned by your activities director.
Get active with group fitness classes
Whether you're walking a few laps on the community walking path or dancing in a Jazzercise class, getting active will reduce your risk of depression, enhance your self-esteem, improve your overall wellness, and encourage you to meet new people. Many of our Sonida Senior Living communities offer fitness classes from Aegis Therapies so you can make friends while staying active. After attending a few exercise sessions, you'll start to recognize the regulars before eventually becoming a regular yourself. 
Learn more about a community near you
Volunteer your time
A study led by the University of Pittsburgh researcher Fengyan Tang surveyed over 200 people who were at least 50 years old and volunteered with nonprofits or government programs for an average of 6 hours per week. Tang and her colleagues found that after volunteering, older adults experienced vast improvements in their "mental health as well as other socioemotional benefits ranging from a greater feeling of productivity to increased social activity."
Do your research, decide what interests you and make volunteering a part of your weekly ritual. Whether you choose to get involved with programs at your church or work at a homeless shelter, volunteering means crossing paths with someone new almost every day.
Get online
The internet has made connecting with people all across the world more accessible than ever, especially for seniors with limited mobility. Although geared toward younger generations, social media apps are an ideal way for you to share updates with friends and family members. Scroll through social media apps to stay up to date with your adult children or join an online forum to discuss your favorite TV shows. Whether you're interested in geology or gardening, there is a website, online forum, and chat room for every topic. You can even connect with your favorite businesses and celebrities by liking and following their profiles. Start by letting your social life flourish online and "liking" Sonida Senior Living on Facebook.
Join a senior center
Although our residents have access to plenty of activities in their communities, joining a local senior center provides a refreshing change of pace. Offering dance classes, mah-jongg tournaments, recreational games, and movie showings, local senior centers are built around the idea of community. Because activities are relatively low in cost, you can return every week to partake in your favorite activities, such as art classes or yoga sessions. By joining one of the 11,000 senior centers across the country, you'll be able to converse with hundreds of new people from neighboring cities.
Put yourself out there!
Instead of spending leisure time inside your apartment home, take your hobbies to the common areas of the senior living facility by reading a book in the courtyard or moving your crossword puzzle solving to the lobby area. The dining room is the perfect place to make a bold move.
Step out of your comfort zone and ask a fellow diner, "Is this seat taken?" You might just end up with a new friend, much like Sandy and Albert at The Waterford at Corpus Christi, who met at the community. "They instantly clicked," the executive director explained. "They enjoy playing dominos and the word-find books with one another, along with just visiting. We often hear them laughing a lot together."
Find a senior community near you
If you're a senior or caregiver looking for independent living, assisted living or memory care services for you or your loved one, contact us to schedule a tour or request more information about a community near you.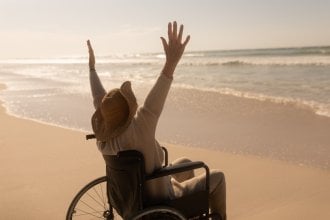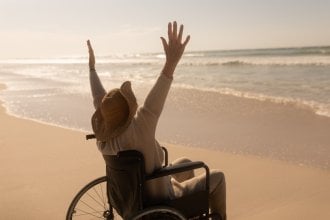 Summer Is Almost Here: Vacations for Senior Citizens With Limited Mobility
Maybe one of your New Year's resolutions is to travel more? Check out these senior-friendly vacation spots.
Read blog
Find a community
If you're a senior or caregiver looking for independent living, assisted living or memory care services for you or your loved one, contact us to schedule a tour or request information about a community near you.