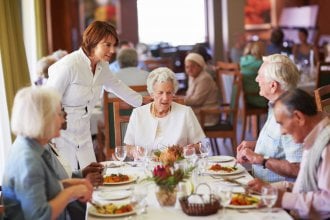 "One cannot think well, love well and sleep well if one has not dined well." – Virginia Woolf
That's why residents at senior living communities across the country have an array of healthy and hearty food selections for every meal. Breakfast, lunch and dinner have become an experience that brings friends and family together over meals that meet or exceed seniors' desires and also satisfy nutritional requirements. Gone are the days of assembly-line entrees that may have been considered bland and unexciting.
With food and beverage being primary factors considered when choosing the right senior living community, it's important that older adults and their loved ones are satisfied. Sonida Senior Living was recognized by J.D. Power in its 2018 Senior Living Satisfaction Study as a top senior living provider based on multiple factors – including food and beverage. While the menus at each senior living community vary, they all have an on-site culinary team to create delicious meals for their residents.
Danielle Fanter, Culinary Director at The Windcrest on Van Dorn in Lincoln, Nebraska, has been at the Assisted Living community for the past three years and previously served as a chef in a neighboring senior living community for six years. She has also worked as a chef at several restaurants during her career.
"I try to create menus based on the resident requests," Fanter said. "I have a monthly menu meeting that keeps me in touch with the items that they prefer. The change of seasons also plays a role in our meals – especially with the fruits and vegetables that we use."
Prospective residents and their loved ones are encouraged to take a tour, make a reservation and dine at a community they are considering to sample the cuisine and make sure it delights their taste buds.
The Windcrest on Van Dorn has a fixed menu as well as daily specials that change every day. For seniors with specific allergies or intolerances, there is a portion of the menu that is gluten, sugar and/or lactose-free. Once seniors become residents, Fanter said she and her culinary staff get to know their dietary needs as part of a first impression program that is common at Sonida Senior Living's communities.
"I depend a great deal on the resident's input," Fanter said. "Some seniors even submit their own recipes in the hopes that we can create their favorites that they had at home." On many occasions, the chef said she has implemented recommended recipes or ideas into her menu or daily specials.
A senior living community's location – whether it's in Dallas/Fort Worth, Cleveland, Indianapolis, Omaha, Sacramento, along the East Coast – is another aspect that is considered when a menu is created. With Fanter's community being located in Lincoln, Nebraska, she said some of the most well-received items that her residents love are Midwest favorites such as fried chicken, meatloaf, roasted turkey, chicken fried steak and ice cream. Including these locally inspired options in her community's offerings can bring a sense of nostalgia and comfort for residents. Fanter said she usually tries to steer clear of adding spicy or ethnic foods to her menu because they may be unfamiliar or unpopular among residents.
Fanter and the on-site culinary team prepare all the necessary ingredients the day before they are offered to seniors. Sonida Senior Living emphasizes using fresh fruits, vegetables, meats and other elements that are locally sourced when possible. All meals are made from scratch on a daily basis and include hand-picked ingredients by on-site culinary experts. In addition to entrees, the company's communities also provide dessert options that are baked daily.
For holidays such as Thanksgiving and Christmas, Fanter said her and the team require more time to plan their feasts. Ingredients are prepped the day prior and served buffet-style, which differs from the usual restaurant-style, made-to-order items offered on regular days.
Seniors who wish to host a special occasion such as a birthday, anniversary or holiday can reserve a private dining room, available at select communities, to enjoy a family meal. Seniors and their loved ones can also attend a cooking class in many communities.
"I feel like the food that we offer is one of the most important things about a senior living community," Fanter says. "Our seniors are at the point in their lives when meals are one of the most important things they have control over and look forward to every single day."
Catching up on ZZZZ's: How Seniors Can Readjust Their Sleep Patterns
While eight hours is the average recommended number for most adults, it can be a struggle for some seniors to get that amount in one block of time.
Read blog
Find a community
If you're a senior or caregiver looking for independent living, assisted living or memory care services for you or your loved one, contact us to schedule a tour or request information about a community near you.