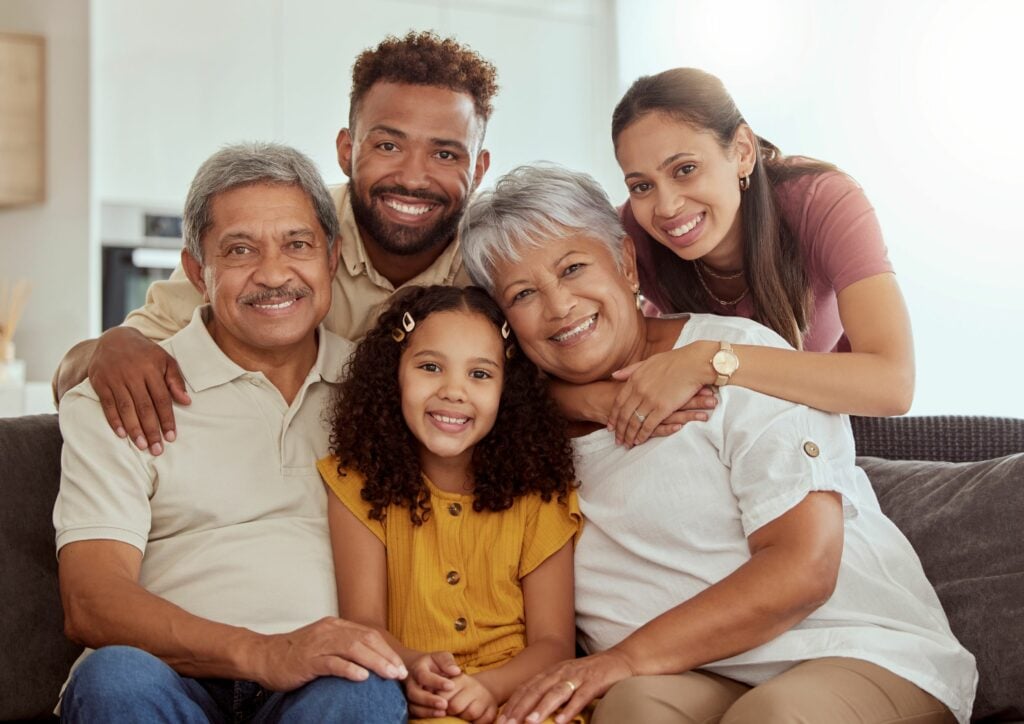 Observed every year on the first Sunday after Labor Day, President Jimmy Carter proclaimed Grandparents Day a national holiday in 1978. The day even comes complete with an official flower and song.
This year, National Grandparents Day falls on September 10 and is the perfect opportunity to come together as a family, honor grandparents and create memories that will last a lifetime. Whether you're a grandparent or grandchild looking for ideas to mark the day or a parent searching for a way to honor your parents, here are seven simple ideas to celebrate Grandparents Day.
1. Share family stories
One of the most heartwarming activities you can engage in is to tap into the treasure trove of stories that your grandparents hold from their rich life experiences. Today's grandparents have lived through a wide range of eras, witnessed historical events and accumulated a wealth of personal tales that can provide invaluable insights into the past and help bridge the generational gap.
Gather your family together and encourage your grandparents to share their personal stories. Ask them about their journey through life, the lessons they've learned, their adventures and the challenges they've overcome. You might be amazed by the fascinating narratives that emerge.
2. Make lasting keepsakes
Creating small mementos or art projects is something all generations can easily take part in together. It doesn't take much to set up a craft table and make time to paint, write letters or create homemade cards with or for the special grandparents in your life. This hands-on activity promotes bonding and may even give you a lasting item to add to a family time capsule – yet another way to commemorate and preserve your grandparents' legacies.
3. Get outdoors
Make a plan for an outdoor adventure like a picnic, hike or nature walk. Explore the beauty of nature alongside your grandparents while using the opportunity to catch up on life events. You can also join your grandparents in some of their favorite outdoor activities like birdwatching and fishing, or simply enjoy the calming effects of fresh air and natural scenery together.
4. Cook with your grandma or grandpa
Cooking together on Grandparents Day is a recipe for creating not only delectable dishes but also cherished memories. The kitchen can become a playground of learning and laughter as grandparents patiently guide their younger sous chefs through the steps of chopping, mixing and stirring to make a favorite meal. It's a valuable opportunity to pass down culinary skills and knowledge while ensuring family recipes live on for generations to come. The end result is not just a delicious meal but a sense of accomplishment and togetherness.
5. Look at old family photos
Gathering around old photo albums on Grandparents Day is like opening a time capsule filled with precious memories waiting to be explored. Grandparents can go through each photo and describe the time period in which the pictures were taken—the fashions, the technology and the way of life. They can recount their own experiences growing up, their childhood friends and the lessons they learned along the way.
6. Connect with grandparents through technology
While it's true that sometimes physical distance can keep grandparents and their families apart, the magic of today's video-calling technology allows us to bridge that gap and celebrate Grandparents Day together meaningfully. Even when separated by miles, you can schedule a time to connect with your grandparents on the phone or by video chat. Plan a virtual storytime, play an online game or have a photo-sharing session. 
7. Learn life skills
Grandparents bring a world of experience, talents, and passions to share with their grandchildren and extended families, creating a unique opportunity for learning and bonding. Make time for grandparents to impart basic life skills like budgeting and home maintenance or creative talents like music and drawing. These skills are valuable and empower younger generations to become more self-sufficient and curious as they grow.
Making the most of Grandparents Day
Grandparents Day is a perfect occasion to celebrate the enduring bonds that connect generations and to create even more cherished memories that will last a lifetime. This special day transcends age, offering the opportunity to take part in simple but meaningful activities that can be enjoyed by all members of the family. 
No matter how you choose to celebrate, remember the day is a time to express gratitude and reciprocate the affection and care you receive from your beloved grandparents. Make the most of this yearly celebration by showing up for your grandparents and savoring the wonderful bond you share.
Preserving Memories: Your Guide to Creating a Family History Time Capsule
Do you want to preserve your legacy so future family members understand you? Try making a family history time capsule. We're sharing how.
Read blog
Find a community
If you're a senior or caregiver looking for independent living, assisted living or memory care services for you or your loved one, contact us to schedule a tour or request information about a community near you.