All of our Sonida Senior Living communities across the country have one goal in mind – and that is to provide quality, affordable senior housing and outstanding services while improving the quality of life for the seniors we serve. Get to know our communities a little bit more through our Community Spotlight blog series!
Our next community spotlight is The Harrison, located in west Indianapolis, Indiana near Summerfield South, Aspen Ridge and Windham Lake. The Harrison is an assisted living and memory care community that also offers temporary stay.
What makes this Indianapolis senior living option unique?
The Harrison is the only assisted living community in Speedway, Indiana. The Sales Director says The Harrison is "simply beautiful." As she puts it, "We have a unique atrium, unlike any other community. You feel as though you are on a cruise ship or a fancy hotel lobby. The skylights in the atrium offer natural lighting throughout the common area."
The atrium has a birdcage that is popular among the residents. "The birdcage is filled with beautifully colored birds," said the director. "The residents could sit there all day and bird watch. They love to hear them sing, and some try to whistle along with the birds!"
Services and amenities available at the senior community
The dining experience at The Harrison is second to none. Chef Dwayne prepares only the best for residents, from shrimp cocktails to made-to-order cheesy scrambled eggs. Residents can choose the daily special or something from the everyday menu when in the main dining room. Did someone say fresh baked cookies? That's right, they're baked fresh daily!
Learn more about a community near you
Senior Recovery and Rehab at The Harrison in Indianapolis
The Harrison offers the care and support seniors need to age in place.
You can take advantage of secured assisted living and memory care units and supplemental services like in-house occupational therapy, physical therapy and speech therapy. The community also offers an EnerG Program and Hospitality Plus Suites through Aegis Therapies.
EnerGize by Aegis Therapies is a wellness program that promotes a healthier lifestyle among seniors. The Harrison Hospitality Plus Suites are for those that have recently undergone a surgery, illness or injury and need extra assistance or rehab for the short term.
Activities to keep older adults engaged
From the baby grand piano and the fully-stocked library to the billiards table and coffee socials, there are plenty of ways for residents to keep busy at The Harrison.
A favorite activity is Tuesday happy hour, offering beer, wine, soda and hors-d'oeuvres. "We have at least 30 residents join the party every Tuesday," the director says. "Drinks and fancy treats are on the house! Sip on a glass of wine while listening to musical entertainment. What could be better?"
The Harrison also has a huge outdoor eating area. Here, they host cookouts and outdoor concerts. There is also a patio and firepit to enjoy on warm nights.
Find the best senior living community near you in Indianapolis
If you're a senior or caregiver looking for assisted living or memory care services for your loved one, consider touring The Harrison. Schedule a tour here.
To learn more about the community and explore amenities, levels of care and more, click here.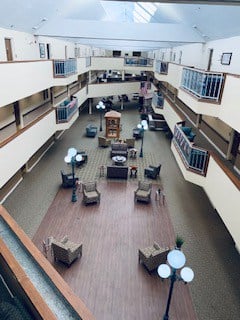 Find a community
If you're a senior or caregiver looking for independent living, assisted living or memory care services for you or your loved one, contact us to schedule a tour or request information about a community near you.