Making the transition from a home you may have lived in for 40+ years to an assisted living community can be a daunting thought. However, there are many more pros than cons when it comes to making the transition.
Here are eight reasons why embracing a move to assisted living can be the best thing for you or your loved one.
1. Make new friends
Health care professionals have long known that loneliness is a major factor when it comes to aging and can pose a serious health risk to the senior community.
When you surround yourself with others who have the same likes and interests as you, it tends to have a positive influence on your emotional and mental well-being. Sonida Senior Living communities offer many opportunities to engage and interact with fellow residents and staff members, between daily bingo games, group exercise classes, and arts and crafts projects.
2. Engaging community activities
There are plenty of opportunities to enjoy community events, ranging from social outings to wellness classes designed to improve residents' mobility, strength and spirits. From gardening clubs, choirs and exercise classes, to craft sessions, cooking projects to on-site entertainment performances, assisted living communities provide meaningful ways for residents to develop new skills and interests, stay physically, mentally and emotionally fit, and expand their social circles.
3. No need to worry about cleaning or yardwork
Does the thought of having to shovel snow in the winter or mow the grass in the summer keep you up at night? How about vacuuming or dusting? Owning a home, with its constant demands and responsibilities as you age, can be all-too time consuming, strenuous and expensive. Get your freedom back from homeownership and enjoy your independence from housekeeping and maintenance.
4. Nutritious meals and snacks served regularly
Cooking three meals a day for one or two people isn't always fun or rewarding. This leads many seniors to opt for convenience food, loaded with high fat and sodium. Our communities offer three homemade meals a day plus a la carte options and snacks. No need to worry about doing a sink full of dishes! We'll take care of the preparation and clean up. You can sit back and relax with your neighbors and friends as you savor your meals made from scratch.
5. Ability to age in place
As we age, most of us will need help with daily living activities at some point in our lives. By moving to an assisted living community, you and your family will have peace of mind knowing that you will receive the help you need when you need it. If you move in now, you can enjoy a fun, engaging community life with just the right amount of help you need. As you age, and as your abilities and requirements change, your care and service plan can easily be tailored to fit your needs.
6. Specialized apartments and scheduled transportation
Residences and communal areas in Sonida Senior Living communities are engaging and functional. Our thoughtfully designed apartments are packed with first-rate amenities to make sure seniors get the most out of living with all the added safety features to provide residents and their loved ones peace of mind. And there's no need to continue making car payments and carrying auto insurance with our convenient community transportation. The ability to schedule transportation gives residents the freedom to get where they need, safely and without worry.
7. Tailored care plans
Embrace the thought of receiving help — such as medication and incontinence management and physical and occupational therapy—all within the confines of a warm, inviting community.
Sonida Senior Living communities do not have a cookie-cutter approach. Instead, we treat each resident as a unique individual with tailored care plans designed to meet their specific needs. Many of our communities have options that provide care plans that include medication management, nutrition counseling and personal care services—all with 24/7 emergency assistance. We work collaboratively with you, your family and, when needed, your team of caregivers to design a custom, person-centered approach to nurturing your whole self.
8. Support with activities of daily living
Do you find yourself needing a little extra assistance with daily activities such as bathing or grooming? Assisted living communities are a great place to help make sure these needs are met while still giving you the independence you want and deserve. Our staff is available to assist with regular daily activities, including bathing, dressing, transferring, toileting and eating. When you move in, the care you choose is included in your tailored care plan.
Senior living communities enhance the quality of life for many older adults. Get the help when you need it, the independence when you want it and thrive with other like-minded friends in a community catered to your needs.
Schedule a tour
If you're a senior looking for independent living or you're an adult child seeking assisted living or memory care services for your loved one, contact us to schedule a tour or request more information about a community near you.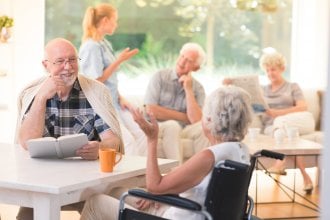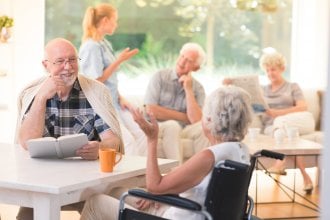 IL, AL, MC. Skim Through the Alphabet Soup of Senior Care Options
Sonida Senior Living prides itself on offering a continuum of care with all three services offered at some of its communities. 
Read blog
Find a community
If you're a senior or caregiver looking for independent living, assisted living or memory care services for you or your loved one, contact us to schedule a tour or request information about a community near you.