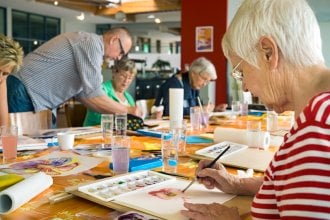 Even if a senior has never picked up a paintbrush before, artistic expression can become an important part of communication and connection as the effects of aging set in. Art therapy is now a recognized mental health profession, protected under laws in many states such as Florida, Connecticut and New Jersey, and is especially helpful for loved ones with Alzheimer's disease and dementia. 
What is art therapy? 
"Art therapy uses the process of art-making to help (people) develop insights and find resolutions to inner conflicts," said Angel Duncan, a marriage and family therapist and registered art therapist who is the Executive Arts Director of the Cognitive Dynamics Foundation. "It is the process of talk therapy combined with art-making. The art helps the trained therapist to pick out potential areas of discomfort and/or begin to formulate meaningful conversations that may offer a release, peace of mind and insight to empower the client in leading and living in positive wellbeing." 
Art therapy comes in many forms, from watercolor painting and coloring to sculpting and drawing. Many Sonida Senior Living communities offer classes and workshops that allow residents to express themselves with paint, an easel, brushes, colored pencils, crayons and much more. Seniors in our communities – and their loved ones – are encouraged to visit the community Facebook page to keep up with the events planned by the activities directors. The more than 11,000 senior centers across the nation also offer programs such as art therapy for seniors, and many of our communities offer scheduled transportation options to these facilities. 
What are the benefits?
There are many benefits of seniors partaking in classes where they can paint, color and express themselves through art. In addition to increasing cognitive skills and opening up opportunities for social connection, art therapy can: 
Distract seniors from chronic pain and health issues, a major benefit. Duncan says that in her experience, she frequently hears seniors say, "This is the only time I am not in pain and feel good." 
Help ease fears, anger, depression and anxiety for seniors in the early stages of dementia while giving them empowerment through what they create. If one spouse has dementia, it can also build an atmosphere for couples to connect through art and memories. For those in the moderate to even late stages of the disease, art helps support and promote quality of life by providing dignity and an outlet for expression. 
Offer a way to escape boredom, engage in healthy living, reduce the risk of dementia and participate in classes with a group of their friends, neighbors and/or family members. Many discover new joys and new talents as they learn to let their creative juices flow. 
Have plain and simple fun. There is no wrong way to do art. It's about having a good time and not putting pressure on themselves if a piece of art doesn't turn out the way it was envisioned. It's important to be flexible and try it out at least a few times, as you may surprise yourself.
Success stories 
Duncan has worked with many seniors and offered two stories for us to share: 
"There is a misconception that those with dementia can't create art based on their imagination. In fact, it is the opposite. They paint, sculpt and draw, creating art that tells a story and oftentimes reflects a memory thought to be lost by families. Memories become rekindled, and it allows for families to bond and reminisce." This is what Daniel C. Potts, a doctor and member of the American Academy of Neurology who also serves as President of the Cognitive Dynamics Foundation, experienced with his late father's Alzheimer's disease. Lester Potts discovered his talents as a watercolor artist late in life. Watch his full story here.
"I was working with a woman in the late stages of Alzheimer's and was told, 'She can't do art; she doesn't have the attention span to stay focused.' I worked with her anyway. Sitting next to her, I asked her what color she likes best (she was nonverbal), and I pointed to the paint set. She looked at the colors and pointed to red. I helped get her started, put the paintbrush in her hand and guided it to the paper. She began to carefully paint a large square, then chose other colors and made more squares. I told her it was beautiful, and she whispered, 'quilt.' The activity director and I looked at each other in excitement, as this was the first time we heard her say anything in months. Her daughters came to visit, and when her artwork was shared with them, they got teary-eyed and said she was a quilt-maker her whole life. She was unable to make quilts as the disease progressed, but now she could paint her patterns. This was the only group session that held her attention for over 30 minutes." 
How to get involved 
If a senior or group of seniors wants to contract a registered art therapist, they can find one in their area by looking up professionals through the American Art Therapy Association.   
Even if official art therapy classes aren't offered in a city or community, seniors can still engage with art individually or with a group by simply picking up supplies from a local big-box retailer or thrift store. From drawing in a sketchbook and making a collage to painting and sculpting, the options are endless.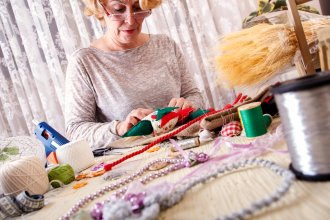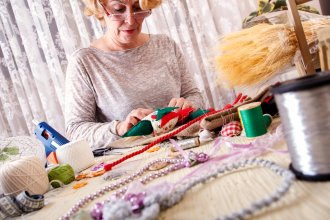 Holiday Crafts and Décor That Will Help Seniors Spread Joy This Season
Here are some decorating ideas that are sure to make your season a little merrier and brighter. 
Read blog
Find a community
If you're a senior or caregiver looking for independent living, assisted living or memory care services for you or your loved one, contact us to schedule a tour or request information about a community near you.