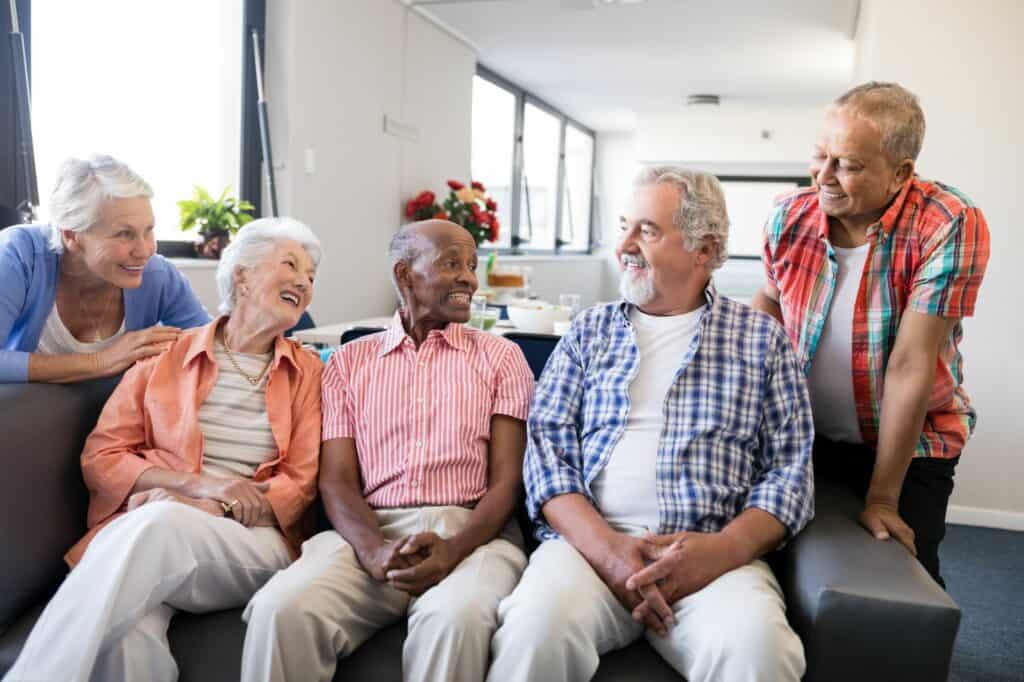 The term "nursing home" and "senior living" have become synonymous with each other. While many people tend to use "nursing home" as a blanket statement for all older adult living communities, in reality, nursing homes are different than senior living communities. Because these distinctions are important, we want to help clarify a few of the differences between senior living communities and nursing homes.
What is a nursing home?
First, let's define what a nursing home, or skilled nursing facility is.
A skilled nursing facility is more of an institutional setting, providing individuals who need long-term, ongoing skilled care. For example, if you or a loved one suffered a heart attack, stroke or an injury that requires around-the-clock care, then a skilled nursing facility would be a good care option.
What is a senior living community?
Senior living communities are designed to offer a more homelike, social atmosphere. The focus of these communities is to provide independence and a great quality of life for older adults. These communities offer engaging activities, healthy meals and exercise programs, along with tailored care plans.
There are different levels of care available at senior living communities, including independent living, assisted living and memory care.
What is the difference between a nursing home and a senior living community?
Daily care at a senior living community compared to a skilled nursing facility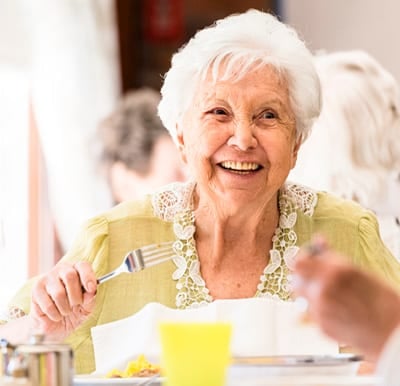 Skilled nursing facilities include 24-hour licensed nursing staff who provide around-the-clock clinical care. Plus, the ratio of staffing to patients is much higher than residents of senior living communities because of the of intensity of care. Skilled nursing facilities also are required to have a licensed Registered Nurse and/or Licensed Vocational Nurse on duty at all times.
Senior living communities still offer excellent care but are a bit more relaxed due to the less intense care that is needed for residents. Many have registered nurses on staff and other health care providers to help with medication management, emergency first aid and more. These communities usually have 24-hour staffing and emergency response systems, but caregivers are not required to be licensed in most states.
Differences in health care at a nursing home vs. senior living
Because nursing homes provide skilled nursing services, you will find more clinical-type services in this setting. Some examples of these services include:
IV Therapy
Wound care
Diabetic management when the patient is not stable
24-hour nursing supervision for any need
Senior living communities cannot provide these services due to regulatory requirements, and the fact that most of the staff in senior living communities are not licensed to meet the skilled need. However, while senior living communities don't have staff for acute care needs, many communities offer on-site therapeutic services, home health care and hospice services.
Choosing the right setting and environment for yourself or a loved one is an important decision. Whether you or a loved one are in need of a skilled nursing facility or a senior living community, when choosing a senior housing option, be sure to think about your needs and your long-term goals before settling on a facility or community.
Cost of senior living vs. a nursing home
The number one question raised while doing research on this topic is usually the cost.
Because of the variables involved in calculating cost, including the level of care needed, it's difficult to pinpoint an exact cost for either. According to Vice President of Operations at Sonida Senior Living, Carole Burnell, "the average cost of privately paid skilled nursing is approximately $3,000 per month higher than assisted (senior) living."
Another factor to consider is that skilled nursing facilities are usually paid for by using Medicaid, long-term insurance, Medicare, Veterans Aid or private pay.
Most senior living communities, do not accept Medicare. Some accept Medicaid. Most senior living communities are private pay. Residents who qualify for the Veterans Aid and Attendance Program can usually receive their benefits while living in a senior living community. And, some long-term insurance policies can also help with the cost.
Get help finding the right senior living fit
Our team of trusted advisors are here to answer your questions, determine the right level of care and help you select the best community for yourself or a loved one.
Private rooms for seniors
For the most part, patients who are residing in a skilled nursing facility share a room with a roommate and have little privacy. The door to the room remains open and staff frequently go in and out of the room tending to various needs of the patients.
In senior living communities, residents enjoy more privacy and independence, usually with their own apartment with a kitchenette and private bathroom. Staff knock on resident's doors before entering and resident doors remain closed unless the resident prefers to keep them open. Residents of senior living communities are encouraged to live as independently as they can, but as needs change, care plans are adjusted to accommodate those changing needs to allow the resident to age in place.
How long do people stay in nursing homes?
Every patient and resident has different needs which will determine the length of stay, but in most cases, patients stay in skilled nursing facilities for less than a year. However, the length of stay can be anywhere from several months to many years. For the most part, patients in skilled nursing facilities are recovering from hospitalization or a sudden decline in health.
How long do people stay in senior living facilities?
Residents in senior living communities are usually aging in place. This means that they have longer stays in their community with their levels of care and service adjusting to their changing needs. Seniors who age in place have the peace of mind of staying in a familiar place surrounded by friends and neighbors.
Where do seniors go after a skilled nursing facility?
Making the move to an assisted living community after you have recovered from an injury or illness at a skilled nursing facility can be a great choice. Assisted living communities can provide support with everyday tasks like housekeeping, cooking and laundry. Additionally, caregivers are on-site 24/7 to provide any support you may need.
At an assisted living community, caregivers can also provide helpful services like:
Medication management
Incontinence management
Escorts around the community
Coordination of supplemental health care services, like physical or occupational therapy
Transportation to and from doctors appointments
Some assisted living communities also offer early-stage or mild dementia care
Get help finding senior living
Our team of trusted advisors can help you determine what level of care would be best for you or a loved one. After learning more about your unique needs, we can make a recommendation about the appropriate level of care and help set up tours if we offer the type of care you need.
Sonida Senior Living offers independent living, assisted living and memory care options. Our residents enjoy balanced and delicious meals served restaurant-style, weekly laundry and housekeeping, scheduled transportation to medical appointments, activities and social opportunities, and personal care services provided by a passionate, dedicated and caring staff.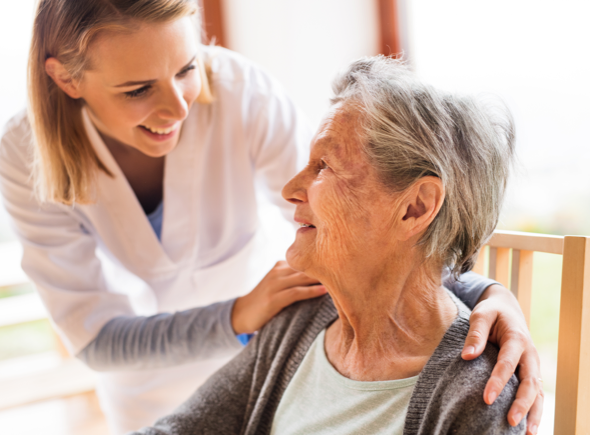 What to Know About Senior Living Facility Nurses
Emily Lease gives us a glimpse into what being a Sonida Senior Living nurse is like.
Find a community
If you're a senior or caregiver looking for independent living, assisted living or memory care services for you or your loved one, contact us to schedule a tour or request information about a community near you.