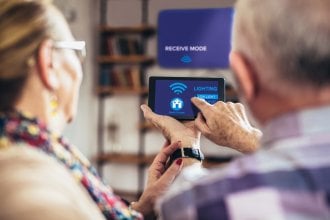 Smart devices can help make a senior's life more convenient and fun. From speakers to robotic vacuums, technology has a place in any senior loved one's home – if they welcome it. Amazon recently released a TV ad titled "Sharing is Caring" featuring an elderly man who seems uninterested in the Echo his younger caretaker has set up for him. When he learns that the device can remind him about his favorite dessert in the refrigerator and play a song the caretaker is constantly singing, he finally delights in what the strange object can do for him while he's alone all day at home.
Seniors can be more independent than ever thanks to home automation and smart devices. While introducing them to this modern technology may feel daunting, the end result can help improve their quality of life through increased connectivity and a sense of community. Plus, it can help them relate to the younger generation.
Devices such as Google Home and Amazon Alexa are an easy way to work technology into a senior's home no matter if it's an Independent Living, Assisted Living or Memory Care apartment or their personal house. Here's a room-by-room look at how a grandkid or adult child can help their senior loved one work smart technology into any space.
In the Bedroom
The bedroom is one of the most used spaces in a senior's living quarters – even though most of the time is spent sleeping. With smart technology, though, a senior can turn lights on and off without getting out of bed, have the news automatically start to play when they awake and even monitor sleep patterns. While these concepts may feel like they come right out of a science fiction movie, they are now fully possible with a smart device that can make a morning routine more efficient.
Smart speaker: A smart speaker can turn lights on and off, provide traffic and weather reports, remind seniors of birthdates and to take their medication and act as a speaker for playing their favorite music. Take some time to learn several of the device's commands and it can even be lifesaving.
Color-changing smart bulbs: Smart bulbs are viewed as a pretty handy piece of technology. From a smartphone, these bulbs can be turned on and off and even set on specific cycles. If you have the color-changing bulbs, they can be set to simulate sunlight early in the morning. When paired with a home assistant, these bulbs can be turned on and off via voice command.
Sleep trackers: Getting the right amount of sleep is vital, especially for seniors. Sleep not only affects day-to-day performance but it can affect mood, health, well-being and much more. To ensure a senior loved one is getting the right amount of sleep, track it. Smart sleep trackers monitor sleep patterns and deliver helpful data. Seniors and their doctors can then analyze sleep patterns and determine what is preventing them from getting a good night's slumber.
Smart beds: Adjustable beds aren't a new invention and sometimes may be recommended for seniors. From firmness to angle, smart beds can be adjusted with a smartphone. In some cases, they can also monitor sleep patterns and even be connected to a home assistant.
In the Kitchen
Although many of the tools used a kitchen haven't changed much since the microwave, there is a way for seniors to integrate smart technology into this room to easily show recipes, turn off a pressure cooker while away or even keep stock of groceries and expiration dates.
Smart displays: Similar to smart speakers, smart screens take the home assistant to the next level by combining speakers with a touch screen. From that smart screen, a senior can have a recipe displayed with video instructions and control the pace of it with their voice. It can also host video calls with loved ones and play music.
Smart kitchen appliances: Smart appliances can be helpful tools. While appliances that come in a senior living apartment may not be smart, there are items that can help out. Smart slow cookers, for example, exist to make cooking a meal for loved ones even easier and convenient.
In the Living Room
With smart tech in this room, seniors can control the temperature of their home or apartment with a simple voice command and turn the TV on or off without having to get off the couch.
Smart thermostat: Connected to Wi-Fi, a smart thermostat can automatically adjust the temperature of a senior's home or apartment for optimal performance. While electricity bills are included in the rent in many of our senior living communities, smart thermostats can save energy and thus contribute to saving the planet for the next generation. They operate based on habits and preferences, turning themselves off when a senior leaves and maintaining that "just-right temperature during months with wild temperatures.
Automated medicine dispenser: Remembering to take the right pills at the right time can be difficult. These automated dispensers can help count out medications at the right time. While medication reminders are one of the many services our senior living communities offer, it can never hurt to have a backup. A smart pill cap can record each time a medication is used and provide an alarm on a smartphone to remind a senior to take a certain prescription.
Smart TV: If a senior is not currently using a smart TV, it can be a real game-changer, especially when it comes to watching movies. Services such as Netflix and Hulu allow users to watch an unlimited number of channels and movies on a smart TV that can be operated by voice with a smart speaker.
Around the Home
Here are other smart devices that can be used anywhere around the home:
Smart bulbs: Smart bulbs are a handy invention that can be controlled from a smartphone and paired with a home assistant to turn lights on and off with a simple voice command. These bulbs may cost a bit more but tend to have a longer lifespan – 15 to 25 year – than an average bulb.
Robot vacuums: Robot vacuums are, in essence, automated vacuum cleaners that can be used on hardwood floors, tile and carpet. They're designed to operate without a human and can clean spaces beneath tables and chairs. Additional housekeeping is a service that many of our senior living communities offer, but a robot vacuum can add a level of detail, especially if seniors have a cat or dog living with them.
Smart locks: Smart locks are Wi-Fi-enabled can be controlled via a smartphone. They can be programmed to automictically lock when a senior leaves a home, so that thought of "did I lock the door?" can be a thing of the past. These locks are also handy if a senior forgets his or her keys.
Smart living doesn't happen overnight. It is recommended that seniors start slowly to adopt smart technology with the goal of making everyday life easier and more convenient.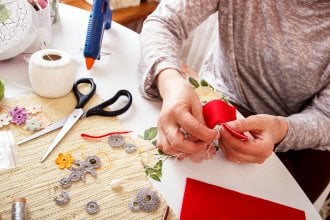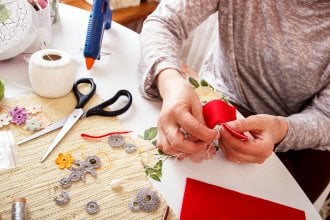 Transform Your Senior Living Apartment Into An Oasis During National Decorating Month
April celebrates home décor with National Decorating Month – as if you needed an excuse to put your own stylish touch on your home.
Read blog
Find a community
If you're a senior or caregiver looking for independent living, assisted living or memory care services for you or your loved one, contact us to schedule a tour or request information about a community near you.