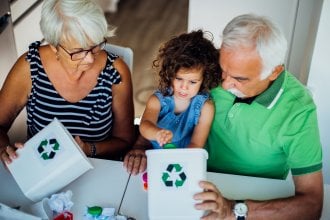 Sustainability matters in all areas of your life, and the impact that you have on the environment begins right at your senior living community. As you age, you may feel that your contributions now toward saving the Earth don't really matter much. After all, you've done your service and given back in many ways already, right?
Not so fast. Seniors, as a whole, have the power to impact future generations just by making a few eco-friendly lifestyle changes that promote sustainability. According to the U.S. Census Bureau, there are about 52 million Americans ages 65 and older right now, and that number is expected to grow substantially to 95 million by 2060. That's quite a few people who can make quite a big difference starting this month, designated as Sustainable September.
Taking care of your environment – whether that be planting a community garden or using reusable straws – can have positive effects on you as well, according to an article in the journal Sustainability. Can it make you healthier or possibly live longer? The Centers for Disease Control and Prevention notes that "opting for local, healthy and environmentally responsible food helps promote both personal health and overall health for the community."
This is one of the reasons why sustainability has become such a heavy topic of discussion. The Sustainability article notes that "existing surveys show that only a small percentage of the elderly are volunteering for environmental organizations and activities." To get those numbers up and make a positive impact on the environment, there are a number of ways seniors can get more involved. First, it begins with a positive attitude toward making a change.
Here are some sustainable living tips that you and your senior neighbors can live by to help make a positive difference in your environment.
Put Together a Green Committee
An ideal way to keep your senior living community green is by implementing a "green committee." By hosting a monthly meeting or working with your activities director on the best approach for this. When you work with your on-site staff, you can encourage them to implement reusable tablecloths for community events, recycled party favors for celebrations and so much more. Work together to educate your neighbors on the benefits of using reusable bags when going to the grocery store or any retailer.
If your community uses plastic bags for lunches or as party favors, encourage the staff to eliminate them. This will encourage residents to use reusable bags both on and off the property. Leading the initiative to bring sustainable practices such as recycling to your neighbors is a way to convert your community to a greener lifestyle.
Don't forget to bring in your family members, making it a perfect time to bond and share stories.
Plant a Garden
Many of our communities – including Rosemont in Humble, Texas – offer an on-site garden, so check to see whether local or native plants are being used. Trying to keep plants alive that aren't meant to survive in a certain region can wastewater, which is not environmentally friendly.
If your community lacks a garden, inquire about building one. Remember to use natural, organic materials that are chemical-free while also using natural energy. Most importantly, be sure to secure a solid location that permits easy water access and ample amount of sunlight.
Create a Resident-Initiated Recycling Program
When it comes to initiating a recycling program within your senior living community, you'll want to place responsibility in the hands of your fellow neighbors. The best way to go about this is through conversation. This could be in person or through your monthly newsletter. Share up-to-date information on the latest recycling policies and throw in tips that all residents can keep in mind.
You can also inform your neighbors about recycling aluminum in a different container or checking to see if items are indeed recyclable in the first place. And, did you know that sometimes you can earn a few bucks if you donate your recycled cans? A fact like that will be valuable information to share with your community.
Work with your community's staff members to have recycling bins set up in communal areas, then encourage your neighbors to add them to their apartment homes.
Use Energy-Saving and Water-Saving Tools
Check with your community's maintenance team to see if you can replace all of your old light bulbs with new energy-efficient ones that could also be smart devices. While electricity is included in the rent in many of our communities, switching out these bulbs – lighting accounts for about 10% of an electric bill – can help save the environment that your grandkids and future generations will come to thrive in. Here's something that requires little to no investment: Unplug all of your devices including toasters, toaster ovens and any small appliances when they're not being used.
When it comes to the bathroom and kitchen, high-efficiency showerheads and sink faucet aerators can help eliminate wasteful practices. Again, get in touch with the staff at your community so your maintenance personnel can help.
Purchase sustainable products
Living sustainably in your senior living community apartment will help reduce your carbon footprint. A few of the products you can use include reusable water bottles, paper straws, bamboo toothbrushes and hairbrushes, glass spray bottles, glass storage containers, bamboo dishcloths instead of paper towels, laminated bowl covers instead of plastic wraps, and silicone food bags for snacks and sandwiches. These items are an investment in a better future for not only you but your loved ones.
When it comes to living a sustainable lifestyle, it all begins with you. No matter if you're promoting it within your senior living community or are making small steps in your own personal home or apartment, every little effort will make a difference.
Other Blog Posts You Might Be Interested In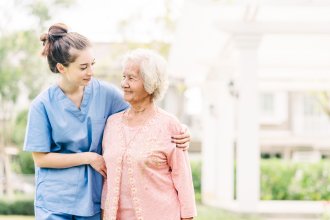 What are the benefits of senior living vs. in-home care? We take a look at some of the misconceptions and options.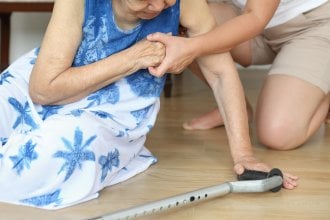 While it's important to live sustainably, it's more important to be safe around your apartment or home. From your day-to-day activities to special vacations, ensure safety is at the core of everything you do with these tips.
Find a community
If you're a senior or caregiver looking for independent living, assisted living or memory care services for you or your loved one, contact us to schedule a tour or request information about a community near you.