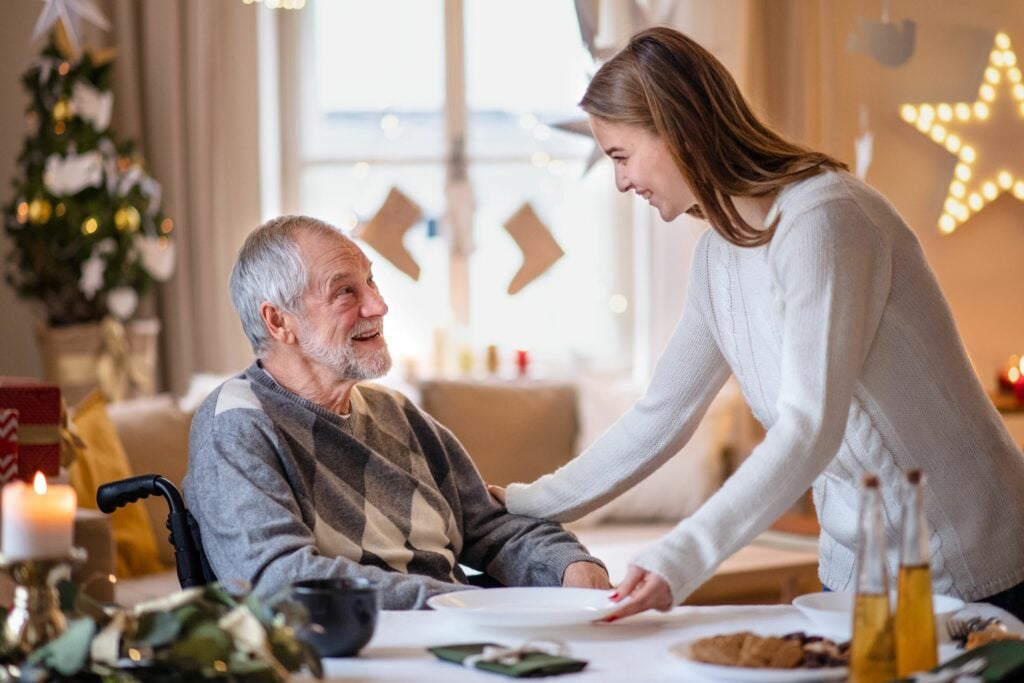 If you have a senior loved one in your life who is experiencing dementia or Alzheimer's, then you are aware of how stressful the holiday season can be. This can be for many reasons, both for the senior and the caregiver. Maybe your loved one is confused, lacking enthusiasm for family gatherings, or experiencing sporadic behaviors.
But, during the holiday season, it's more important than ever to remember to include your senior loved ones who are living with dementia or Alzheimer's.
The holidays are a time of gathering and celebration for many families. You don't want your senior loved one to feel left out or forgotten during such a significant time, especially if they are already dealing with frustration around experiencing memory challenges.
Below are some things to keep in mind when you're spending time with a memory care senior, as well as some ideas to include them in your holiday festivities.
Caring for seniors with memory problems during the holidays
Angie Rekeweg, Magnolia Trails Director at Georgetowne Place, has a few tips for family and friends to remember when it comes to including loved ones who are living with dementia or Alzheimer's during the holiday season. 
Be flexible with the timing of events to avoid sundowning
If your family usually has a holiday dinner or celebrations later into the evening, consider moving it to lunchtime or breakfast.
"Many people with dementia have sundowning, so an earlier meal is a better idea," Rekeweg explains. "Sundowning is a symptom of dementia. This means that the person with dementia may get more agitated and more confused in the late afternoon and evening. By attending a brunch or lunch, you will help to avoid upsetting your loved one."
Include them in activities
Don't feel like you need to completely change your holiday activities for your memory care seniors. Allowing those with dementia or Alzheimer's to participate in tasks, such as baking cookies or wrapping presents, creates a sense of belonging.
"Try to focus on the activity and spending time together, instead of the outcome of the task," Rekeweg says.
Prepare extended family ahead of time
It is important to discuss with family members ahead of time the stage of dementia or Alzheimer's disease their loved one is currently experiencing.
"Alzheimer's and dementia are progressive conditions where people get worse over time. Updating family and friends about the latest condition of the person with dementia will help avoid surprising them during the holidays. When people are prepared with useful information and the right expectations, you will all come out of the visit with good feelings and a successful visit with your loved one," Rekeweg says.
Also remember: Don't have the person with dementia try to guess who you are by saying, "Do you remember me?" Instead, greet them with your name. This could be embarrassing for the person if they cannot remember.
Keep a routine
It's important to understand those who are living with dementia may easily get upset by a change to their daily routine and unfamiliar faces. 
"Routine is very important for managing symptoms of dementia, changes in daily schedule, presence of unfamiliar faces or large groups of people can upset people with dementia," Rekeweg explains. "A person may become upset if this is changed which could cause increased behaviors."
Be sure to contact the memory care facility where your loved one has their meals in advance to learn about the types of meals they enjoy every day. Try to stick to the same kind of menu your loved one is accustomed to – this can alleviate any stress on the person cooking the food and for your loved one.
Five fun holiday activities for seniors with dementia and Alzheimer's
Holidays are all about traditions, and continuing to include your memory care senior in these traditions can help them feel connected and joyful throughout the season. Below are five ways to include them in your holiday festivities.
1. Decorate your senior's space
It's the best time of the year, and now is the time to decorate your loved one's home or apartment! If your loved one likes to decorate and do craft projects, this is the perfect activity for them. Try to remember to avoid decorations that are loud or flashy, as this may cause confusion.
2. Get cooking!
Whether it's cooking your famous green bean casserole or baking some cookies, involving your senior loved one in preparing food can give them the satisfaction of helping others.
Try to stick with simple tasks that do not require your senior to be near hot surfaces. Have them observe you cooking if they do not want to participate. Overall, it is important to keep a close eye on your loved one while in the kitchen to ensure their safety in what can potentially be a dangerous area of the house for someone with cognitive challenges.
Other important safety measures can include securing knives or toxic chemicals in cabinets outfitted with safety locks, making sure your loved one isn't too close to hot water, and temporarily removing kitchen rugs to help eliminate their risk of falling.
3. Listen to music or watch a movie
An activity that many with dementia or Alzheimer's enjoy is listening to music. Play their favorite songs or sit around the fireplace and watch a Christmas movie. Better yet, watch a musical and get the best of both worlds.
4. Play card games
Card games are a good pastime for seniors and an excellent way to check in on the cognitive skills of seniors with memory challenges. It may bring back fun memories of the good old days with their friends when they were younger and would play rounds of card games.
5. Reminisce about past holidays
Try some reminiscence therapy activities with your loved one. A popular example of this is looking through old photos. Find a photo album with pictures of friends and family your loved one might recognize. You may be surprised to see a calm over their face as they find a memory hidden in the back of their mind the old photos brought back to life.
Schedule a tour at a community near you
The holiday season is a great time to move to a senior living facility. Come and enjoy seasonal meals, festive activities and meet new friends in a homelike environment.
To learn more about Sonida Senior Living communities or check out our memory care services, contact us to schedule a tour or request more information about a community near you.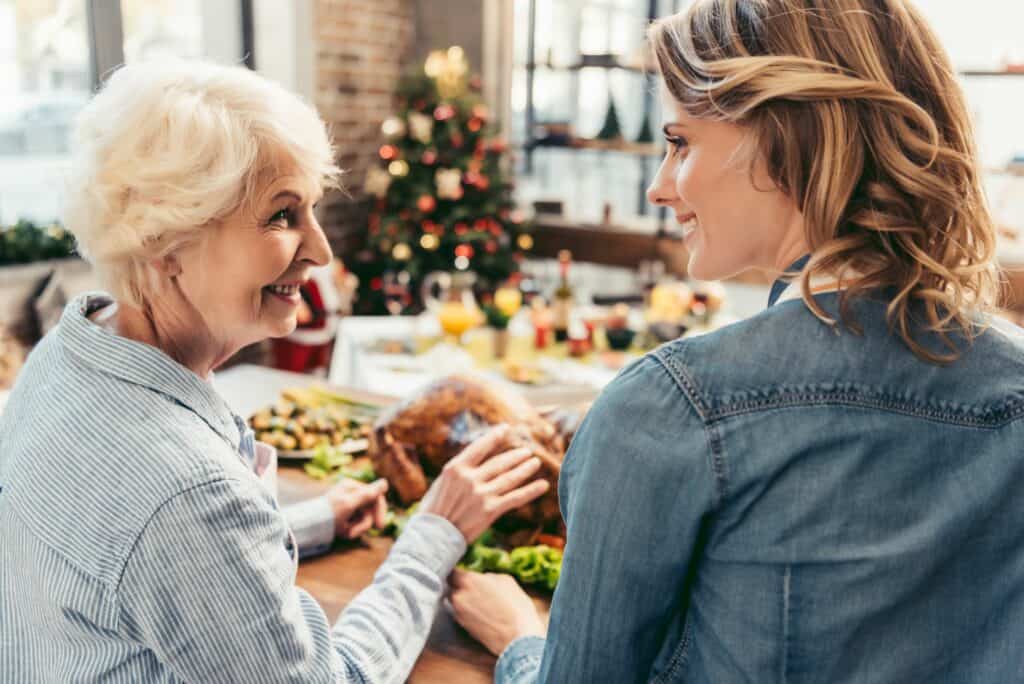 How to Keep Seniors Safe From COVID-19 During the Holidays
It is a good idea to be prepared with the latest COVID-19 information, especially if you anticipate visiting with your senior loved ones this holiday season.
Read blog
Find a community
If you're a senior or caregiver looking for independent living, assisted living or memory care services for you or your loved one, contact us to schedule a tour or request information about a community near you.