The holidays are rapidly approaching, which means seasonal sales are kicking into full gear. Whether purchasing Christmas or Hanukkah gifts for your grandkids or picking up a little something special for yourself, Black Friday is still one of the best times to get into the season of giving. 
This day-after-Thanksgiving tradition has changed a lot over the years and promises to be very different in 2019 and into the years ahead thanks to online shopping and Cyber Monday (the Monday following Thanksgiving). In fact, the endless lines that form the night before Black Friday have begun to fade away – and not because people don't want sales. There are just smarter ways people – and seniors especially – can shop on Black Friday that don't require waiting in long lines – sometimes in temperatures that are not very pleasant. 
Here are a few tips seniors can use if they so choose to brave the Black Friday crowds: 
Check Store Hours First
For seniors looking to hit the stores early, be sure to check when Black Friday sales actually are set to start. Each year, midnight doorbusters have slowly crept into hours that aren't anywhere near the bewitching hour. Some stores begin sales at 6 p.m. on Thanksgiving Day (Nov. 28 this year), close at midnight or around that time, then reopen early Friday for a full day of bargains. This means customers don't have to camp out all night to get that deal on a TV or video game. They can simply hop in the car after their Thanksgiving feast, pick up a few items, then head home to spend more quality time with the family. Of course, seniors should still expect long lines and crowds, so be prepared. Sites such as theblackfriday.com keep a list of stores and Black Friday hours so you can review them before heading out.
Shop When There Are Fewer People
The crowds on Black Friday can be overwhelming for seniors, and camping out all night to pick up special doorbusters in the wee hours of the morning can leave you exposed to the elements. The best way to avoid the crowds is to go shopping when they're not around. If you're planning on heading out later in the day on Friday, avoid the afternoon hours. According to Google data, the number of shoppers ebbs and flows throughout the day. Crowds pick up between noon and 3 p.m. Get ahead of them by arriving between 9 and 10 a.m. so you can more leisurely enjoy the experience. Many of our Sonida Senior Living communities offer scheduled courtesy transportation, so getting a group of your neighbors together to head to the mall or popular shopping center in your area could be a fun way to approach the shopping season. Plus, if you go in a group with a driver, you won't have to worry about parking, which can be a nightmare at this time of year.
Budget and Research Special Offers
To get the most out of your Black Friday shopping trip, do your research well beforehand and stick to a strict budget. Build out a list of all the items you'd like to purchase, but don't stray. Doorbuster deals are designed to lure you into a store, but additional sales scattered throughout the retail center could have you buying more than you anticipated. Stick to your list and you'll get in and out in no time – just remember to be patient with the retail workers because they have probably been up well before you were.
Your research is also key to finding a good deal on a quality product. Keep in mind that the big-ticket sales items and the doorbuster deals aren't necessarily the best products on the market. In many cases, the real deals are the moderately discounted items – not the eye-catching display. Knowing what you're buying is an important part of your Black Friday strategy. The Better Business Bureau recommends you read the fine print and do your research so you get the best product for the best price.
No matter what you purchase, it's wise to store the receipt in a safe place in your apartment – at least until after your loved one opens the gift and makes sure it works or fits properly. Stores are more inclined to return an item or refund your purchase price if a receipt is present.
Forget the Mall and Go Online Instead
Why even go to the store when you can buy gifts from the comfort of your senior living community? Although some seniors may not feel tech-savvy enough for the online shopping experience, there's no need to fear. The online experience couldn't be more easy and efficient nowadays. That special toy airplane or doll you want to purchase for your grandkids may already be sold out at your local store, but there's a great chance it will be available online from the same store. Online shopping is the perfect way to get in on the sales while avoiding the late-night drive to the store. One of the only downsides to ordering gifts online is that you won't get them immediately due to shipping requirements. They will, however, arrive at your apartment so you have plenty of time to wrap them. If you can be patient enough, you may want to wait for Cyber Monday deals.
No matter how big or small a gift is that you give to your loved ones this holiday season, remember that the true meaning of the holiday season is family togetherness. Savor that gift for as long as you have it.
If You're Looking to Buy a Gift for a Senior …
We invite you to wrap your mind around gifts of love, time and more with our gift guide.
***This blog post, originally published Oct. 30, 2018, has been edited and updated.
If You Liked This Blog Post, Read These, Too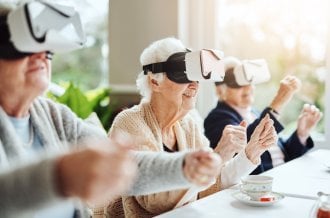 Thinking about buying a gift for a senior (or yourself if you are a senior)? Why not consider a virtual reality headset?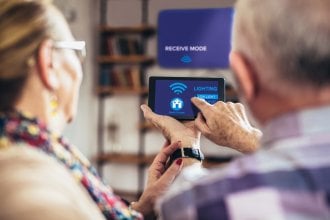 Smart technology can make a senior's life so much more convenient. Here's a room by room guide.
Find a community
If you're a senior or caregiver looking for independent living, assisted living or memory care services for you or your loved one, contact us to schedule a tour or request information about a community near you.