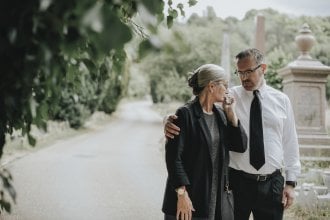 One of the most difficult parts of life is losing someone you love – especially around the holiday season. Whether it's a spouse or life partner, death is an emotionally challenging event that must be approached with care for yourself.
Ultimately, this hardship is complicated, intense, and can affect you in a lot of ways. It's important to remember that you are not alone. There are ways you can cope, heal, and move forward little by little.
Experiencing the Loss of a Spouse as a Senior
No matter what age you are when you lose someone, it's never easy. For a senior who has been with the same person for a long time, this drastic change affects just about every area of life. Therefore, grief can manifest itself in many ways – physically, mentally, and emotionally. Throughout the stages of the grieving process, you may experience:
Trouble sleeping
Signs of depression and anxiety
Difficulty concentrating
Little interest in eating
A hard time making decisions
"The stages of grief are very true at every age," says Senior Living Expert Lori Williams of Lori Williams Senior Services. "However, it tends to be way more intense after having been with someone for 50-plus years. It changes everything about your routine, traditions, even small daily things like what you usually eat together on Sunday nights. It can be hard to concentrate when you're constantly missing and thinking about this person. It's a hard time, but it's important that we be patient with ourselves during it and through each stage."
How to Cope with Losing a Spouse as a Senior
While the stages and signs of grief are all common, everyone grieves differently. This means that we also cope differently, too. There are ways that can help supplement your own personal coping methods. These are meant to help you care for yourself through this time.
Focus on Your Health: It's understandable that, during the grieving process, eating and sleeping become a challenge. Williams explains that, after years of eating at the same table or partaking in traditional meals each week, the action becomes painful to experience. Cooking seems to take a lot energy, so it's easy to grab fast food or settle for what's in the freezer. Or, you might go without eating. "You want to make sure that you try, even in little ways, to receive the nutrients you need to maintain a healthy immune system," Williams says. "This could mean seeking the help of family and friends to bring you homemade dishes or asking for help picking up fresh ingredients from the store. This way, you get the vitamins you need, keep your energy levels somewhat maintained, and have the strength to get through the grieving process a little healthier."
Try to Avoid Major Changes: You've been through enough. Big changes may not be the best option for you at this time. Instead, if you're looking to make a change, start the process slowly, and seek guidance from those around you. For adult children and other loved ones who are caring for a senior who has lost his or her spouse, try to remain patient with the situation. Ultimately, don't put too much pressure on yourself as someone who is grieving. Before any major changes, give yourself time to think and heal.
Help Others, Help Yourself: The benefits of volunteering have been studied for years, and results tend to show that helping others is a good way to find purpose, perspective, and fulfillment. Around the holidays, in particular, volunteering could be an effective way to help yourself cope while helping others do the same during this special, yet difficult time of year.
Dive into Personal Interests: Right now, it might be hard to be interested in anything. But if you have certain hobbies that once brought you joy, try to lean into these during this time. Whether you love quilting, gardening or painting, try to dive back in, even if it's just for a few minutes every day. One square of a quilt or picking a few roses are small steps toward a better tomorrow.
Seek Self-Expression: While some may grieve openly and feel comfortable showing their emotions, others may turn inward. Either can be done healthily, but it's important to know that you can talk about what you're going through, whether it's to a personal confidant, therapist, or support group. For those who choose to stay inward, there are still ways to self-express safely. "Regardless of gender, we all grieve in our own way," Williams says. "But in my experience, I have noticed that older men tend to hold in their emotions, while women tend to lean on friends more openly. They will journal, practice faith, anything to express themselves. I encourage anyone who holds in the pain to feel safe in letting it out – whether it's by journaling, reading or seeing a counselor. We're all entitled to expressing ourselves, especially in these times."
Lean on Family and Friends: It's OK to ask for help, and it's OK to seek comfort from loved ones around you. Whether you need help paying bills or want to get out of the house, lean on friends and family. Together, you can get through this day by day.
Try a Grief Support Group: Brenda Avadian, Founder of The Caregiver's Voice, says that "grief support groups are very helpful for regaining a sense of normalcy – that is, whatever the grieving spouse feels is likely normal. Additionally, if the chemistry is right, fellow grief support members give a person a feeling of community with people who truly understand. For those who cannot participate in a group and/or who need additional help, hospice grief counselors are invaluable."
Handling the Holidays
After losing a spouse, the holidays can become emotionally cumbersome. Traditions just don't feel the same, especially that first holiday without them. Avadian has some insight on how to cope.
"Coping during the first holiday without a spouse is difficult – the remembering special moments like how he carved the turkey, her special recipe, or even recounting that spontaneous trip," Avadian says. "The surviving spouse will have a much better time if s/he plans ahead. Whatever the plan – spending time alone, not decorating or sending cards, or asking family members to continue the holiday traditions in order to simply enjoy oneself – is OK."
On the other hand, if the holiday calls for something different, that's OK, too. Williams suggests mixing things up to help combat any sadness.
"When you lose someone, getting through the holidays is rough," Williams says. "After all, it's affecting the whole family. So, what I suggest is doing something to honor the one you've lost. For example, when my father passed away, we didn't continue with regular traditions that year. Instead, we chose to go to a place he always loved to visit: fishing camp. It was completely low-key and non-traditional, but for us as a family, it was a way to honor his memory, have fun, and feel closer to him. We'll always look back on that fondly."
You're also encouraged to find a change of scenery, perhaps in a place of natural beauty. Reconnecting with nature can be a spiritual, healing experience. Williams suggests that for future holidays, the family makes a tributary ornament for the loved one, shares the loved one's memoirs or stories, cooks special family recipes, or donates to an organization that was meaningful to their lost loved one.
What to Expect as the Adult Child
There's no denying that losing a parent is incredibly painful, which is why this is such a crucial time to come together and heal as a family. As your surviving parent is going through exponential pain, it's important to be there as a strong support system. For now, Avadian says to "give your gift of time with Mom or Dad. Both of you will be rewarded with memories."
Seeking Solace in Senior Care: A Built-In Community
When a spouse passes away, it can be hard to maintain the same amount of independence as before. Senior living communities are meant to help maintain the level of independence, community support, and care you need. However, making this decision and taking action is a process. Make sure you're moving to the right place at the right pace.
"Truly, not making any sudden changes is sound advice during any major life change," says Avadian.
So, take your time to heal. As you research the right decisions to make for later on, look into each community's counseling programs, philosophy, and expertise. Ask lots of questions. And, most importantly, feel 100% comfortable with that next decision.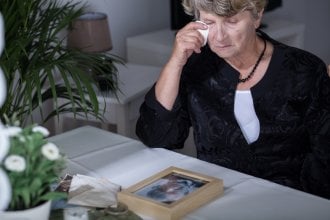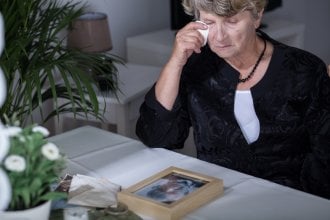 A Guide to Funeral Planning: How You and Your Senior Loved One Can Prepare
Despite the gravity of the topic, preparing for a funeral in advance helps alleviate stress for the surviving family, saves money and allows the chance to have a memorable send-off.
Read blog
Find a community
If you're a senior or caregiver looking for independent living, assisted living or memory care services for you or your loved one, contact us to schedule a tour or request information about a community near you.