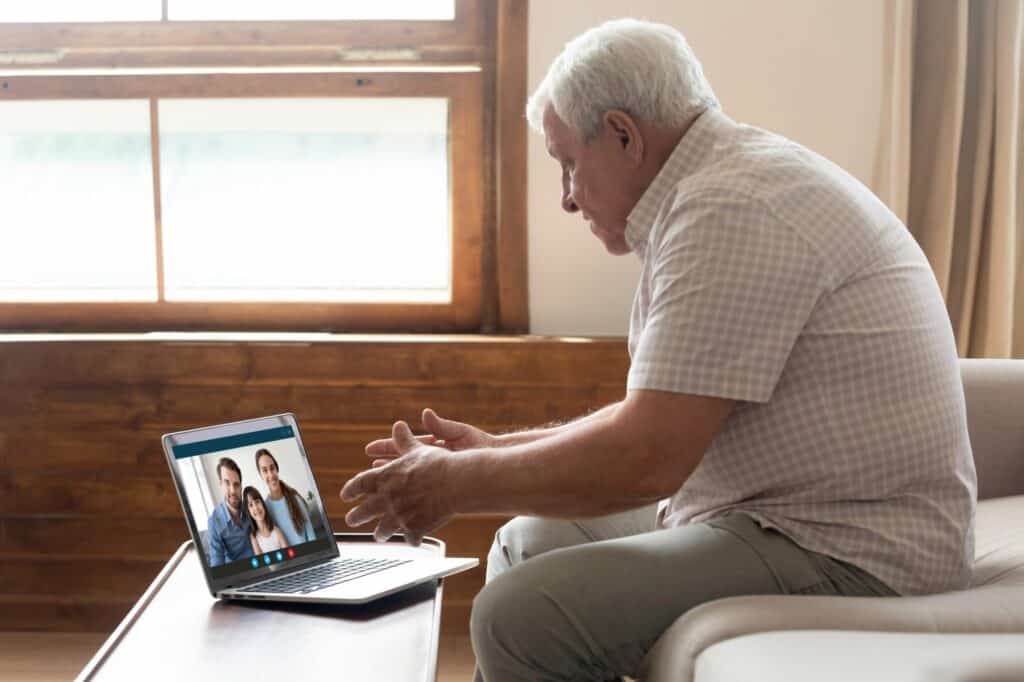 Whether you celebrate Christmas, Hanukkah or Kwanzaa, this holiday season is going to be different than any other year. COVID-19 cases are increasing across the United States, causing a disruption in the typical holiday season. With virus guidelines constantly changing, it's a good idea to be prepared to adjust your celebration plans.
The Centers for Disease Control and Prevention (CDC) recommends celebrating the holidays with only the people you live with or virtually. This is to decrease the chances of getting or spreading COVID-19. If you are at an increased risk of severe illness from COVID-19 (you have a medical condition or are 65 or older), you should not attend any in-person gatherings. Staying home is the best way to protect yourself and others.
You may not be able to physically spend the holidays with friends and family, but you can still celebrate. Below are some ways you can safely enjoy the holidays this year.
1. Have a virtual gathering
Gather with family and friends virtually this year. Get on a video platform like Zoom, Skype or FaceTime and share recipes, reminisce or coordinate eating a meal together. If you do not want to video chat, simply call your loved ones to reconnect. Talking with the special people in your life can feel just as special as seeing them in person.
2. Participate in online activities
With 2020 being a year full of online activities, you will be sure to find something that sparks your interest. Shopping online is a popular past time. Shop for friends, spouses, siblings, children, or even yourself! Consider doing a Secret Santa exchange with loved ones where you mail gifts to each other and then reveal the Secret Santas via a video call. Read our blog to get some present ideas.
Get in the spirit with some festive movies and games. Want to watch a movie with others? You can with apps like Netflix Party or Hulu Watch Party. Another option is watching Christmas movies on channels such as Hallmark's Countdown to Christmas and Freeform's 25 Days of Christmas. Want to play some games? You can online! Whether it's solitaire, puzzles or chess there are many ways you can test your skills.
3. Start a food exchange
Cook your favorite meal and share it with your family and friends. If you're not able to cook, ask your family to prepare and drop off a meal for you. Sharing food among people you love is a great way to spread holiday cheer. If you have a sweet tooth, you may even want to start up a cookie exchange. Bake your favorite goodies and ask others to do the same. The result: a variety of cookies to try!
4. Dress up
Whip out your Santa costume or dress your pet in a festive outfit. Dressing up can cheer your spirits and improve your mood. Take some pictures and show your loved ones your creativity!
5. Write letters to your loved ones
Write a letter about what you did this year, your hopes for the coming year and any other life highlights you want to share. Create a card, (on a website such as Snapfish or Shutterfly) attach your letter and send it to your loved ones and friends. You could even encourage them to continue exchanging letters with you in a pen-pal relationship.
6. Decorate your space
Get your home or apartment ready for the holiday season with decorations. From wreaths and trees to candles and banners, decorating your space makes it truly feel like the holidays have arrived. Write a message in your door or window to share the holiday spirit with others. Here are some other ways to spread holiday cheer this season.
7. Drive and see the lights
Some people go all out when decorating their homes, so you should enjoy their hard work too. Get in your car or transportation service and head around your neighborhood to admire the lights. Some communities even offer a list of top-lit homes for people to drive by. To really set the mood, find a festive playlist online and play it in the background while you drive around.
Even though the holidays are going to be different this year, you can still feel and spread the cheer. Whether it's one of these suggestions or your own idea, there are ways to stay connected with those you love.
Still planning in-person celebrations?
If you are planning on spending the holidays with others, we recommend following these steps, according to the CDC.
If you are attending a gathering
Stay home if you are sick
Encourage social distancing
Wear a mask
Clean hands often, preferably with soap and water. You also can use sanitizer with at least 60% alcohol.
Bring your own food and drinks
Use disposable dinnerware
Limit physical contact with commonly touched surfaces or shared items
Wear a mask and limit close contact with others
Wash hands often and social distance
Avoid touching your face, mask, eyes, nose and mouth
Choose contactless options when possible
If you are staying at a hotel, check its COVID prevention practices
Check and see if there are any travel restrictions in the state you are traveling to
7 Ways to Show Your Senior Parents Love All Year Long
Keeping communication consistent, sending care packages regularly and visiting as often as you can are a few ways you can help lift your senior's spirits.
Read blog
Find a community
If you're a senior or caregiver looking for independent living, assisted living or memory care services for you or your loved one, contact us to schedule a tour or request information about a community near you.