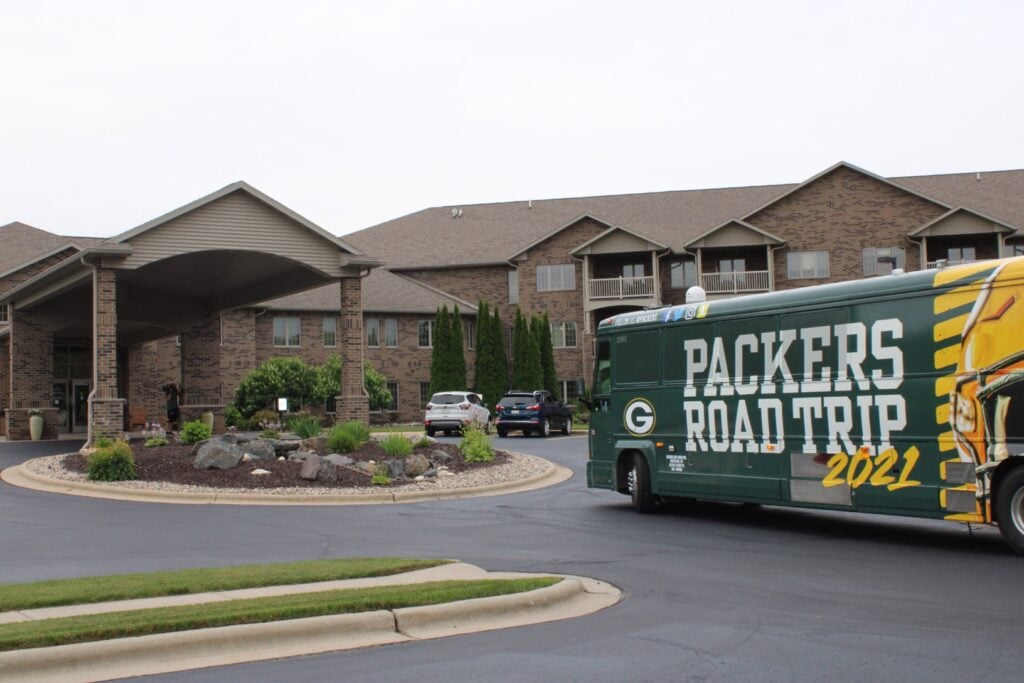 Our communities have been busy this summer! When it comes to entertaining our residents, there's never a dull moment. Our community leadership teams curate unique programming and experiences to keep seniors engaged and entertained. Take a look below at some of the highlights.
Aspen Grove
To support the Alzheimer's Association, Aspen Grove held a "pie a manager" fundraiser. The residents enjoyed throwing pies at one another and playing games.
"We wanted to do something fun that staff and residents could be a part of," Lexi Ackels, Sales Director, said. "The residents loved it. They were very involved and would come up to the table every day to check the jars to make guesses on who was getting the pie. We had an in-house bet it would be Devin the maintenance director, and it was. We told staff to pick a manager to pie for $5 each. Needless to say, we all took a lot of pies to the face. All in good fun and for a great cause!"
Residents also got to enjoy visiting the Toledo Zoo.
"The zoo trip is something the residents have wanted to do since last year," Ackels said. "We had to cancel the planned trip due to COVID. So when it was safe and things opened back up, we went! There's just something therapeutic about the animals."
Autumn Glen
For those that enjoy listening to music, Autumn Glen hosted The Glacier Line Jammers to play some tunes.
"They are a band based out of Avon, which is pretty close to us," Erica Adams, Business Director, said. "After over a year without outside entertainment, our residents were beyond excited for this concert. Almost all of them gathered in our living room to listen. The band played all kinds of music that related to our residents. They really enjoyed it when the band sang Johnny Cash songs. We look forward to having them back!"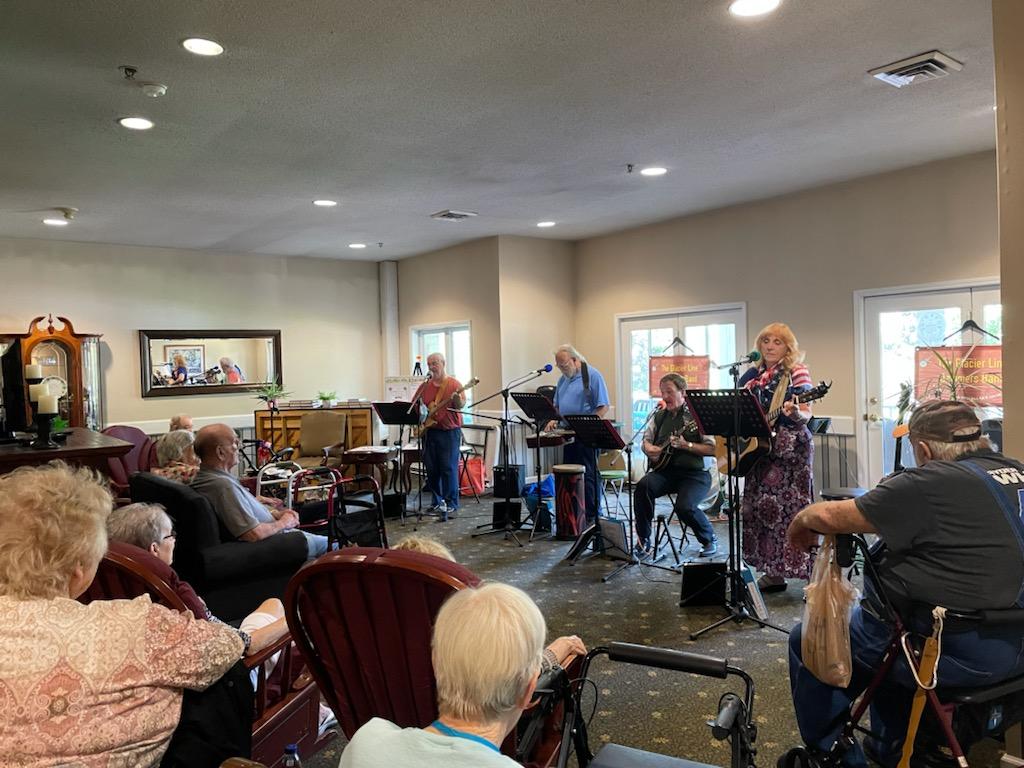 Country Charm
A magician performed a show for those living at Country Charm.
"We had the pleasure of having Chad Collyer back for the first time since COVID," Activities Director Kira said. "He has been performing at Country Charm since 2012. Our residents were amazed by the show he performed. The residents tried out some of his tricks on each other to see if they can pull off the mind magic."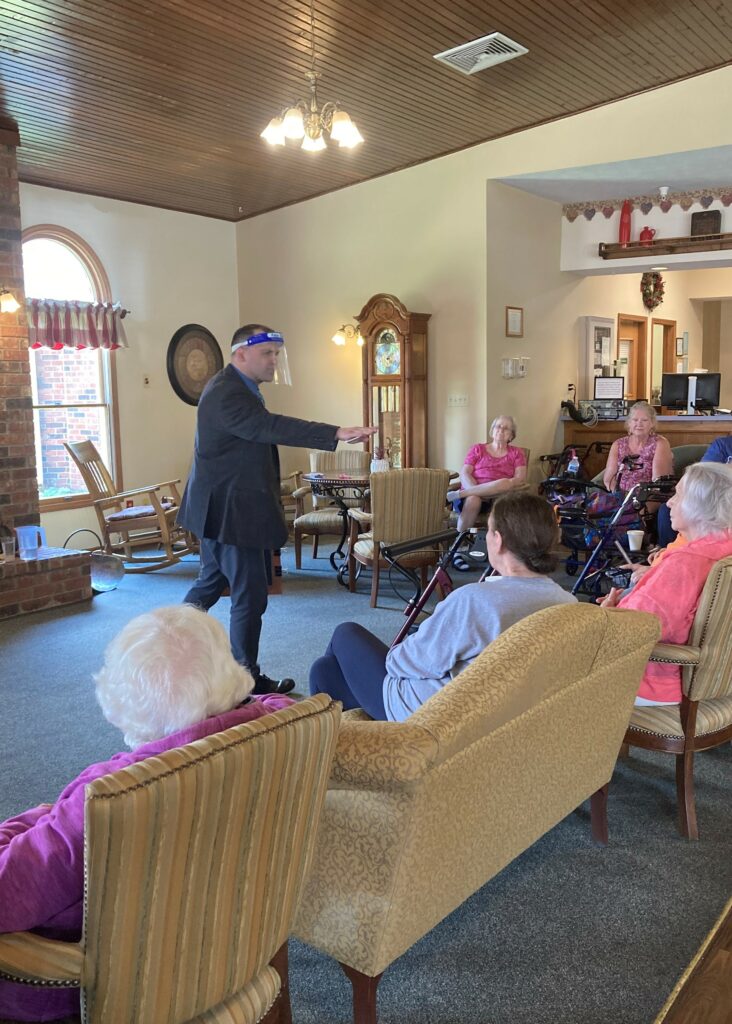 Chateau of Batesville
To celebrate the Fourth of July, Chateau of Batesville had a firework show for their residents.
In addition to being the community's Executive Director, Annie Adams is also a nurse and pyrotechnician. Every year, Adams is in charge of the fireworks display for the town of Batesville, Indiana. Being involved in this celebration is quite a big deal for the small town.
Since getting her Federal Explosives License in 2018, Adams has done multiple city shows, festivals and private parties. "I love the choreography part of it," Adams explains. "I spend hours and hours putting the fireworks in the order that I want. I love hearing the roar of the crowd when I'm done. It gives me goosebumps and brings tears to my eyes every time!"
As for the Chateau of Batesville residents, "I love watching them with the small fireworks I bring to the building," Adams said. "They absolutely adore the sparklers, as do the families when they drive by and watch. I love that it takes the residents back to their younger years. It makes them feel youthful again. And hey, fireworks make everyone happy, right? I love the smiles, residents, families and everything in between."
Brookview Meadows
As part of a "Packers Road Trip," former Green Bay Packers players James Jones, Nick Collins, Ryan Grant and Morgan Burnett made numerous stops around the city, including Brookview Meadows. The alumni played some bingo with the residents.
View the full story here. You can also see more pictures here.
Keystone Woods
The Alexandria Community Band, a local municipal band comprised of volunteers from around the area, visited Keystone Woods for a concert.
As Joe Collins, Executive Director, put it, "They regularly perform at local parks and have built a strong relationship with senior care communities for performances. The band is known for ending their show with patriotic music. The orchestra conductor introduced each song by explaining the meaning behind it to spark thought and conversation."
The seniors thoroughly enjoyed the music by dancing, asking the conductor questions, and discussing their band experiences in their younger years. "The residents' reminiscing is a unique part of the interaction between the orchestra and audience. The band put a smile on everyone's faces."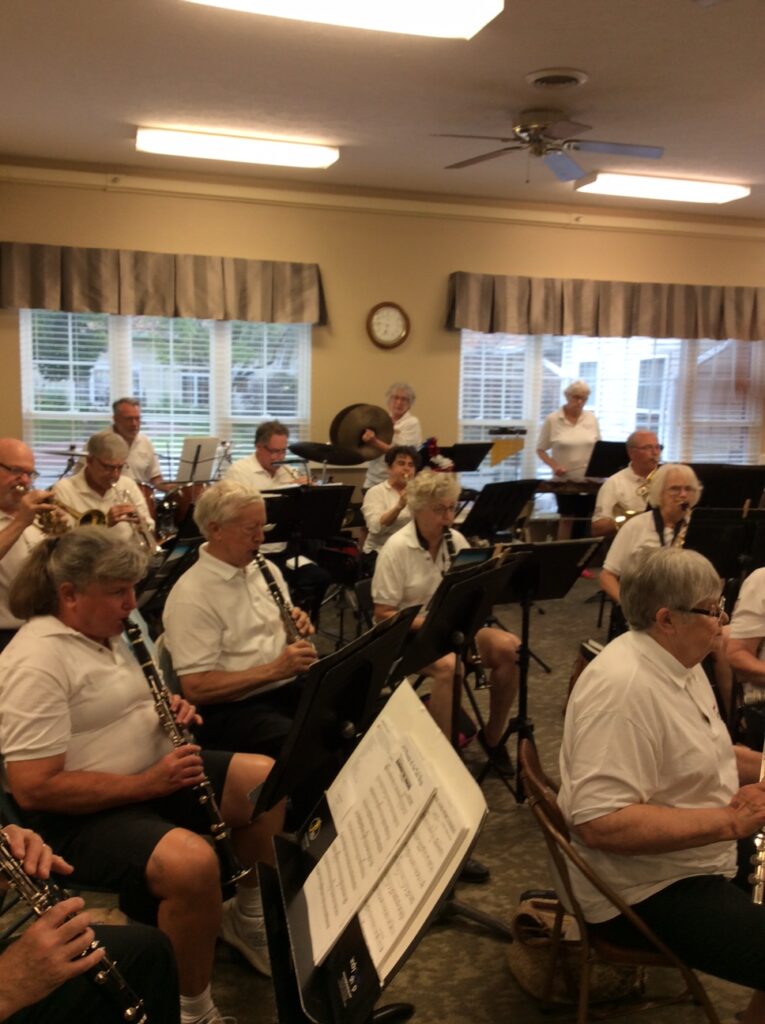 Join the fun at a senior living community near you
Find a community in your area and see all the engaging activities you can participate in.
If you're looking for structure and community while aging in place, consider independent living, assisted living or memory care services. Contact us to schedule a tour or request more information about a community near you.
**This blog post was published on August 5, 2021.
Other Blogs You Might be Interested In
Knowing what questions to ask will help you or your senior loved one to decide on a community and make you feel more than prepared to take the next steps in securing a new home.
Read blog
Our memory care program, Magnolia Trails, goes beyond the typical management of dementia. We work with families and their loved ones to care for the whole person—mind, body and spirit.
Read blog
Check out a few reasons why you will end up eating healthier (and most likely feeling better) if you choose to live in a senior living community.
Read blog
Find a community
If you're a senior or caregiver looking for independent living, assisted living or memory care services for you or your loved one, contact us to schedule a tour or request information about a community near you.