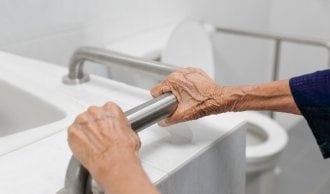 The bathroom is one of the most dangerous places in the home for seniors. According to the Centers for Disease Control and Prevention, nearly 200,000 Americans are treated annually in emergency rooms for bathroom-related injuries, with seniors 85+ more susceptible. The National Institute on Aging reports that 80% of falls in the home are in the bathroom.
January is National Bath Safety Month, a time when seniors (and their adult children) can reassess what precautionary measures they take to prevent slips, falls and other accidents in the bathroom.
Here are a few tips on how to turn a bathroom into a much safer space:
Install grab bars 
Seniors who have trouble maintaining their balance will appreciate grab bars to provide some stability when getting in and out of the bathtub. They also can be installed around the sink and toilet for additional support.
Grab bars are affordable and can be installed easily, but be sure to find ones that are slip-resistant. The bar also should be a different color than the surrounding walls to make it easy to see at all times. Grab bars with suction cups aren't recommended because they can easily fall and need flat, non-porous surfaces to remain steady.
Grab bars do require a senior to have some upper-body strength. Towel bars do not make great grab bars because they are only meant to support a few pounds. 
Use a transfer bench
If you don't have the necessary strength to hold on to a grab bar, a transfer bench could prove to be a useful alternative to help you get in and out of the bathtub. In this setup, a pair of bars or a bench extends over the tub. A senior sits on a chair or bench and can gradually slide into the tub. 
Buy a shower chair
If you can't stand in a bathtub or shower for a long period of time, a shower chair is a worthy investment. This inexpensive solution allows you to conveniently sit under the showerhead and control the handles at the same time.
It's important to find a shower chair with rubber tips on the end of each leg to keep it from sliding around the shower or bathtub floor. If you use the chair in a tub, also make sure you have grab bars installed to enable easy access in and out. 
Consider a walk-in tub 
Walk-in tubs alleviate some of the risks of traditional bathtubs. This option requires some renovation for an all-new bathtub that features a door on the side so seniors can simply walk in without having to climb over a tall side. While it is one of the more expensive options, it also decreases the risk of falling thanks to its convenient design and the ability for a senior to sit down once inside. 
Utilize non-slip mats 
Non-slip mats are rugs that offer a bit more traction in a room known for having wet, slippery floors. Mats can be placed in areas where falls are most likely to occur, including around bathtubs, showers, toilets, and sinks, to reduce the chance of an accident. 
Install a raised toilet seat 
Many seniors have issues lowering themselves into seats and chairs. This challenge can extend into the bathroom, as toilet seats are often too low for people who can't support their own weight. Traditional grab bars could be installed, but a raised toilet seat also could be a solution. These special devices raise the height of a seat by 3  to 4 inches, making it easier to sit on. As an added bonus, many of these raised toilet seats are pre-equipped with grab bars. 
Use a shower caddy 
Seniors with balance issues may find it difficult to reach down during a shower to pick up essential items such as shampoo or soap. A shower caddy that hangs from the showerhead can assist. These convenient accessories allow you to store all of your bath products at a reasonable height. When installing, ensure that the caddy is at arm's height.
A wall-mounted dispenser on the interior of the bathtub or shower is an affordable alternative that can easily be refilled. 
Make lighting changes 
In addition to ensuring there is ample light in the bathroom, make sure the path between the bedroom and bathroom is well-illuminated. Night lights that are motion-sensitive, or ones that stay on all evening, can be affordable items to invest in. 
Look at your bathroom door 
Which way does your bathroom door open. If a senior falls in the bathroom, a door that opens in could prevent emergency personnel from being able to enter the room.
Sonida Senior Living communities take bathroom safety seriously. That's why our apartments offer safety-assist hand railings, walk-in showers, and other features so our residents feel safe and secure in their homes.
Schedule a tour
If you're a senior looking for independent living or you're an adult child seeking assisted living or memory care services for your loved one, contact us to schedule a tour or request more information about a community near you.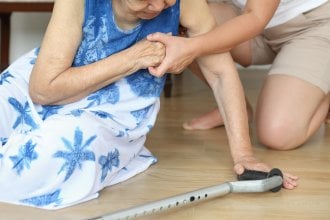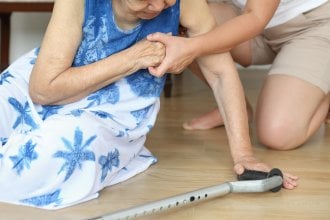 National Safety Month is Here. Are You and Your Senior Prepared?
June is National Safety Month. While everyone should be practicing safe habits every day of the year, it can't hurt for seniors to review some measures they can take for additional peace of mind.
Read blog
Find a community
If you're a senior or caregiver looking for independent living, assisted living or memory care services for you or your loved one, contact us to schedule a tour or request information about a community near you.