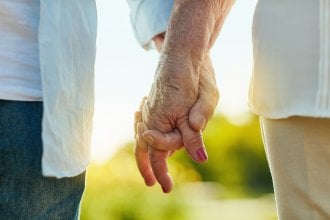 May is National Date Your Mate Month, and a 2017 report shows that nearly 20 million U.S. residents age 65 and older are unmarried. For anyone in that group of singles who is thinking about recommitting to the dating game, here are a few things to think about both with your partner and your adult children (who can then explain to the grandkids). 
For The Senior 
Should Later Love Always Lead to Marriage? 
Finding love later in life is a great thing. Does it always mean marriage? Not necessarily, but it certainly can. It will all depend on the individual senior and his or her circumstances, especially since there is a lot more to your story after years of experiences, growing families and past relationships. A lot of pieces are at play here, and a new relationship started later in life should be handled with care not only for yourself and that special someone but also for all of your loved ones involved. 
Pros and Cons of Later Dating and Commitment 
Make sure to weigh the pros and cons of dating later in life to decide which form of commitment works best for you: living together or remarrying. 
Pros:
After many years of life experiences (the good and the challenges), relationships and personal growth, you are likely to better pinpoint what you want in a partner by now.
All of those experiences will certainly give you a lot to talk about, leaving little room for awkward silences or lack of conversation.
Dating in retirement means more free time to travel and spend time together, actually getting to know each other and start this exciting chapter. Whether you take a flight to your destination or travel via car, it will always be an adventure.
Navigating the loss of a spouse isn't easy, but it can be a little more comforting with a new partner by your side. 
Cons:
Some family members may not approve or feel comfortable with widowed parents or grandparents dating again. Whether this is fair or not, it's still an obstacle that will have to be worked through.
Meeting people can be harder since this more commonly happens at the bar scene, work and college. Dating and meeting people takes a little more effort these days. But, if you are in an Independent Living, Assisted Living or Memory Care community, you'll have people your age to interact with during group events and outings, meals and even in the library.
Breaking up is never easy and could cause a rift in the family and a potentially uncomfortable situation if you're living in the same senior living community.
The legal and financial side of things may complicate the potential of getting married. Coming into a new marriage, you may have a lifetime of savings and income. If you remarry, you may not be able to receive Social Security benefits from a former spouse, and you will want to work through any inheritance issues with your adult children by outlining and updating wills. 
Dating Tips: Then vs. Now 
Dating and marriage now are certainly different than dating and marriage in your youth. For one, you're coming into the picture with more to talk about and maybe even more to work through. You're also joining the dating world in a time where technology leads the way – even for dating. Here are a few tips for meeting someone and entering a relationship in your later years. 
Join clubs and courses: Joining a club or course can help you not only meet people with similar interests and compatible personalities, but it's a great date idea – even a great first date idea. Anytime you can learn and have fun with like-minded seniors (and get to know one, in particular, a little more), take the opportunity. Examples of these types of opportunities include painting or cooking courses, book clubs or exercise classes. Many Sonida Senior Living communities offer social opportunities to interact with your neighbors. 
Consider joining a dating app: It's time to free yourself from the stigma that online dating is for anyone but you. Dating apps are a common avenue for any age group to meet prospects. Apps or websites specific to age groups are very helpful, including Our Time, Match.com or eHarmony. 
Don't stress yourself out: Sure, it's likely been a while since you've been in the game, but you're also more experienced and wiser – and you should feel confident about that. Not taking this too seriously right away will also keep the experience fun, making you much more likely to enjoy the process and be yourself. 
Don't jump into family drama right away: Before unloading a lot of personal information about some of the negative experiences you've had, especially as a family, try to focus on the lighthearted, positive side of things. This is an exciting new adventure that you don't want to start off on a sad note. The less-comfortable, in-depth conversations will surely come later, after a good foundation is built. 
Don't rush: No one says you have to hurry. Enjoy the relationship as it develops. If this means you stick to being life partners who date and live together, sharing your hearts and experiences, what could be wrong with that? It's a new era. Enjoy it the way that feels right to you – marriage certificate or no marriage certificate. 
How to Help Your Adult Children Cope 
It's common for adult children to react one of two ways to their senior parents possibly remarrying: either really happy or really afraid and disgruntled. When adult children respond negatively to their parent's new partner, it could be coming from grief in having lost the other parent. To begin with, it's certainly not easy for a widowed senior to overcome the feelings of disloyalty to their deceased spouse. It makes it much harder when the kids and/or grandkids are also not on board. 
When speaking to your adult children about this new chapter, empathize with them and then emphasize that this person will be helping take care of you, that you are truly happy about getting this new chance. Also, make sure they know how much you also cared for the beloved deceased or former spouse, as they are always interlinked to your lives. Make it clear to your kids that no one could ever influence your love for them and how you treat them. Nothing is changing except a new addition to the family, whether through marriage or just companionship. 
If your children still do not accept this new change, there is only so much you can do. Remember that your life is still your life and that you deserve to continue it however you please, especially if you long for something as natural to human nature as love and companionship. Approaching the conversation with empathy and understanding is the best thing you can do for your kids undergoing this change with you. 
For Adult Children 
Change isn't easy. Watching your senior parents, who have been married for a long time, suddenly not be married or undergo losing a mother or father is incredibly difficult. On top of that, watching your senior loved one move on and find someone new may come with mixed emotions, ones that are unrecognizable and therefore hard to cope with. 
You may be concerned about their emotions, the risk of a new relationship ending, or even financial things like their savings and even your inheritance. When parents remarry later in life, it could come with other change, like moving into senior living, changing locations and being less available. But, it's important to remember that, while all of this is hard, they are still your parent, and they're people. Still, it's not easy, and your parents should understand that this process is not going to be as natural as it once was. Here's how to approach them and your kids (their grandkids), as they will experience some trickle-down change, too. 
How to Talk to Your Parents 
The most important approach to discussing this new chapter for your parents is to not jump to conclusions or judge too harshly. This is a vulnerable time for them, as it is for you. Go into this planning to express your joys and concerns while also calling to mind some of the positives that could come from this: a full-time best friend, more income, emotional support, and someone to help monitor your parent's health. Imagine the possibilities, while also making sure they know all you want is for them to be safe and in a healthy relationship situation. 
Guilt and/or fear are already emotions your parent likely feels. Try to better understand what they like or love about this new person. Then, you can draw your conclusions as you get to know them. 
How to Talk to Your Kids, the Grandkids 
There's a new grandparent around. How do you explain that to your kids? Approach it as if this new senior is a very reliable family friend and use positive, uplifting language. Most importantly, focus on the loving aspect – that this new person "loves your grandma or grandpa, and they will love you, too." 
More than just this verbal introduction to the new grandparent, it's really going to be about spending time with them, slowly but surely bringing them into the fold and becoming more familiar with the grandkids. It's all about creating new traditions for your grandkids to rely on and look forward to, in association with this new member of the family. Kids are adaptable. Just be gentle and positive along the way. 
In reality, everyone is adaptable, and any change must be handled gently and positively along the way. Whether you're a senior who chooses to remarry or not, make sure love is at the center of all that you do and that you're approaching this new chapter with optimism and a healthy mindset.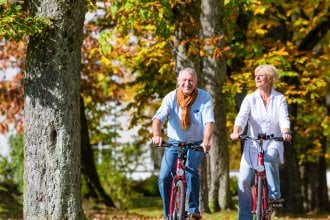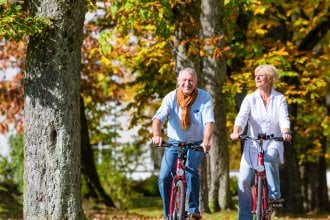 No Matter What The Season, Your Senior Will Be Ready
Here are some tips, season by season, that can help with preparing for rain or shine, heat or cold.
Read blog
Find a community
If you're a senior or caregiver looking for independent living, assisted living or memory care services for you or your loved one, contact us to schedule a tour or request information about a community near you.