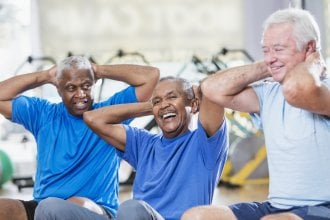 It's never too late to form healthy habits. While June may be National Men's Health Month, any time is the perfect time to start – whether you're a male age 18 or 75. Aging happily means aging healthily, so forming good diets, occasionally exercising and quitting bad habits are essential. 
According to the National Council on Aging, approximately 80% of older adults suffer from chronic issues such as heart disease, cancer, stroke and diabetes. A healthy diet and regular exercise can help prevent these conditions. Here are a few ways you or the senior men in your life can stay healthy and happy as you age with grace and dignity. 
Eating Healthy 
Eating healthy and watching a diet are good for all of us. However, studies have found that women are more likely to eat healthier than men. If you're trying to find a place to start, you can find various nutritional tips and tricks on AARP and USDA's new food pyramid. Instead of a pyramid, the diagram is a plate that's designed specifically for select age groups For those who are 50 and above, a diet with lower sodium and lean proteins is essential. Whole grains and low-fat dairy are also necessary additions. Portion control and nutritional facts can play a factor when making changes to your diet. 
Keeping Active 
Start doing daily activities to maintain your strength, balance and flexibility. Many Sonida Senior Living communities offer wellness, walking, balance and exercise classes on a regular basis. From joining classes to daily walks around your beautifully manicured grounds or landscaped courtyard, physical activity can help you reach a healthy weight, prevent or combat illnesses, reduce stress and more. If you don't know where to start, a class can be a great introduction to a more active lifestyle. Programs such as Silver Sneakers provide free gym memberships across the country and host various classes to help you stay in shape. Getting involved in a local senior center can also be a step toward improving your health. Many of these centers offer aerobics and Zumba classes and dance lessons to keep you active – and give you an added bonus of interacting with others around your age.
Quitting Bad Habits
What might be the hardest change to make, breaking bad habits is necessary to maintain a healthy lifestyle. According to a recent study, adults 60 and above who smoke are more likely to become physically frail. Dr. Gotaro Kojima of University College London, the leader behind the study, found that "stopping smoking is likely to have benefits even if late in life." Drinking alcohol excessively and not applying sunscreen when outdoors are two bad habits you should consider quitting as well. 
Meeting with your Doctor 
Although it may seem like the most obvious thing to do, seeing a doctor regularly is important in creating a healthy lifestyle, especially for men. According to a survey done by the CDC over a two-year period, men are likely to go to a physician only half as much as women. This also may explain why, on average, women are expected to live longer than men. Set up a regular appointment with your doctor to discuss your health and have any tests. Visiting the doctor regularly can help you manage chronic diseases, but it can also help you catch diseases early on or prevent additional symptoms. 
Whether looking out for your partner or yourself, the time to start healthy habits is today. While National Men's Health Month can be your motivation, the rewards of being healthy can stick with you long term. A lifestyle change may seem jarring at first, but you'll notice changes in your day-to-day routine and even may feel like you've got more energy. 
Eight Reasons Seniors Should Embrace a Move to Assisted Living
Here are eight reasons why embracing a move to assisted living can be the best thing for you or your loved one.
Read blog
Find a community
If you're a senior or caregiver looking for independent living, assisted living or memory care services for you or your loved one, contact us to schedule a tour or request information about a community near you.