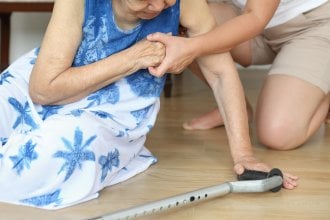 June is National Safety Month. While everyone should be practicing safe habits every day of the year, it can't hurt for seniors to review some measures they can take for additional peace of mind. The safety practices we talk about here can benefit seniors' physical and mental well-being.
From your day-to-day activities to special vacations, ensure safety is at the core of everything you do with these tips.
Potential Dangers
As you get older, the things you may have thought weren't risky become a little more dangerous. From slipping and falling to changes in the weather, these factors can sometimes fatal for seniors. It's important to prepare for these instances or make sure they are properly addressed.
Linoleum, tile and hardwood floors can be slippery for seniors and cause them to fall. Carpeted floors provide a safer surface for seniors at home.
Slipping and falling is a common occurrence in rooms such as the bathroom, so consider installing handrails and chairs in the shower and other bathroom areas.
Ensure the ramps you use are secure, have handrails and are well-lit.
Dehydration can be a serious threat to seniors, so try not to over-indulge on alcohol and caffeinated drinks. While the amount of water you should drink varies by person and situation, if you're thirsty or experiencing a headache, that's a good sign to take a sip. Be sure to drink plenty of water, especially when summer rolls around later this month.
Seniors should be aware that extraneous activities such as shoveling snow during the winter seasons can be dangerous because they increase the chances of a heart attack.
Seniors can be at risk for frostbite due to their blood circulation slowing down, so make sure you are prepared and covered up during the colder months.
Daily Habits
Seniors and their loved ones should consider taking this month to review their daily habits and see what needs to be improved upon. From financial safety to physical and mental safety, there are a variety of ways seniors can make their daily habits safer.
Physical activity can do a lot for seniors. It can promote a better lifestyle, prevent chronic illnesses and positively improve mental health.
Finding activities and new hobbies can actually improve your mental health and emotional state. Hobbies can include volunteering, learning music and traveling.
Independent seniors should review their financial stability and understand that there are several financial dangers on and offline.
Safely Vacationing
With summer right around the corner, chances are a vacation is in order. Make sure you and your senior are well prepared. If you plan on hitting the open road, taking a cruise or flying, review your plan of action and ensure you're traveling as safely as possible.
Regardless of your mode of transportation, it's important that your medication is always easily accessible. The last thing you want is to place important prescriptions in a checked bag and then not have access to it when you need it.
Travelers who face mobility issues should review their destinations and travel plans. They should also ensure the things needed to make getting around easier are readily available upon arrival.
If you're driving, you and your vehicle need to be adequately prepared. Vehicles should have additional handholds and other amenities to make the drive easier for seniors.
Review hotel accommodations and, if necessary, book accessible rooms.
Making your Home Safer
The home is just as important as the body. Make your senior living apartment safer by ensuring you have everything you need to thrive. It may seem insignificant, but décor and even pets can help mental well-being and make your house or apartment feel like a home.
Review your sleep habits and what you're slumbering on. You spend a large portion of your life sleeping, so make sure your bed is safe and you're getting a good night's sleep.
Redecorate your home. This a great way to shake things up, but décor can have an effect on your personality and mental state.
Consider rightsizing your possessions. An excess of stuff can create a cluttered home and can even be dangerous.
While a major responsibility, adopting a dog or a cat can positively affect your mental state and potentially keep your apartment safe from intruders.
Whether it's National Safety Month or just another day of the year, live life to its fullest while also thinking the safety of you and your loved ones.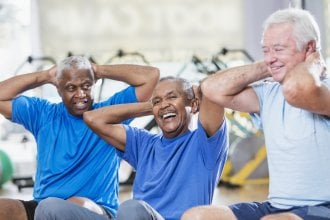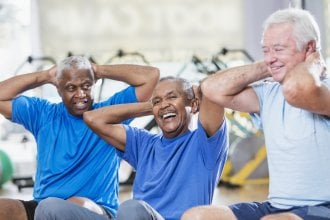 National Men's Health Month: It's Time To Get Active and Healthy
It's never too late to form healthy habits. While June may be National Men's Health Month, any time is the perfect time to start – whether you're a male age 18 or 75.
Read blog
Find a community
If you're a senior or caregiver looking for independent living, assisted living or memory care services for you or your loved one, contact us to schedule a tour or request information about a community near you.