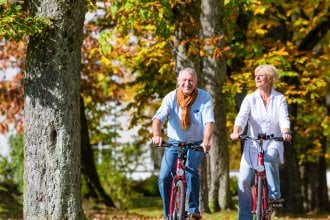 While the weather where you live – whether that's Dallas, Indianapolis, Sacramento, Andersen or anywhere in between – may be unpredictable no matter what time of year it is, you and your senior loved ones should be prepared for just about anything at any time. Here are some tips, season by season, that can help with preparing for rain or shine, heat or cold.
Fall
September, October and November may show unexpected dips in temperature and an increase in wind, but it also brings leaves changing colors, the start of the holiday season and increased chances of catching the flu.
Bring spare jackets and accessories. Temperatures in the fall can change rapidly throughout the day, so keep jackets, sweaters, hats and scarves in your car or at places you frequent. This way you'll always have an additional layer, just in case.
Plan for Thanksgiving and the holidays. The holidays are synonymous with overeating, so it's important to remember your health is still a priority. Consider healthy alternatives and low-fat recipes to help meet dietary restrictions. You can avoid overindulging by having full meals throughout the day rather than just sitting down for one big meal. It's also important to keep your seniors' spirits high during this stressful time of year.
Be wary of the time change. With daylight savings ending, we shift our clocks back an hour. What may seem like a minor inconvenience could have serious effects on seniors. Adult children can expect their parent to experience restless sleeping and those in Memory Care may see an increase of sundowning, or "late-day confusion," a symptom of Alzheimer's disease and other forms of dementia. Create a schedule for eating, exercise and sleep that fits well into the time change.
Winter
When it comes to winter, the goal of the season is to stay warm no matter where you are.
Layer up. Dressing in layers means wearing a thick jacket with a sweater underneath and potentially another layer under that when outdoors. When heading indoors, those layers can be peeled away as needed to keep you from overheating.
Cover the head, neck, hands and feet. These areas of the body let off the most heat, so go out prepared with gloves, a hat and scarf. This way your body heat will stay "trapped" and continue to keep you warm.
Combat wintertime depression. Inclement weather may make it harder for seniors to get out and visit friends and neighbors, so it's important that adult children check in with their parent or grandparent more regularly. Short phone calls, video chats or occasional lunches can make a big difference and remind seniors that you are thinking about them even in the colder months.
It's important to always be prepared for inclement weather, but remember to get out and enjoy the seasons. Seeing leaves change colors and watching grandchildren build snowmen are worth the preparation time.
Spring
Spring may bring beautiful flowers and more moderate temperatures than its predecessor, but it also usually means frequent rain showers and stronger winds. When this season springs, it's important to keep a close eye on your seniors' health. The shift into the months of March, April and May can have numerous effects on health and medication.
Stay dry. With the start of the rainy season, it's important to avoid getting overly wet when out and about.
Carry an umbrella to be prepared for that unexpected rain shower. If you do get wet, change into dry clothes and shoes as soon as possible.
Apply bug spray. Although everyone is susceptible to West Nile no matter what part of the U.S. you live in, this virus transmitted by mosquitos can be more severe for seniors due to their weaker immune system. That's why mosquito and insect repellent are so important in the spring. If you're outdoors, wear lighter colored clothes that cover your arms and legs, this way you can stay cool and protected.
Store medicine in dry places. It's important to keep medications in places that are dry and cool. Warm, humid weather can reduce the effectiveness of prescription and over-the-counter drugs, potentially making them less potent. Effective storage places include a dresser drawer or kitchen cabinet away from a stove and sink.
Summer
Months between June and August usually mean more outdoor activities with friends, family and grandchildren, and it also means an increase in temperatures. Seniors and their caretakers should plan for warmer months accordingly.
Stay hydrated. One of the most important things seniors — and any human, really — can do is drink plenty of fluids. As people age, the ability for the body to conserve water diminishes, so it becomes more difficult for seniors to gauge the need for liquid. Keep water and sports drinks close at hand to rehydrate and replenish electrolytes even when you're not feeling thirsty.
Store medication properly. Keeping an eye on where you store medication is an important thing to remember. High temperatures can change a drug's chemical compound and make it less effective. Keep medications in their original containers and store them in kitchen cabinets away from stoves and sinks. You can also keep them in a dresser or nightstand in your room. It might be routine to keep them in the bathroom cabinet, but heat and moisture from your shower, bath and sink can affect medication.
Communicate with physicians. Ask a doctor about how the heat may affect the medication your senior is on. For instance, some blood pressure medication or antihistamines can cause dehydration, which is amplified when combined with the heat of a normal summer day.
Wear sunscreen. When outdoors, use at least SPF 30 sunscreen on all parts of the body that are exposed to the sun, including your forehead, ears, nose and back of the neck.
***This blog post from March 3, 2017 has been edited.
14 Smartphone Apps To Enhance Day-to-Day Lives of Seniors
With the adoption of smart technology becoming so prevalent with seniors, it's important to make sure they're using it to the best of its capabilities.
Read blog
Find a community
If you're a senior or caregiver looking for independent living, assisted living or memory care services for you or your loved one, contact us to schedule a tour or request information about a community near you.