All of our Sonida Senior Living communities across the country have one goal in mind –providing quality, affordable senior housing and outstanding services while improving the quality of life of the seniors we serve. Our Community Spotlight blog series is here to help you get to know our communities better!
Our next community spotlight is Brookview Meadows, located in Green Bay, Wisconsin, near Howard, Suamico and the Barkhausen Waterfowl Preserve. Brookview Meadows is an independent living and assisted living community that also offers temporary care.
What makes this Green Bay senior living option unique?
"Brookview Meadows is unlike a lot of places in Green Bay," says Erika Swille, sales director. "With our exclusive selection of floor plans, services, amenities, and social and travel opportunities, you love living in our community.  Our professional, caring staff will help you find the perfect balance of independence and support, in the privacy of your own residence. Our apartments offer full kitchens with patios on all of the one and two-bedroom units."
Brookview Meadows is tucked into a beautiful wooded area where residents can enjoy a relaxing walking path and plenty of wildlife. "We have seen White Tail Deer, plenty of turkeys, foxes, turtles, raccoons, birds, sandhill cranes, gophers and more," says Swille.
Another unique feature of Brookview Meadows is its resident welcome program. When new residents move in, the community partners them with a Resident Ambassador to introduce the new senior to others and invite them to meals or an activity. This helps with the transition into community life.
Learn more about a community near you
Services and amenities for older adults available at Brookview Meadows
Home of the Green Bay Packers, this community has every amenity a senior could ever need.
From an indoor swimming pool and hot tub area to a screened-in patio and underground parking, the amenities at Brookview Meadows make it a special place. During Wisconsin winters, indoor parking is essential and Brookview Meadows is the only senior living facility in Green Bay to include that in the rent.
The best senior living staff in Green Bay, Wisconsin
"Our staff is the best part about Brookview Meadows," Swille says. "We have staff members that truly care about the residents and want to make their lives the best they can be. From Mike in Maintenance being here for more than four years, myself for over six years, Wellness Director for over four years, or our Business Office Manager for more than seven years, we supply a very stable environment for both new staff and new residents!"
Activities to keep older adults engaged
There is always something fun to do at Brookview Meadows. As a social community, they offer an abundance of activities, ranging from happy hour twice a week, ice cream socials on the weekends, men's group events, crafts, card-playing groups, religious services, and more.
"One of the highlights of the summer is our bus trip to the famous Door County area. We will be spending the day having some summer fun and stopping at shops and restaurants," Swille explains.
How do I find the best senior living community near me in Green Bay?
Our team of trusted advisors can help you determine what level of care would be best for you or a loved one. After learning more about your unique needs, we can make a recommendation about the appropriate level of care and help set up tours if we offer the type of care you need.
If you're a senior or caregiver looking for independent living or assisted living services for your loved one, consider touring Brookview Meadows. Schedule a tour here.
To learn more about Brookview Meadows and explore amenities, levels of care and more, click here.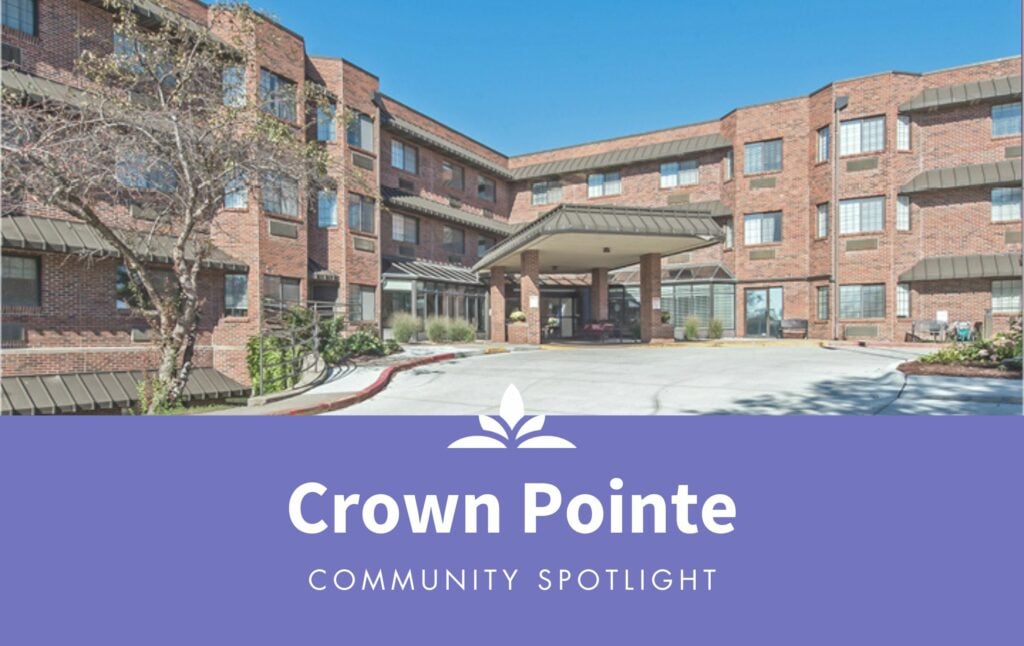 Senior Living Community Spotlight: Crown Pointe
Crown Pointe is located in the heart of America – Omaha, Nebraska.
Read blog
Find a community
If you're a senior or caregiver looking for independent living, assisted living or memory care services for you or your loved one, contact us to schedule a tour or request information about a community near you.