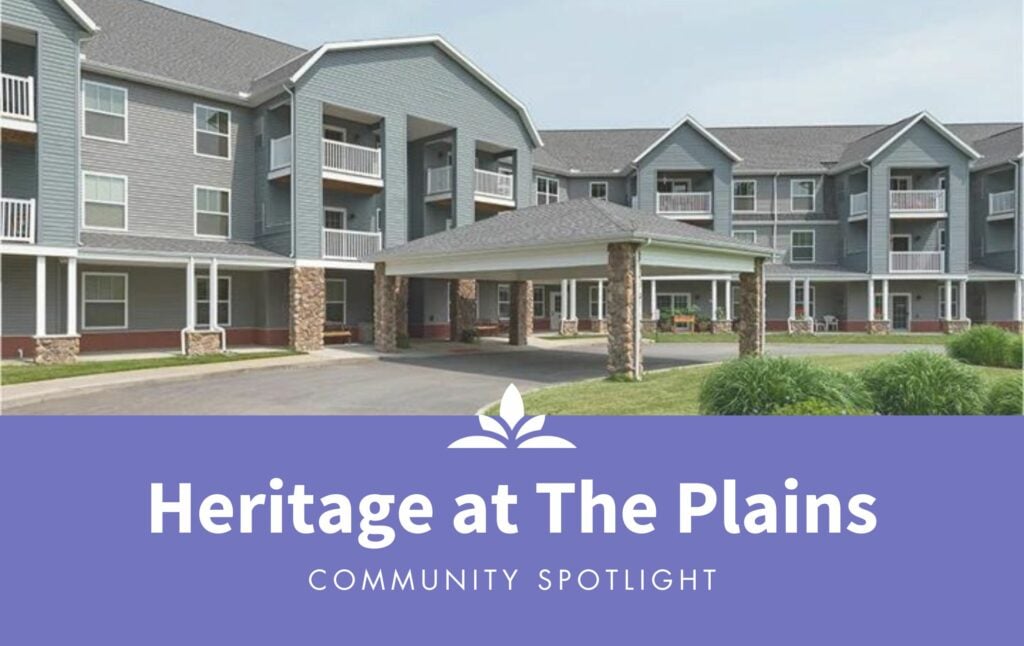 What makes our Oneonta senior living community unique?
Heritage at The Plains at Parish Homestead is the only community within a 50-mile radius of Oneonta that offers independent living, assisted living and memory care in the same building, allowing seniors to age in place.
Located just a few miles from downtown Oneonta and West End, The Heritage is also located near a number of colleges. (Perfect for your grandchildren to stop by for a visit if they stay close to home!)
"We are located in a college town and have developed many relationships through internships. These students get to learn with our residents through nutritional, social and music programs," says executive director Trudy Claudy. "We even have several former professors who have come to reside here as well."
Learn more about a community near you
Services and amenities available for seniors at The Heritage at The Plains at Parish Homestead
Caregivers are available 24/7 throughout the entire building, giving seniors peace of mind if they need assistance. And with a maintenance team dedicated to keeping apartments and the grounds in top shape, residents never have to worry about taking a break from activities to complete housework or home chores.
The Heritage also offers services and amenities such as:
Transportation to doctor's appointments or grocery shopping
Weekly housekeeping and linen service
On-site beauty salon
Medication management
Incontinence care
Dressing, grooming and showering assistance
Three restaurant-style meals daily
In-unit laundry in independent living apartments
Activities to keep seniors entertained
Residents at The Heritage enjoy staying busy with a full calendar of events.
"Our activity programming is very diverse," says Claudy. "We have several outside clubs and groups come to our community for meetings and invite our residents to join if they'd like."
Residents can take advantage of daily activities throughout the community. Many residents take part in a coffee hour every morning in the communal living room. Afterward, they usually enjoy a walk on the paved path that circles the whole property. Along the way, there are benches that overlook the pond and wildlife.
Other activities residents can participate in include:
Bingo
Exercise classes
Daily meditation
Walking group
Photography club
German club
Fly fishing group
Brain games
Tea time, snack hour and happy hour
Coloring group
Cornhole tournaments
How do I find the best senior living community near me in Oneonta?
Our team of trusted advisors can help you determine what level of care would be best for you or a loved one. First, we will meet with you to learn more about your unique needs. If we offer the type of care you need, we can then make a recommendation about the appropriate level of care and help set up tours as well.
If you're a senior or caregiver looking for independent living, assisted living or memory care services for your loved one, consider touring Heritage at The Plains at Parish Homestead.
About our Community Spotlight senior living blog series
All of our Sonida Senior Living communities across the country have one goal in mind – providing quality, affordable senior housing and outstanding services while improving the quality of life of the seniors we serve. Our Community Spotlight blog series is here to help you get to know our communities better!
Senior Living Community Spotlight: Independence Village of Olde Raleigh
Located in northwest Raleigh, Independence Village of Olde Raleigh is a welcoming, warm senior community with friendly staff and residents.
Find a community
If you're a senior or caregiver looking for independent living, assisted living or memory care services for you or your loved one, contact us to schedule a tour or request information about a community near you.