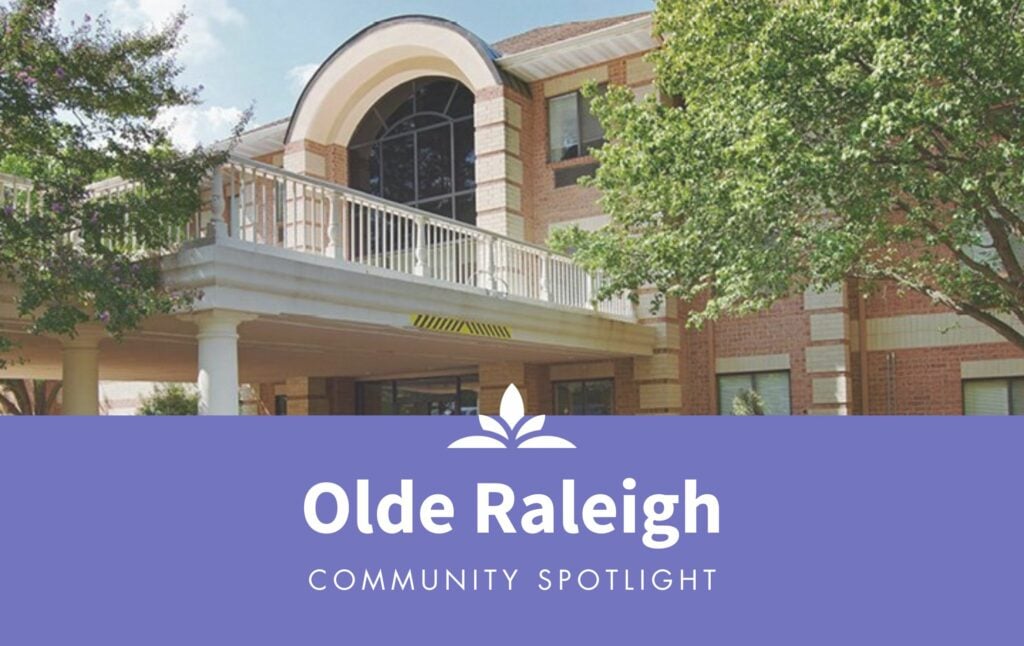 What makes this Raleigh senior living option unique?
Located in northwest Raleigh, Independence Village of Olde Raleigh is a welcoming, warm senior community with friendly staff and residents. With a family-oriented atmosphere, this independent living community is perfect for those near Durham, Chapel Hill and Cary, NC.
As Wanda Pore, executive director says, "we offer a great location. We are within walking distance to several shops, restaurants and other destinations, including Harris Teeter, Bella Monica, Char-Grill, Laurel Hills Park, the North Carolina Museum of Art, PNC Arena and UNC Rex Hospital."
Services and amenities available for older adults at The Independence Village of Olde Raleigh
Independence Village of Olde Raleigh is a pet-friendly community that was also recently renovated. "We offer a wide range of services and amenities that allow residents to enjoy a low-maintenance, safe, secure and independent lifestyle with all the comforts of home," Pore said.
Featuring walk-in closets, walk-in showers and new kitchenettes and flooring, this community's spacious apartments are designed with elderly adults in mind. The retirement community also offers fully furnished short and long-term respite care apartments for those recovering from a surgery or injury. Guest apartments can be rented out for a weekend stay for families that want a place close to mom or dad.
Other highlights include:
Three delicious meals served daily in a spacious dining room
Weekly housekeeping/linen service
On-site 24-hour home health care service
On-site therapy service
Exercise area
On-site beauty salon
On-site resident store with household items, snacks and toiletries
Manicured grounds and landscaped courtyard
Computer area and well-stocked library
Emergency response system
Daily newspaper delivery
Individual climate control
Paid electric/gas and water included in monthly rent
Laundry facilities on each floor with no charge
Scheduled courtesy transportation
Learn more about a community near you
Activities to keep seniors engaged
Social, educational and recreational programs at the community keep seniors busy! The activity center is filled with games and a wide variety of planned activities take place each day.
Below is a list of just some of the options Independence Village of Olde Raleigh offers:
Several resident clubs: cooking, writing, bridge/cards and more
Outings to entertainment, recreational and cultural events
Bingo, handbell choir, arts & crafts classes, trivia
Religious services
Movie nights and documentary screenings in the theatre
Wine & cheese socials
Ice cream socials
Monthly birthday celebrations with cake, refreshments and singing
Picnic lunches to local parks
Lunch tours to local restaurants
Exercise classes
Discussion groups
How do I find the best senior living community near me in Raleigh?
Our team of trusted advisors can help you determine what level of care would be best for you or a loved one. After learning more about your unique needs, we can make a recommendation about the appropriate level of care and help set up tours if we offer the type of care you need.
If you're a senior or caregiver looking for independent living, or temporary care services for your loved one, consider touring The Independence Village of Olde Raleigh. Schedule a tour here.
About our Community Spotlight senior living blog series
All of our Sonida Senior Living communities across the country have one goal in mind –providing quality, affordable senior housing and outstanding services while improving the quality of life of the seniors we serve. Our Community Spotlight blog series is here to help you get to know our communities better!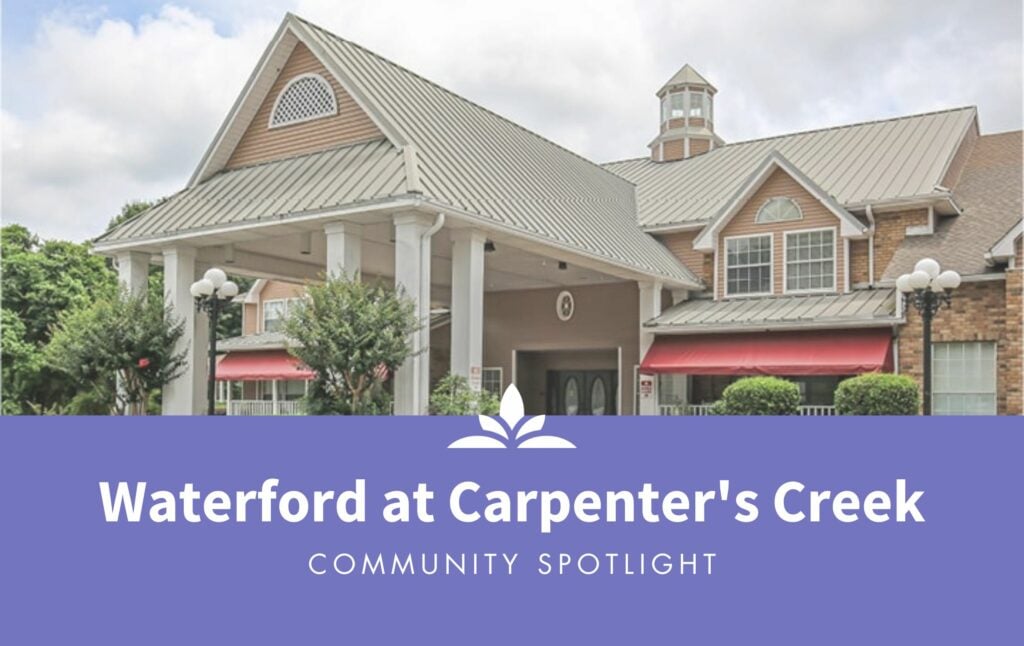 Senior Living Community Spotlight: The Waterford at Carpenter's Creek
The Waterford at Carpenter's Creek offers a unique sense of home, setting it apart from other senior living communities in the area.
Read blog
Find a community
If you're a senior or caregiver looking for independent living, assisted living or memory care services for you or your loved one, contact us to schedule a tour or request information about a community near you.