What makes this Jeffersonville senior living option unique?
With a dedicated team, including several long-tenured residents and employees, Riverbend feels like home.
According to the Sales Director, "Riverbend has been a community staple for over 20 years. We offer assisted living and secure memory care services. We encourage our residents to remain as independent as possible while reassuring them we are here as they age in place."
Riverbend sits directly across the Ohio River to the north of Louisville, Kentucky. Everything you could ever need is within a 30-minute radius, including shopping, dining and entertainment venues.
Services and amenities available for older adults at Riverbend
Riverbend is a one-story building that offers plenty of outdoor space for residents to relax and enjoy the fresh air. Both the assisted living and memory care units offer courtyards. "They can also enjoy colorful flowers and tend to the gardens as part of the activities programming," the Sales Director said. Some assisted living apartments even offer patios to the outdoor space.
Riverbend partners with Aegis Therapies to offer on-site physical therapy, occupational therapy, and speech therapy. This exclusive EnerG wellness and activities program helps residents increase strength and independence while experiencing a renewed quality of life. "With something for all interests and ability levels, our programs focus on total well-being so you can feel empowered and revitalized," the Sales Director said.
Learn more about a community near you
In addition, Riverbend provides weekly light housekeeping and laundry services, which include flat linens and towels. For individuals wanting to feel pampered or just need a quick haircut, Riverbend offers a variety of salon services in its on-site beauty salon.
You'll have peace of mind knowing that Riverbend offers 24/7 staffing and emergency response systems. Apartment utilities, including basic cable, are also fully covered so you can focus on doing the things you enjoy rather than paying a stack of bills.
Activities to keep seniors engaged
Residents typically jump-start their morning by joining one of Riverbend's morning fitness programs in the activity room. Afterward, residents usually participate in activities and enjoy the company of their friends and neighbors. They can also engage in daily conversation by the fireplace or listen to music together.
Riverbend offers a wide variety of traditional activities, such as arts and crafts, bingo, and nickel-pitch. Don't forget about the food! Three restaurant-style meals are served daily to all residents.
How do I find the best senior living community near me in Jeffersonville?
Our team of trusted advisors can help you determine what level of care would be best for you or a loved one. First, we will meet with you to learn more about your unique needs. If we offer the type of care you need, we can then make a recommendation about the appropriate level of care and help set up tours as well.
If you're a senior or caregiver looking for assisted living or memory care services for your loved one, consider touring Riverbend. Schedule a tour here.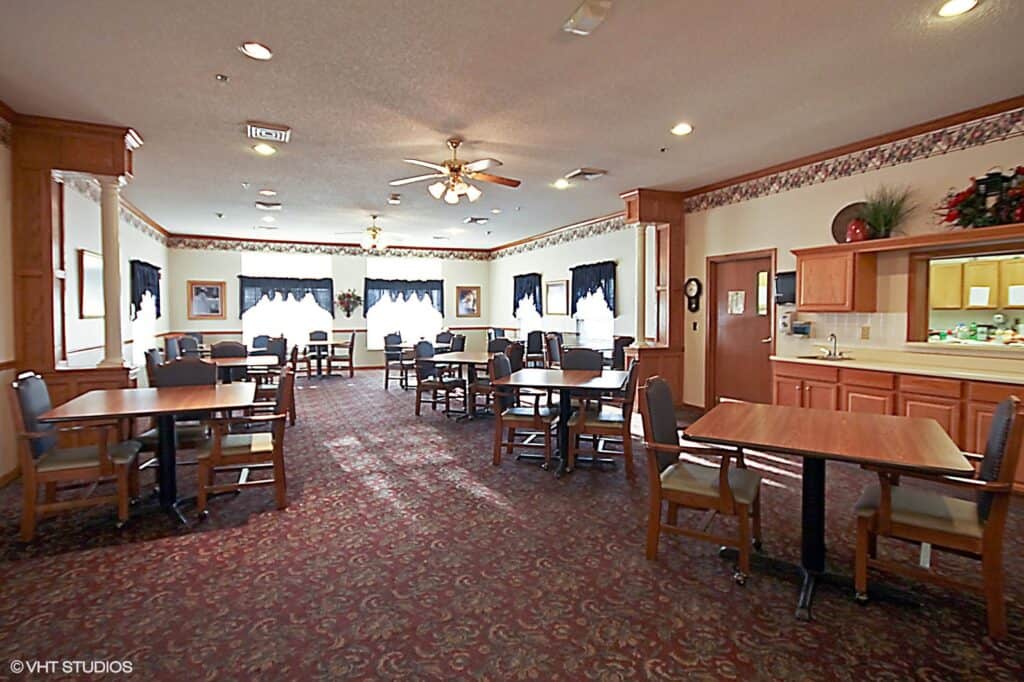 About our Community Spotlight senior living blog series
All of our Sonida Senior Living communities across the country have one goal in mind –providing quality, affordable senior housing and outstanding services while improving the quality of life of the seniors we serve. Our Community Spotlight blog series is here to help you get to know our communities better!
Senior Living Community Spotlight: The Harrison
The Harrison is the only assisted living community in Speedway, Indiana.
Read blog
Find a community
If you're a senior or caregiver looking for independent living, assisted living or memory care services for you or your loved one, contact us to schedule a tour or request information about a community near you.