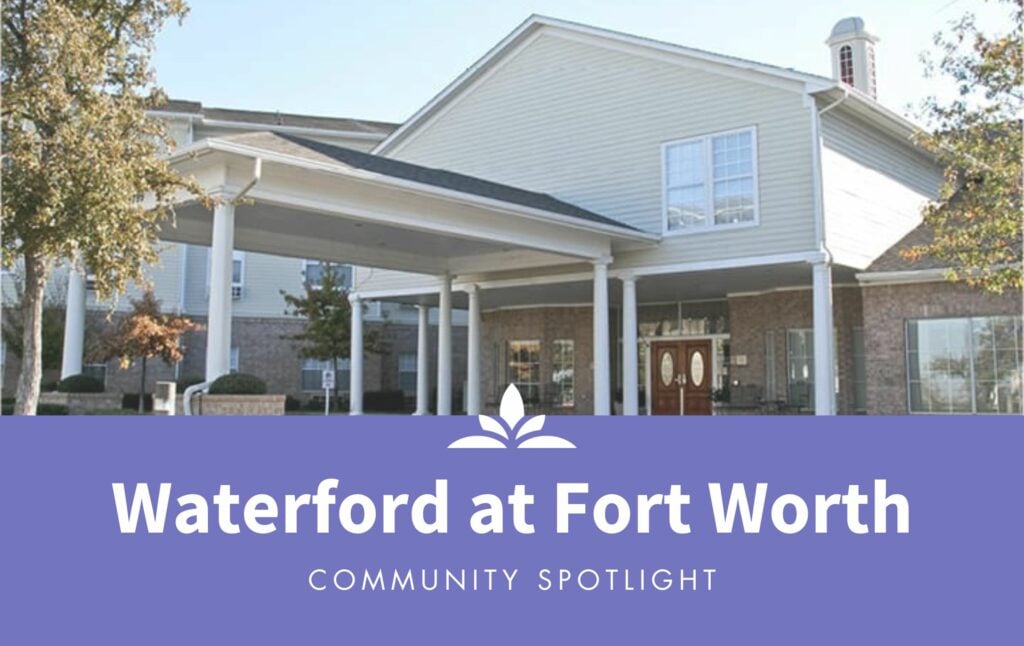 Location: Fort Worth, Texas
Services: An independent living community that also offers temporary care.
Fun fact: The Waterford at Fort Worth has been established in the area since 2000.
What makes this Fort Worth senior living option unique?
The Waterford at Fort Worth focuses on the unique needs and wants of seniors to cultivate rich life experiences and an unmatched sense of community. With dedicated, tenured staff and all-inclusive amenities, this senior community has it all.
Located in southwest Fort Worth, The Waterford is near plenty of entertainment. The Hulen Mall is a quick drive, offering restaurants and shopping galore. Just hop on Chisholm Trail Parkway or I-20 and you have access to everything downtown Fort Worth has to offer.
The community is also close to Ridgmar Mall, the famous Fort Worth Zoo and a number of museums.
Services and amenities available for older adults at The Waterford at Fort Worth
As an independent living community, The Waterford makes sure its seniors are well taken care of while also giving them the freedom they desire.
Independent living communities offer amenities and services that promote simplicity, independence and socialization. At The Waterford at Fort Worth, residents get to live in a private apartment home and receive extra help with chores like housekeeping, laundry, home maintenance and meal preparation.
The Waterford at Fort Worth offers services such as:
24/7 front desk concierge
Free scheduled transportation to doctors appointments
Weekly housekeeping, including flat linens and towel laundered
Personal laundry service provided at a minimal charge
Daily newspaper delivery
Apartment utilities, including cable
There are also on-site amenities, including:
Country store open during the week
Bank and post office
Beauty salon
Chapel
Outdoor patio with rocking chairs
Three restaurant-style meals every day
Veteran tribute room
Well-stocked library
Exercise room with regularly scheduled exercise programs
Activity room with big screen TV
Learn more about a community near you
Activities to keep seniors engaged
Residents are very active and social at The Waterford at Fort Worth. A typical day starts with gathering in the library for coffee and conversation or a morning walk around the community. Some residents enjoy the morning breeze while relaxing on the patio.
In the afternoon, residents like to socialize with their neighbors in the dining room. Dominos, cards, air hockey and WiiTM games are popular pastimes among residents.
Some other activities residents enjoy include:
Movie nights
Wellness and health talks
Yoga classes
Karaoke
Bell choir
Beading and jewelry-making
Miniature golf
Themed parties
How do I find the best senior living community near me in Fort Worth?
Our team of trusted advisors can help you determine what level of care would be best for you or a loved one. After learning more about your unique needs, we can make a recommendation about the appropriate level of care and help set up tours if we offer the type of care you need.
If you're a senior or caregiver looking for independent living, or temporary care services for your loved one, consider touring The Waterford at Fort Worth. Schedule a tour here.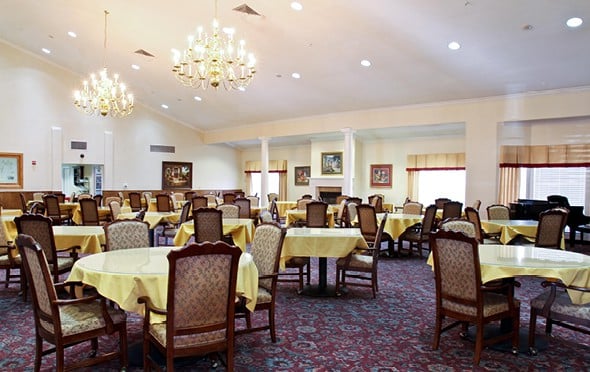 About our Community Spotlight senior living blog series
All of our Sonida Senior Living communities across the country have one goal in mind –providing quality, affordable senior housing and outstanding services while improving the quality of life of the seniors we serve. Our Community Spotlight blog series is here to help you get to know our communities better!
Senior Living Community Spotlight: Rosemont
Rosemont is full of old-world charm, tucked in the woods, surrounded by trees and has a friendly face to greet you the minute you walk in the doors.
Read blog
Find a community
If you're a senior or caregiver looking for independent living, assisted living or memory care services for you or your loved one, contact us to schedule a tour or request information about a community near you.